Glossy paint was initially the standard for wood. It gives a clear color with a durable and protective coating. Gloss paint has now taken a step behind as matte paints are becoming very popular amongst users.
Gloss paint is a shiny substance that is hard-wearing, and painting over it may not be easy because the paint wouldn't stick to it. However, the surface of gloss paint is shiny and aids proper cleaning. Water-based polyacrylic varnish is needed to make a glossy paint finish.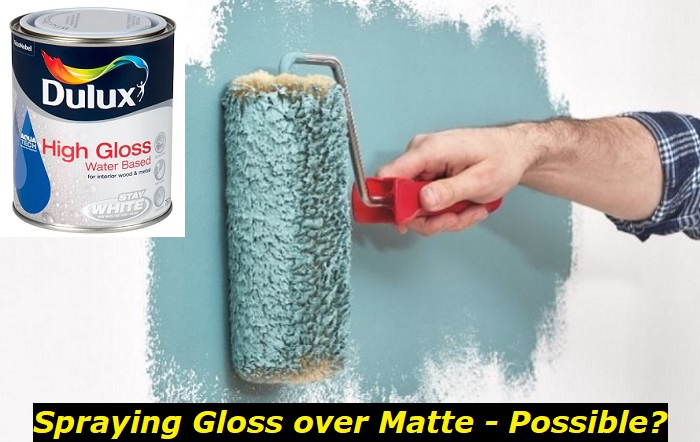 When transforming a matte texture into a polished surface, you must clean the surface thoroughly and apply the gloss varnish according to the instructions on the can. The varnish will provide an extra layer of protection and give it a crystal-clear glossy sheen.
A matte surface may have a lustrous reflective characteristic. There will be a perfect light deflected to your eyes if there are many layers of matte varnish applied on a surface. Polishing a flat paint won't give it a glossy finish; instead, it will alter the properties of the paint. Today, we'll talk about the possibility of spraying gloss over matte paint.
What Is Gloss Paint?
Gloss paint is a finish with an extreme paint sheen level. It reflects light in a room and can make a smaller area feel more significant. Plus, it's easier to clean than other finishes; it's more durable too.
It is perfect for trims, hallways, metals, woodwork projects, and many other surfaces. It is resistant to scrapes and scuffs and has a higher sheen that reflects more light.
It is advisable to use a gloss finish on high-trafficked areas because it is easier to clean and very durable. There are two kinds of gloss paints; semi-gloss and high gloss.
What Is a High Gloss Paint?
High gloss paint is a paint finish that has a shinier and smoother finish than semi-gloss paint. It has a 70% reflectivity level. It has a glass-like feature due to its sheen and smoothness.
It is ideal for high-trafficked areas because it is hard-wearing. High gloss paints are suitable for trims, doors, and cabinets. It is mainly used on exterior features to allure people.
What Is Semi-Gloss Paint?
Semi-gloss paints are devoid of the high sheen that high gloss paints possess, but they are more hard-wearing than matte finishes. It is a stain-resistant finish that is ideal for places that often need kitchen cabinets, playrooms, or living rooms. Semi-gloss paint is easy to apply on large painting projects and minor touch-ups on toys and furniture.
There is a higher concentration of polyurethane in a semi-gloss finish than in flat paint. It resists the growth of mold and mildew in kitchens and bathrooms more efficiently than any paint.
What Is Matte Paint?
Matte paint is known for its low level of shine that results in a smooth powdery appearance. It absorbs light, unlike high gloss finishes tab reflect light. Due to its low sheen level and velvety finish, it is one of the most common interior work choices.
Matte paint conceals imperfection smartly, and it is an excellent choice for painting uneven surfaces. However, it is not best used in high-trafficked areas because it is susceptible to stains and marks.
What Is Flat Paint?
Flat paint is a type of finish with more pigment than other finishes. It is non-reflective and is also known as a concealer paint. It is easier to apply than any different finish.
It is cost-effective and will not absorb any light directed at it. Flat paint disguises blemishes easily. It can be used on walls or areas with many holes, bumps, or scratches. It is excellent for less crowded spaces with a high-intensity light source like dining rooms, offices, etc.
Flat paint is the most brutal finish to clean, which is why it should be used in high-trafficked areas. However, you can scuff out imperfections on the wall after a month of painting the surface that is of the flat paint is of high quality.
Difference Between a Matte and Flat Paint
Matte and flat paints are mostly interchangeable because their difference is relatively small. The most significant difference is their gloss level. Matte finish has a slightly higher gloss percentage, around 5-10 %, while the flat finish has approximately 5%.
The difference between the gloss percentage is little. However, they both have constant durability. Flat finishes are not wipeable or washable due to their minimal sheen level, but they are ideal for uneven surfaces. Matte finishes are not washable but are a little more wipeable and have a barely solid overall finish.
Can You Spray Gloss Paint Over a Matte Finish?
You can give a matte surface a glossy look when you aren't satisfied with it because of how it scratches or scuffs. These scuffs are a result of the high pigments it embodies. Coating a matte surface with a crystal-clear glossy varnish will bring a new look to the flat surface.
Using a polyacrylic varnish is a perfect choice for glossing up a matte finish. You can use also use a wallpaper finish for this procedure. The wallpaper varnish is a thinner that is water soluble, and it comes in gloss, flat and satin types.
You can make your matte paint glossy by adding a higher percentage of gloss paint. Next, add a quart of flat paint to a gallon of gloss paint or a gallon of matte finish into 5 gallons of gloss paint.
This is an excellent ratio that will make you get the glossy look. You will attain a semi-gloss or stain finish if you mix equal quantities of matte and gloss paint.
Methods On How to Make Matte Finish Glossy
Enamel Gloss Varnish
An enamel gloss varnish is a paint type with an opaque glossy finish. It is a rigid, long-lasting product and is commonly used on metal surfaces and for outdoor projects. Using transparent acrylic paint and mixing it with a gloss medium is an inexpensive alternative to make a glossy finish on a matte surface.
Future Floor Polish
Future floor finish is a water-soluble acrylic floor coating. It can be applied with a paintbrush, airbrush, paper towels, soft cloth, or a cosmetic sponge. When used with an airbrush, it can be thinned with water.
To create the best sheen result, sand the surface before applying the coats of future floor polish. It is available at home improvement stores. It is pretty glossy and can be used as a top coat for floors. It is available in a non-yellow version which gives it a more decadent shine to your project.
Gloss Medium
Gloss mediums are commonly used to enhance the luminosity and natural sheen of acrylic paint. It makes the color more transparent and thinner, a choice for brilliant thin glazes.
It increases the flow of color, depth, and transparency for blending and offers an excellent finish. It is ideal for painting gemstones and rocks, although it is thick, so you should be careful when working with it.
Pigment Powder
Pigment powder comprises pigments that give color to the paint. It is used for adding color to several products.
It can be mixed into white paint or clear gesso to make the matte finish glossy. You can use 24k Gold powder and Pearl Ex mica powders to rate a lustrous finish.
How To Make Matte Paint Glossy
Apply a little amount of matte finish on a paper towel.
Apply the flat paint to a plastic surface using a paintbrush. Do not use so much paint because the glossy top coat may seep into the short crevices on your plastic cover.
Remember to add a few drops of acrylic gloss varnish to the paper plate. Do this till the paint dries up. Dip the paintbrush into the glossy topcoat and run it carefully over the painted surface. When applying the coat, try to keep it even.
The topcoat should sit for about two hours before you use the item. If the thing does not take time to harden, it will smudge while you are using it.
Tips For Getting a Glossy Finish on a Matte Surface
The gloss spray angle should not be too broad or precise. Otherwise, the coating will be uneven.
If you want to mix matte paint with glossy paint, know the luminosity level of the matte finish. Some matte finishes give a little sheen when light hits them. If the flat surface has a hint of sheen, the mixture will not work.
If you expose the gloss paint to sunlight for an extended period, it will dry up and cease to produce good results on all surfaces. The gloss apart paint is the best to use when it is opened.
If you are done applying the glossy topcoat on the item, place the item vertically in a wind-free area. If the thing is left in the open, tiny particles of the paint will scatter.
If you leave your project for more than six hours after applying the topcoat, it will start to feel sticky.
Benefits Of Glossy Paint
It is resistant to high humidity
It is highly durable
It is washable and sizeable
It is highly reflective
It pairs well with other finishes.

Latest posts by paintsgeek
(see all)