In this article, we will be going through the differences you should know between Tru oil and polyurethane. One of the most important decisions to make in a woodworking project is choosing which finish to apply.
Most woodworkers think they have just 2 options: paint and varnish. As they gain more experience in the field, they will realize that there are better options like Tru-oil and polyurethane.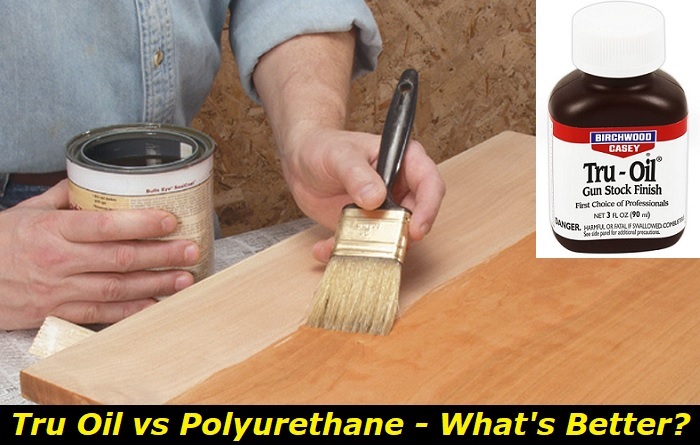 The choice of finish must pass these two tests. It must enhance the beauty of the wood project. It must also protect the wood from any damage, especially water.
So, hang on as you'll get all that you need to know about Tru-oil and polyurethane and the differences between them.
What is Tru Oil?
Tru-oil is a blend of linseed oil which is the carrier and a urethane-based finish. It consists of 56% mineral paint thinners, 33% oil varnish, and also 11% linseed or Tung oil.
Tru oil is fundamentally a wiping varnish. It makes repairing much easier and gives a brilliant finish to a wood project. It is a bit softer than varnishes that are polyurethane based and it is less expensive.
You have an opportunity to either make it thin or build it till it gets tough and thick just to achieve what you want.
Tru oil gives you a finish that is harder and has a varnish-like feel. It is a nice finish for guitar and gun stocks because of its ability to retain its properties under hard use.
How Tru Oil Works
The brilliance of the Tru-oil can be affected largely by the location and the type of wood you use it on. If you want to use it on smooth-grained wood like cherry, pine, cedar, or maple, the steps below will work just fine. Using Tru-oil on coarse-grained wood like mahogany, oak or birch can take a lot of effort and time depending on what your taste is
The following is a step-by-step guide on how to get the best after applying Tru-oil on wood.
Day 1.
Preparation:
Sand the wood with 220-grit paper. To remove all dust on the wood, wipe it with mineral spirit.
The first coat (to fill the pores)
Mix 1pt of Tru-oil with 2pt of mineral spirit and wipe the surface with it
Wet sand the wood with 220-grit paper and leave it for 2 to 3 hours.
Second coat:
Mix 2pt of mineral spirit with 1pt of Tru-oil and wipe it very well.
Wet sand with 320-grit paper and leave it to dry for 12 hours.
Wet sand it with 320-grit paper for it to level up. And wipe it with a wet cloth.
Buff it with 000 steel wool and don't forget to wipe off the particles when done.
Day 2.
Third coat:
Uncut Tru-oil wipe on lite and allow it to dry for 2 to 3 hours.
Wet sand with 320 grit paper and buff it with 000 steel wool
Fourth coat:
Uncut Tru-oil wipe on lite and allow it to dry for 2 to 3 hours.
Sand it lightly with 320 grit paper and buff it with 000 steel wool
Fifth coat:
Uncut Tru-oil wipe on lite and allow it to dry for 2 to 3 hours.
Sand it lightly with 320 grit paper and buff it with 000 steel wool
Day 3.
Sixth Coat:
Uncut Tru-oil wipe on lite and allow it to cure for 12 to 14 hours.
For open-grained woods, you might have to start with a standard grain fill step before using Tru oil.
After following these steps well, you will surely appreciate the result.
Applications of Tru Oil
Tru oil is primarily used for finishing gunstocks. Musical industries are not left out in the use of Tru-oil. With the combination of finish quality and protection, high-end string insTrument builders have found Tru-oil as the best option for them.
Tru oil is used in finishing projects that are used especially for preparing and serving food. It is used for wood serving dishes. It prevents these dishes or the food inside them from getting damaged. Tru oil is food safe, it does not affect the body.
It can be used in combination with other types of finishes. If the wood is stained, allow the wood to dry before applying Tru-oil so that it can soak in well. After enough coats of Tru-oil have been applied you can wax or varnish over it. Varnishing makes the finish durable and tougher but you might find it hard to repair it if the need arises. Wax is much easier to repair. You can also apply it alone or over varnish but don't apply varnish over wax because the result is not too good
What is Polyurethane?
Polyurethane, often abbreviated as PU or PUR is a bendable, flexible, and durable material. It is manufactured to replace several materials like rubber, cotton, wood, metal, etc. it can be as hard as fiberglass, sticky like gum, or protective like varnish,
Polyurethanes are produced by reacting polyols with diisocyanate or isocyanate. Where necessary, catalysts or additives can be introduced.
Polyurethane has significantly helped several industries to keep up with technological growth. It has gained wide acceptance due to its broad range of user applications ranging from toys, coatings, mattresses, and tires to even airplane wings.
It is not a wood finish, but rather it is an ingredient that forms a plastic resin on the wood surface after sufficient drying.
Basically, there are two types of polyurethane. And they are:
Oil-based polyurethane
It is an oil-based poly that offers more shine and color depth. With time, this oil poly gets darkened and becomes yellow. Oil-based polyurethane is more durable than water-based polyurethane. It's also cheaper and provides lasting protection.
Water-based polyurethane
Unlike oil-based polyurethane, it does not turn the color of the surface yellow. Because of its clear properties, it is the only viable option for grey-stained or white-washed floors. It also dries faster than oil-based poly. It is more resilient and also easy to apply.
How Polyurethane Works
Preparation
Remove previous finishes on the wood.
Sand the wood initially with 100grit paper you can later move to 150-grit paper and finally, use 220-grit paper.
Wipe the surface of the wood while sanding it. After that, use a lint-free cloth to wipe the surface over again.
For oil-based poly, use mineral spirit to dampen the lint-free cloth
For water-based poly, Dampen your cloth with water.
Choose any technique 
Brush flat surfaces with a brush
Wipe contour surfaces with a clean cloth if there is any contour.
Spray the areas you cannot easily access.
Applying polyurethane 
Open the can and stir the polyurethane with a smooth rod
You have to seal the wood with a mixture of polyurethane and mineral. This might take up to 24 hours,
Sand the wood again, and always sand it after applying coats of polyurethane.
Apply your first coat by using pure polyurethane. Make sure you sand it after it dries
Apply your second coat and wait for it to dry up. Don't forget to buff the surface not with sandpaper but with cardboard paper to give the surface a nice look.
Applications of Polyurethane
Polyurethane is used in several areas to produce different consumer and industrial products. These products make living convenient and comfortable.
Polyurethane can be used either as a top coat or as a foam underlay. It makes interior floors durable and easy to maintain. It also makes the floor aesthetically pleasing. Polyurethane can be used to coat floors ranging from wood, and parquet to cement. It is resistant to abrasion and solvents.
It can be used in furnishing homes. It can be used as furniture, or as an underlay for carpets. Flexible polyurethane is used mostly as cushioning material in furniture because it is durable and makes it comfortable.
Footwear industries make use of low-density elastomers of polyurethane for the production of footwear.
Other applications, the making of some garments, straps, and bands, bathroom and kitchen sponges, etc.
Differences Between Tru oil and Polyurethane
Tru oil is good protection against UV damage, it is very flexible and has nice coloring While polyurethane is highly susceptible to UV damage. It is resistant to abrasion and it is very easy to apply.
Tru oil can be used as a coating material in the form of resin, solvents, or oil. while Polyurethane can be used either as a water-based resin or an oil-based resin.
Tru oil takes as much as over 6 hours to dry just for one coat, it dries slowly. Water-based polyurethane dries quickly while oil-based poly dries slowly also.
Tru oil is generally used on softwoods, boats, and deck chairs. Polyurethane is used for hardwoods, wood flooring, frames, and bookcases.
When it comes to application, Tru oil can be very stressful. It takes several layers to get the desired result. For polyurethane, you need just 2 to 3 coats.
Tru oil is less toxic than polyurethane. Water-based poly is very low in toxicity, while oil-based poly has a higher percentage of toxicity.
Tru oil is less expensive than polyurethane.
Conclusion
Your choice of finish is very important when it comes to a woodwork project.
Tru oil and polyurethane can both give you a nice result if you know when and where to apply them. In this article, you must have understood how they work, where they are applied and the differences you need to know about them.

Latest posts by paintsgeek
(see all)