The surface finish of a painted surface is regarded as of utmost importance for both painters and consumers. In truth, the paint finish helps to make a significant change in the general outlook of the surface of the project.
In this article, we'll take you through the detailed steps involved in the making of a Gloss Finish Satin, the pros and cons of the paints, and the tools that will help make your job easier.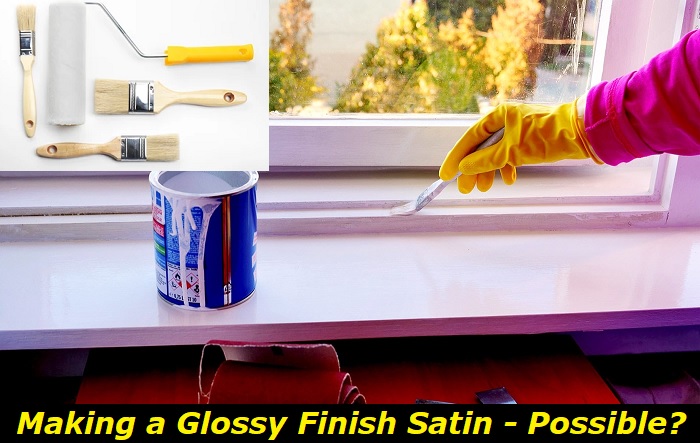 What is Satin Paint?
Satin paint is a hard paint type that has an attractive and shiny look. What differentiates satin paint from glossy Paint is that it does not have a shiny property to the extent that the glossy Paint shines.
Although this may be seen as a disadvantage on a part, it is beneficial in the sense that it won't reflect defections of any form on the surface you're painting because of its low reflective strength, but it will still maintain an attractive sheen
Its light paint sheen level enables it to be a great finish for bathrooms and kitchens. You can use it on your woodwork like furniture, doors, window frames, interior walls, and other surfaces.
What is Gloss?
You can determine the gloss of the material when you measure the tendency of the paint film to reflect light. The glossiness of various surfaces is usually different from the paint film. The stronger the level of gloss of the paint film, the higher its tendency to reflect light and the higher the brightness level of the light.
Gloss is a product of light reflection – the higher the level of the light in your environment or surroundings, the glossier the surface of your work will appear.
Glossy Paint Turning Satin and vice versa
Your Satin Paint will become glossy by mixing it with a gloss medium. A gloss medium is a type of paint (glossy paint) that is used to make the surface finish of your project shine or glitter.
By combining it into the satin paint until it is well mixed to add the gloss medium. And your glossy paint satin will then pop up once it gets dried up.
How To Make a Gloss Finish Satin
Making a gloss finish satin is not as strenuous as you may imagine. And below are the proven steps curated in a detailed list to help guide you on the job:
1) Combine both the Satin and Gloss Paints
Your first step should involve the mixture of the satin paint with a little quantity of the gloss paint. If you desire to generate a semi-attractive or not too loud color, we would advise that you mix with a little more quantity of the gloss paint than the one you've mixed at first.
If you would like to make your surface reflect a brighter color, use very little quantity of your gloss paint. Make it a point of duty to ensure that you mix the combined paints properly.
If not, the painted surface will look shabby as the paint wouldn't spread around the surface equally.
2) Surface Preparation
The cleaning and prepping of the surface of your project thoroughly to prevent defects on the painted surfaces is a very cogent step in the finishing process of your project.
You can easily detect paint failure on your project when the paint that you applied in a short while starts to fall off from the surface of your painted project.
In case you're working on a slippery surface, you must ensure that it gets properly sanded with sandpaper, and an oily or dirty surface will require that you wash it thoroughly to help prepare a great surface for the proper sticking together of your paint.
Low-quality surface preparation will yield defects in your painted project which will require that you spend lots of resources, both material and intangible, to help solve the problem. This is because the face of the material must be amended in case any failure shows up.
3) Add Some Primer to the Surface
Primer makes room for a smooth surface to enable your paint to cleave to the surface of your work easily. The provided surface in any available project you're working on is primer specific. That is, for every surface type, there is a primer.
The main benefit that the primer provides on the surface of your work is that it enables the paint in use to get very firmly attached to the surface.
4) Spread the Primer Carefully on the Surface
Finally, paint the primer onto the surface, not in a rough but a smooth manner. Ensure you're patient till it totally gets dried up before moving on to the next step.
5) Paint Your Surface with Another Round of Paint Over the Primer
When the primer applied to the surface of your project is no longer wet, and is completely dried up, you can go ahead to add some more paint over it in the preferred texture and color.
6) Demoisturize the Surface of Your Project
It is expedient that you exercise enough patience for your painted project to get dried up totally without going for the sealing procedure in a hurry.
It might take a long length of minutes, based on the environmental conditions like the rain. Especially if you're trying to quicken the painting process.
7) Seal It with a Topcoat
Lastly, make sure you seal the paint finish using a top coat to prevent it from washing off and its surface from defects due to scratches. You are liberal to make use of various topcoats, based on your preferences.
Benefits of Glossy Paint Satin
Aside from the attractive finish that the Glossy Paint Satin provides, it also has other amazing advantages. And we would like to show you the benefits of using glossy Paint Satin on your woodwork.
Glossy paints generally have a high degree of binder content. Using it on Satin will help prevent damage to the surface of the paint since the pigment content is small and it is shielded by the binder.
Gloss paint satin will help in enhancing the beauty of your home with an eye-catching finish when you use it on your walls.
Resistance to High Humidity 
Aside from its durability feature, using glossy paint satin will protect the surface of your project against the effects of high humidity. We are not trying to assert the fact that it is waterproof, but its higher level of binder content makes room for the firmness of the bond that will serve as an inhibitor to water particles.
The sheen that will be provided by the Glossy Paint Satin will give room for your surface to be wiped down without posing any form of defects on the paint.
A Great Combination with other Paints 
The glossy paint when combined with other paints will produce an excellent result. And of course, in this article, we mixed it with Satin paint to make the surface of your project prominent.
Cons of Glossy Paint Satin
Using a glossy paint satin will contribute to bringing to the limelight every defect on your painted project.
Making use of too little or too much of the glossy paint satin will certainly affect the finish of your project. And we'd advise you to take your accurate measurements.
Due to the bright and attractive finish it gives, it is nearly impossible to paint over your already painted surface.
Although you may try it out, its after-effects will be an unattractive-looking surface finish which will only foster the patchy look of your house or project.
Dependence on Environmental Conditions
Your paint will be susceptible to Ultraviolet rays and other environmental conditions just like any other object. So, you must protect your painted surface in the best manner since repainting it will be a mess in case it gets damaged.
Extra Tips to Get You Going
– Go for the best paint type
Make sure you select the best paint type that will be a perfect suit for your surface. And that will provide the level of glossiness you so desire.
– Clean up
Ensure you properly or thoroughly clear off any form of debris or impurities from the surface of your project.
– Coat little by little
Paint in thin coat layers so you can get an equally layered painted surface. It is wise to paint in thin coats rather than in thick coats.
– Dry your paint
Ensure you give room for your paint to dry up totally before you do any work on the surface of your project.
Tools Needed
A brush or roller -3 to 4 inches wide is great for larger areas and a 2- to 3-inch angled trim brush is okay for interior or exterior trim work.
Container – to mix your paint.
Sandpaper – to clean the surface.
Conclusion
We are sure that you've gotten the detailed information as regards a Glossy Paint Satin. Either you get it done yourself or you outsource the job, we are certain that this article will be of help to you.
There you have it. Your paint is now glossy and beautiful.

Latest posts by paintsgeek
(see all)