GoodHome Paint and Dulux are two paint brands that many professionals and homeowners today use in painting buildings. As a paint brand, Dulux has a long history and has existed since 1931. They were one of the first producers of alkyd-based paints on the market. On the other hand, GoodHome has existed as a brand since 2019; however, it inherits the spirit of its seller B&Q's internal brand, which it replaced.
You might be wondering which one is better and more durable. There is no simple answer because both brands offer a range of products that cut across different use cases. A straightforward one-to-one comparison would be inadequate. Instead, we will compare the brands on certain criteria, including; paint variety, durability, type of finish, availability, and health and environmental effects to tease out which of them suits your needs.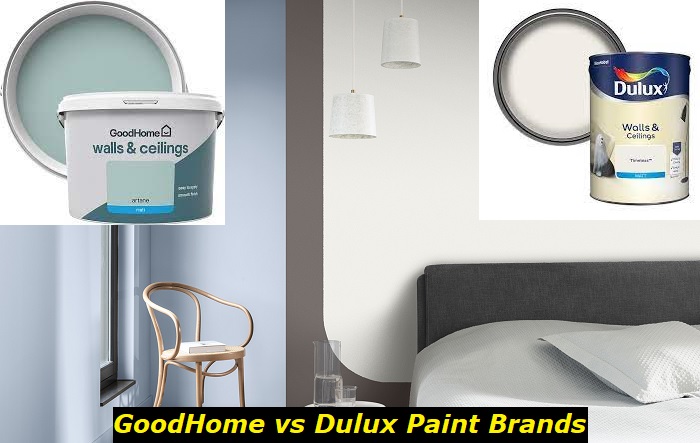 GoodHome Paint VS. Dulux
1) Paint Variety
The two main types of paint are Water and Oil-based paint. Oil-based and water-based paints have differing qualities that lend them to differing uses. There are advantages and disadvantages to both oil- and water-based paints.
Oil paints have a reputation for being harder to work with and unsuitable for inhabited spaces due to their harmful effects on people and the environment. Over the last few decades, oil paints have lost a lot of relevance. Yet, they retain great qualities, such as higher sheen levels and durability. Oil-based paints are still heavily relied on in painting furniture like cabinets, window frames, and doors.
Dulux and GoodHome offer paints for various use cases, including emulsion, metal, wood, floor, damp, kitchen, bathroom, furniture, and ceiling paint. They also both produce primers, sealants, and undercoats.
However, if you needed oil-based paint specifically, you would have to rely on Dulux as some of their products, like the Dulux Super Enamel range, are made with organic solvents crucial for oil-based paint. With Dulux, you can achieve a durable high-sheen finish with their oil-based paints. While GoodHome Paint, as a brand, only offers water-based paint products, thus limiting your options.
2) Durability
Durability here refers to the longevity and ability of paint to withstand wear and damage. In this comparison, the durability of Dulux or GoodHome paint will depend on the type of paint. Neither of these brands is niche specific. They both sell multiple types of paint products for varying purposes.
Dulux products are well-known paint brands recognized for their effectiveness and durability. Some of their products use technologies that increase toughness and resistance to stains. For example, Dulux EasyCare paint is durable because of its stain-repellent technology and washability.
Dulux offers a 15-year guarantee on EasyCare paint. Some other products, like their gloss enamel, are rated for 7 years, and the Acrylic PVA has a 10-year product guarantee. If Dulux are on the money, their Roofguard paint should last up to 12 years.
GoodHome brand does not quite have the long history and reputation that Dulux has created for itself over decades in terms of reliability. Notwithstanding, many users have found GoodHome products to be solid. The GoodHome durable matt paint, in particular, has received great feedback from professional painters. Some refer to the white variant as "White Gold."
GoodHome also gives considerable guarantees for their paints. For example, the GoodHome masonry paint has a 20-year guarantee.
As far as durability goes, both Dulux and GoodHome have solid reputations. But we slightly tilt towards Dulux because of their long-established reputation in this regard and their more explicit guarantees on all their products. In addition, unlike GoodHome, Dulux still produces oil-based paint, which is more durable than water-based in certain scenarios.
Nevertheless, you should read the specifications, reviews, and guarantees for each specific product's durability before you make a purchase decision. Also, use the paint formulated for its correct use case to enhance durability.
Using paint formulated to work in particular areas like a bathroom, ceiling, or outdoors will last longer than those designed for alternate purposes. Different paints have variant formulations in terms of their durability, washability, and ability to resist certain effects like weather, stain, mold, or sunlight exposure.
3) Finish Type
Paint finish refers to how much light the paint reflects or how shiny it is. Also called sheen, paint finish is an important consideration when selecting paint. There are five main types of paint finishes. They include (in ascending order from low sheen to high sheen):  matte/Flat, eggshell, satin, semi-gloss, and high gloss.
While Dulux products span all these finishes, GoodHome choice to make only water-based limits the extent to which you can achieve some glossy finishes. While GoodHome has semi-gloss and high gloss paints like Pure Brilliant and Alberta Gloss metal and wood water-based paints, they are not comparable with Dulux's oil-based offerings in achieving a high sheen finish. So, if you need a solid semi-gloss or full gloss finish for wood and metal, something like the Dulux trade high gloss paint is the way to go.
4) Availability
Throughout the decades of its existence, Dulux has established its presence globally, with dedicated outlets and or partners on every continent. The reach and brand presence of Dulux is enormous. The B&Q GoodHome brand is also available globally. Still, we won't dare compare its brand recognition and distribution to Dulux.
Finding either of these products in the USA, Canada, or EU will not be difficult. But around the globe, it will be easier to source Dulux paints. You may not find the brand name Dulux in the USA because Dulux paints are sold in the USA under the PPG Paint brand. So, if you are in the USA and want to acquire Dulux paint, ask for PPG paint instead.
5) Environmental and Health Effects
Different paint types have differing impacts on the environment. The amount of Volatile Organic Compounds (VOC) in paints determines their environmental and health impact. VOC refers to the chemicals released into the environment as vapors and gases when the organic solvent evaporates as the paint dries.
VOCs are dangerous to the environment. High VOC levels are also bad for the health of people and animals. Some types of VOCs include benzene and formaldehyde. These chemicals pollute both internal and outdoor spaces and negatively affect the environment. There are studies that show that VOCs found in some paints can cause health problems for people exposed to them. Some research has linked VOCs in paints with cancer.
Low VOC paints will allow for cleaner air and less toxic smell. Also, Low VOC paints reduce the need to wash equipment with harsh solvents.
In this regard, GoodHome paints are generally safer than their Dulux counterparts. GoodHome's manufacturers only make water-based paints with very low VOC levels from inception. The development and design of paints under the GoodHome stable are geared towards sustainability.
Dulux also has a strong approach to reducing VOC. In recent decades, they have taken serious steps to revolutionize their products to contain low or minimal VOCs. However, Dulux still produces oil-based paints, which typically contain high VOC levels. You should take recommended precautions when using any of Dulux's oil-based products to protect human and animal health. Ensure you read instructions carefully and take all precautions when working with them.
If you will be hiring someone to paint your home and they will be using Dulux, please try to find out the type of paint and the VOC level from the painter.
Our Verdict
While both brands make a strong case on the above metrics, Dulux has greater paint varieties and finishes for you to choose from, including the increasingly scarce oil-based paints. Both brands have also established themselves as makers of durable and long-lasting paint. Yet Dulux's more storied reputation and solid guarantees give it a hand up in terms of durability in our books.
In terms of availability, both paint brands have a presence globally. Finally, GoodHome's very intentional sustainability pledge on its launch gives it a head up regarding environmental protection. All good home products are safe for the environment and humans unlike Dulux, which still produces oil-based paints.
All in all, you should not pick between these paints on only this generalized comparison. All we have set out to do is give you a point of departure in choosing paints for your purposes. You should compare products based on their specific use cases, check expert and user reviews, and compare prices and availability in making a purchase decision. You might end up picking a bit of both for different uses.
Conclusion
Dulux and GoodHome are solid brands with an eclectic selection of paint types. You cannot go wrong with either of them. Nevertheless, knowing a few things can help you choose one. In this article, we have tried to help you make an informed choice. As such, we compared both brands on five important metrics: paint variety, durability, finish types, availability, and health and environmental effects.
Beyond the comparison, we recommend researching individual products before you choose. Rather than relying on just the overall view. You might find that some Goodhome paints are better than Dulux paints and vice versa in certain scenarios.

Latest posts by paintsgeek
(see all)