Using a clear coat over primer may seem like a reasonable idea to many. After all, primer is typically used as a base layer for paint, so why not use a clear coat in the same way? In reality, things are not that simple and many people fall into the trap of thinking that this is a helpful practice. Doing so can cause several problems down the road.
In this article, we will be focusing on why clearing over primer is a bad idea. We will list some specific reasons why this practice does not work so that you can avoid it in the future.
Of course, we will also line up some alternative methods that can be used which will ultimately provide you with a much better finish.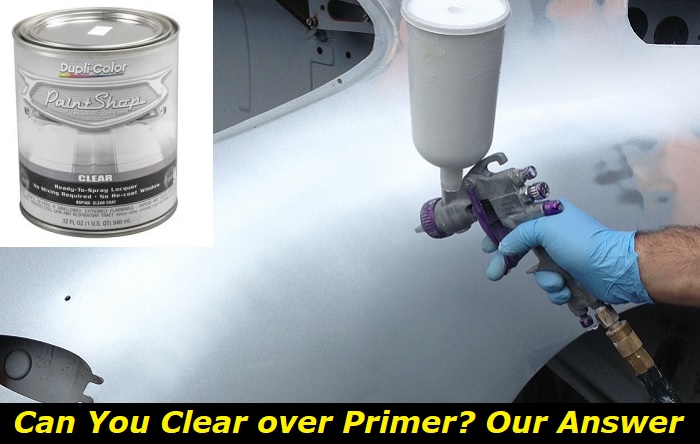 What Is Primer?
Before we get too ahead of ourselves, let's briefly go over what primer is and why it exists. Explaining the properties of common primers helps understand why you should never clear over primer.
Typically, primer is composed of a polymer resin base with other ingredients included to ensure that it can stick to surfaces and promote adhesion. In many cases, primers also have a mild sanding agent in them so that they can be lightly sanded for an even smoother application.
The main purpose of primer is to provide a uniform surface for paint. It also helps in the overall adhesion of paint and can be used to fill in small imperfections on surfaces.
While primer is not always required, it is generally recommended by experts if you are painting over a new or raw surface. This is because bare surfaces are often very difficult to get paint to stick to. In some cases, it may not be possible at all.
Why You Shouldn't Clear Over Primer
Now that we know what primer is, let's get into the main topic at hand – why clearing over primer is a bad idea.
1. Inconsistent Finish
One of the biggest dangers of clearing over primer is that it can lead to an inconsistent finish. This is primarily because primers are not meant to be topcoats. As a result, they do not have the same properties as topcoats.
This means that when you clear over primer, you run the risk of the clear coat not adhering properly. This can lead to an uneven finish with some parts being glossy and others being dull. In some cases, it can also cause the clear coat to crack or peel off entirely.
2. Poor Protection
Another downside of clearing over primer is that it provides poor protection.
As a result, they will not be as effective in protecting the underlying paint from UV rays, dirt, water, and other elements. This can cause the paint to fade or become damaged very quickly. And, you do not want your hard work on a project to lose its luster so quickly.
3. Difficulty in Application
If you have ever accidentally tried to clear over primer, you know just how annoying it can be. The clear coat will often apply unevenly and dry very quickly. This makes it difficult to get a good finish. In the worst cases, it may be impossible to fix the mistakes that you have made.
4. Imperfections Will Show Through
Another issue with clearing over primer is that any imperfections in the primer will show through the clear coat.
This is because the clear coat will not be able to fill in these imperfections as paint would. As a result, all of the small scratches, dents, and other blemishes will be visible to the naked eye. And again, the luster of your project will be diminished.
5. You Will Waste Time and Money
Ultimately, trying to clear over primer is just a waste of time and money.
You will likely have to apply several coats of clear coat to get a decent finish. And, even then, it will not look as good as it would if you had just used paint. In the end, you will just end up frustrated and disappointed with the results.
Alternatives to Clearing Over Primer
Now that we have gone over all of the reasons why clearing over primer is a bad idea, let's talk about some alternatives. Below are a few methods that you can use which will provide a better finish and will not ruin your paint job.
1. Use Paint
The simplest and most obvious alternative to clearing over primer is to just use paint.
If you are painting a new or raw surface, you will likely need to use primer anyways. So, you might as well just use paint from the start. This will provide a much more consistent finish and will protect your paint job better in the long run. Generally speaking, one or two coats of primer will be more than enough to prepare the surface for paint.
2. Use spray lacquer
Another alternative to clearing over primer is to use spray lacquer.
Spray lacquer is a type of paint that dries very quickly. This makes it ideal for projects where you need to apply several coats in a short period. Additionally, it provides a very glossy finish which looks great on just about any surface.
3. Use a pre-painted surface
If you are working on a project where the surface has already been painted, you can just clear over the existing paint.
This is an especially good option if the paint is in good condition and does not need to be replaced. In most cases, you will only need to apply one or two coats of clear coat to get a good finish.
4. Use an automotive paint sealant
Automotive paint sealants are another great alternative to clearing over primer.
Paint sealants are designed to provide a long-lasting, protective barrier for your paint job. They are very easy to apply and can be found at most auto parts stores.
5. Use a clear bra
A clear bra is a type of protective film which is applied to the surface of a vehicle.
Clear bras are often used on the front of vehicles to protect them from rocks and other debris. They are also frequently used on motorcycles and ATVs. Clear bras are made from a very tough, durable material which is almost impossible to scratch.
Clear bras can also be applied to other surfaces such as boats, RVs, and even furniture.
They are available in a variety of sizes and can be custom-cut to fit just about any surface. If you are looking for a long-term solution to protecting your paint job, a clear bra is an excellent option.
Hopefully, some of these alternatives to clearing over primer gave you some ideas for your next projects.
Outro
All things considered, clearing over primer is not recommended and should be avoided if at all possible. Some alternatives will provide a much better finish and will not ruin the look of your paint job.
If you have any questions about this topic or would like to learn more about various paint sealants and how to effectively use them, feel free to contact us. We would be more than happy to help you out.

Latest posts by paintsgeek
(see all)