A good paintbrush is a must-have for a successful DIY painting project. You can cover your inexperience with quality paint or stain and a good brush. This article saves you the hustle of testing different brushes.
We outline the best brushes that do not leave streaks based on customer reviews and experience. You will also get useful tips for picking the right brush for your next painting project.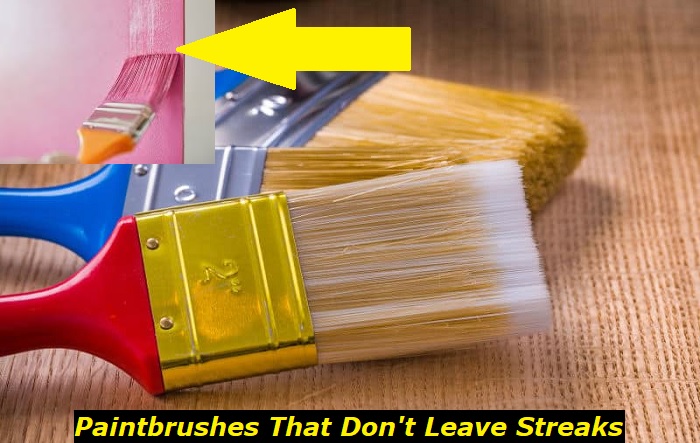 Top Paintbrush Brands to Buy
The frustration of seeing ugly marks after a long day of sanding and painting is unmatched. Hiding the streaks is another lengthy process. We recommend these paintbrushes for a durable coat without streaks.
1) Purdy
Purdy is a trusted supplier of quality paintbrushes. The company supplies paint brushes to suit different types of paints and painting jobs. Purdy brushes are in different sizes and have different bristles.
The Purdy XL Sprig is ideal for painting large surfaces like walls and fences without leaving marks. The bristles have perfect stiffness to hold enough paint and work on different surfaces.
You may find Purdy brushes with nylon or polyester bristles. Purdy XL Sprig has a copper ferrule and an alder handle. The brush size ranges from 2 to 4 inches.
The Purdy Pro Extra Monarch is suitable for rough surfaces such as brick walls, wooden surfaces, and concrete. You can also use it on siding and stucco.
Rough surfaces require stiff bristles, and this brush is a match. The durable bristles paint smoothly without splitting. Go for a 2-inch brush when painting large exterior surfaces.
If you are working with oil-based products, order Purdy White Bristle Sprig. The soft natural bristles provide the best finish for oil-based paints.
The Purdy Nylox Glide brush is suitable for latex paint. You may need this brush when renovating furniture, doors, and cabinets. The soft brushes navigate all corners and edges perfectly.
2) Wooster
Wooster is another trusted supplier of paintbrushes that do not leave streaks. Wooster Softip Angle Sash Paintbrush is a great pick for painting walls. The thin brush has soft bristles in a subtle angle, which are perfect when painting corners and edges.
Pick the Wooster Silver Tip for touch-ups on your walls. The thin-angle brush is durable and easy to use. Alternatively, choose the Wooster Gold Edge brush set for flexibility.
The set of brushes provides a smooth coat with all types of paint. Wooster uses gold polyester filaments to make the brush bristles for this set.
Wooster Chinex FTP Flat paintbrush is designed for no or low VOC paints. The bristles are stiff with soft tips for a clean finish.
The Wooster Shortcut brush maneuvers corners and tight spaces perfectly. The handle is only 2 inches and has a rubber coat for a firm grip.
3) Bates
Buying a set of brushes is advisable. You can pick the perfect brush for each spot or surface to avoid streaks. Bates has a paintbrush set of 16 foam brushes with synthetic filaments. The 2-inch brushes are easy to hold and recommended for small spots.
The set is advisable for touch-ups and cutting-ins. You can also use the brushes to paint furniture, railings, and trims. The set is inexpensive and fairly durable, depending on the frequency of use.
Bates has an alternative set of brushes, that is, the Bates Professional Brush set. The low-priced brushes can work with all types of paints, including water-based and oil-based paints.
The brushes range between 1.5 and 3 inches and have synthetic bristles. The set is perfect for quick DIY projects.
4) Richard Goose
You can use any paintbrush that handles your preferred paint or varnish perfectly on reachable surfaces. However, high and awkward surfaces are hard to reach with a stiff brush without leaving streaks.
The Richard Goose Neck Paint Brush has a flexible and soft handle to help you navigate awkward spots. You need this brush for ceilings, tight corners, and surfaces between or above obstacles.
The angled brush has nylon bristles that hold oil and water-based products perfectly. The 2-inch flexible handle is perfect for painting difficult spots without leaving streaks or uneven coats.
5) Perdura
Special painting projects such as staining or painting a wooden deck, concrete floor, or wooden fence require special brushes. A 2-inch brush is tedious for such tasks.
The Perdura Deck Boss is designed to complete large painting projects fast. The brush head is 2 inches thick and 7 inches wide with durable polyester bristles.
Perdura Deck Boss can withstand rough surfaces. You can use it for oil-based and water-based paints, sealers, or stains.
The brush is expensive compared to other brands. However, the thick and smooth coat on large irregular surfaces is worth the extra coin.
How to Pick the Best Paintbrush
You now have a list of the best paintbrushes in the market that do not leave streaks. However, each painting job requires a specific type of brush. You may also need more than one brush in one project.
Here are some guidelines to help you narrow down the options.
1. Bristles
Paintbrushes have different bristles, such as natural, Chinex, polyester, or nylon bristles. Some are a mix of polyester and nylon. Choose bristles that suit your type of paint or stain for a flawless finish.
Natural bristles are designed for oil-based products. The bristles are labeled white-China or black-China bristles, depending on the softness.
White-China bristles are softer and ideal for smooth surfaces, while black-China are tougher and perfect for irregular surfaces. Avoid using natural bristles on rough walls, fences, or floors.
The best alternative to natural bristles is Chinex bristles. Synthetic bristles are tougher than natural bristles. You can use them with both water-based and oil-based stains, sealers, and paints.
Another advantage of Chinex bristles is that they are long-lasting and easy to clean. However, they are more expensive than natural bristles.
Use polyester bristles for outdoor surfaces. The bristles work well with latex, oil-based paints, shellacs, and lacquers. Nylon bristles are recommended for interior painting jobs with oil-based paints.
Nylon bristles are limited because of their inability to withstand strong heat, high humidity, and rough surfaces. Polyester bristles are stiff for smooth interior surfaces.
The polyester-nylon bristles are the perfect blend that gives you a smooth finish without streaks. You will also come across foam paintbrushes for touch-ups.
Foam brushes use soft foam instead of bristles. You can use them with all types of stains except lacquer and shellac. Foam brushes are inexpensive and ideal for one-time use.
2. Shape
Most paintbrushes are either flat or angled. Flat brushes have an even, flat edge. They are commonly labeled as wall brushes. Use a flat brush to paint large surfaces like walls, fences, or doors.
Angled brushes have angled bristles. The brushes are also called cutting brushes or sash brushes. You need an angled brush to maneuver edges, corners, trims, and other irregular surfaces.
Professional painters use round brushes for stencils. You may not need round brushes for your painting or touch-ups. However, you may require both flat and angled brushes for a clean finish.
3. Size
The size of the brushes determines the outcome of your painting project. The wrong size may leave ugly marks even when using a top brand.
You need a sturdy and comfortable grip for a smooth coat. You most likely need a brush between 1 and 4 inches wide. However, some brushes are less than an inch or over 5 inches.
Large surfaces require brushes above 5 inches. If you are painting small spots or touching up, choose a brush between 1 and 1.5 inches. Tight spots also require tiny brushes.
Most DIY projects require 2 to 4-inch brushes. Use 3 or 4–inch brushes on the walls, floors, ceilings, and doors. Those with stiff bristles are suitable for fences.
Use 2 to 2.5-inch brushes on edges, corners, baseboards, and trims. The category is also ideal for details on surfaces.
A quick tip is to buy a set of brushes from the recommended brands. A single brush is often insufficient to complete a project unless you are doing small touch-ups and details.
4. Ferrule
Ferrule is the metallic part that connects the bristles to the handle. Long-lasting brushes have stainless steel ferrules or alternative durable materials.
A high-quality ferrule ensures that bristles do not fall off as you paint or clean the brush. You will need a new brush when the ferrule is faulty.
The good news is that top brands use quality ferrules on their paintbrushes. Check other aspects to pick the right brush from a top-rated brand.
5. Handle
The handle should be sturdy and comfortable. A rough handle may leave blisters on your hand after a long day of painting. A slippery handle will leave ugly marks or streaks on the surface.
You also need to consider the surface in addition to your comfort. A flexible handle is necessary for high surfaces, tight spots, and surfaces between obstacles or windows.
It is advisable to have at least one flexible brush in your collection if you are a fan of DIY painting jobs.
Conclusion
Picking a paintbrush that does not leave streaks is now easy. You know the trusted brands in the market, such as Purdy, Bates, and Wooster. You have also learned how to pick the right brush for different types of surfaces.
The results of your next painting job will depend on your painting skills, which will grow over time. Once you get the bristles, size, and handle right, working with different paints and stains becomes easy.

Latest posts by paintsgeek
(see all)