Have you ever found yourself willing to paint over a metal object to cover the rust that formed, but had no success because the rust just kept growing?
That's because rust should be dealt with before it even forms. Corroding metals are unlikely to be of use to you in the future. That's why for every metal piece you have in your possession you should take the right steps to prevent rust from forming.
To help with that you should find a coating substance that doesn't allow corrosion. That substance is epoxy primer.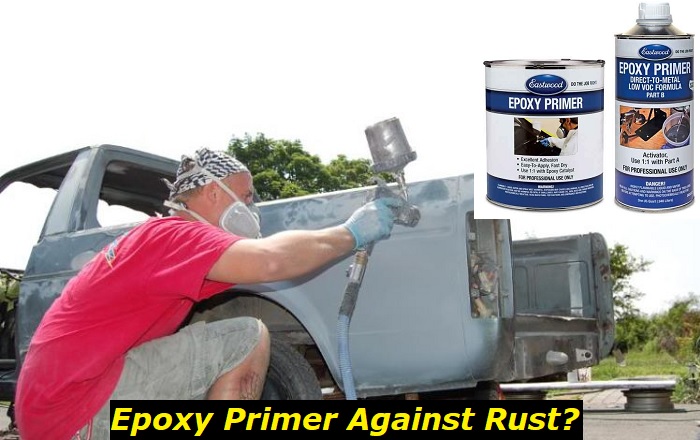 What is epoxy primer?
Epoxy primer is a sealer used as a first base coat over bare metals. It is recommended because it has a non-porous finish, which means it won't allow any substance to get to the metal. With this sort of shielding layer, substances that cause rust, such as water, won't be able to seep into the metal, hence rust won't be formed.
Epoxy primers can be of two types: one-part epoxy, which comes with just one component meaning it can be applied as it's bought, and two-part epoxy composed of two components that have to be mixed; epoxy and zinc phosphate.
But epoxy primer is a widespread product that has been produced by many companies. How to know which product is the best-received and guarantees great results for you?
When looking for an epoxy primer you should consider which of its quality is of most importance to you. Different epoxy primers offer different corrosion resistance, they are differently applied, priced at different rates, and have distinct effects on various surfaces.
These are all qualities that you should consider before going for a certain epoxy primer.
This article will be discussing the top-rated epoxy primers against rust, mentioning their top qualities.
Best Epoxy Primers to Prevent Rust
Restoration Shop Custom Shop White Epoxy Primer/Sealer
This epoxy primer has the best result against corrosion. It can be sprayed directly onto the metal or painted on with a paint gun. As mentioned, it is guaranteed to protect the metal from rust and not allow any particles to come into contact with the iron or steel.
This epoxy primer is a two-component primer. Once you've mixed the epoxy and zinc phosphate you can immediately apply the primer.
Its curing time is relatively quick, so you don't have to wait too long to move on to the next stage of your metal project.
Besides being a primer, this product can also be used as a sealer. It's widely used in automotive detailing and paint priming.
As for the price, it's considered relatively cheap. For $55, you can buy two packs of 16 Fl Oz primer.
Rust-Oleum Self-Etching Primer Spray
This product is best for Self-Etching. If you're working on an object that has small crevices and needs great detail, this primer is best for you. It's an aerosol option and its nozzle can spray at various angles. It doesn't need much practice to get the hang of it and it'll give great results. There are multiple colors for you to choose from. Besides metal, it can also be used on other surfaces such as fiberglass and aluminum. The application time is fairly short as it's of spraying form.
Most customers use it for anything that has to do with small detail work, like automotive detailing and appliances.
Besides it being easy to use, another great quality of this primer is that it's cheaper than most primers. It is sold for around $7 at multiple stores in the US.
If you need something that protects metal surrounded by water this is your best pick. It is widely known for its durability and is used mostly in pools and around marine life. But it is also great for plumbing pipes that come into contact with water every day.
This is a water-based solution and it can be sprayed on the metal. It's fairly easy to use and won't take up too long to dry. Besides spraying it whilst the metal is dry, it can also be sprayed or applied whilst the areas are wet.
Besides metal, it can also prevent damage to fiberglass, concrete, and smooth plaster.
It costs around $73 for a gallon.
Speedokote Epoxy Fast Dry Primer and Sealer
This primer can be used with a spray gun. It is also a two-part primer, which means you have to mix the two components. After mixing, the substance has strong adhesion when it's applied to different surfaces.
It is easy to apply, and what's more, it applies very evenly and quickly. If corrections need to be made after applying, it can be sanded down with wet and dry sanding.
Besides being used as a primer, this product is also well known as a great sealer, as it won't allow anything to get past its shield. This way the metal is protected for the long run and you won't have to be worried about rusting.
From reviewers, it's mostly used as an automotive primer. The surfaces it best performs on are steel and aluminum, but it can also be used on fiberglass and body fillers.
Eastwood Self Etching Black Primer
Self-etching primers are known for incredible adhesion to surfaces, so it's expected that this product is at the top of the list for the best epoxy primers against rust.
This primer, because of the zinc phosphate it contains, sticks well to the metal and doesn't allow the smallest particles to come in contact with the bare metal.
It's super easy to apply as it is in spray form. It coats the metal evenly and you don't have to worry about cleaning it up. It can also be used as just a simple coating without any other finishes needed to be made to the metal because of the strong bond it has.
It's widely used in automotives as most epoxy primers but it's also recommended as an at-home primer because of its simplicity.
It can be used on chrome, bare steel, aluminum, stainless steel, and more metals.
Raptor Anti-Corrosive Epoxy Primer
There are cases when rust has already begun to form and you need to stop or at least slow down the process so the corrosion won't ruin the entire metal. This primer is used when rust has already started to form.
Though it doesn't stop the rust from growing bigger and corroding the entire metal, it does slow the process down and insulate the metal. In that case, rust won't go into other areas. That is needed in tricky situations like corroded doors, or car parts that aren't critical. It does need a top coat application after for extra protection.
SprayMax 2K Activated EPOXY Primer
This aerosol spray is easy to use. Even though it is a two-part primer, all you have to do is shake the bottle and it's ready for use.
It's used on many materials such as fiberglass, aluminum, steel, and other metals. A great characteristic is that the spray pattern is wider than that of other aerosol primers, so you can cover a lot more area in less time.
It cures quickly and it hardens into a tough coat that doesn't allow any substances to seep into the metal. Its lasting period seems to be very long so you don't have to think about reapplying it any time soon after the first coat.
Interlux InterProtect Epoxy Primer Kit
If you are a boat owner and in dire need to protect your boat's metal, this primer is ideal for you.
This product has amazing adhesion abilities not only to metal but also to other materials, such as fiberglass, wood, and other boat parts.
Because it has amazing capabilities to stick to the surface it can be used both under and over the water line on your boat. It has a certain technology called Micro-Plates technology which offers a water barrier for the primer. This ability will help your boat stay dry from water absorption.
It is really easy to apply, it dries quickly and it doesn't leave bumps.
Preparing To Apply Epoxy Primer
After having chosen a primer to use, you have to prep the metal before applying it. To prepare a bare metal you have to clean the surface of any grease and grime so the primer sticks well. The surface of the metal you'll be coating should be a little abrasive so the primer is more adhesive towards it.
Final Thoughts
Although many epoxy primers exist to protect the metal from rust, to choose the best product for your scenario you have to take into consideration some qualities of the primers.
Firstly, check for what kind of substance the epoxy primer is, then how easy it is to be applied, its corrosive resistance, water resistance, and their prices.
Once you've gone through this checklist, choose the option that suits your needs and you'll be happy with the overall results.

Latest posts by paintsgeek
(see all)