Painting questions are so important to answer correctly! Otherwise, a person may spend hundreds of dollars and days of time and eventually get something that is peeling off or just can't hold on the surface. When it comes to working with Plasti Dip, we believe any person with no previous experience in painting shouldn't experiment a lot. But what about painting over Plasti Dip? And what about some spray paint?
In this article, we are going to see if the spray paint will stick to Plasti Dip and hold there for a decent period of time. We'll also tell you how to apply it correctly. Unfortunately, we've got a lot of requests from people who failed to make spray paint hold and look good over Plasti Dip, so we've decided to write a short explanation and guide.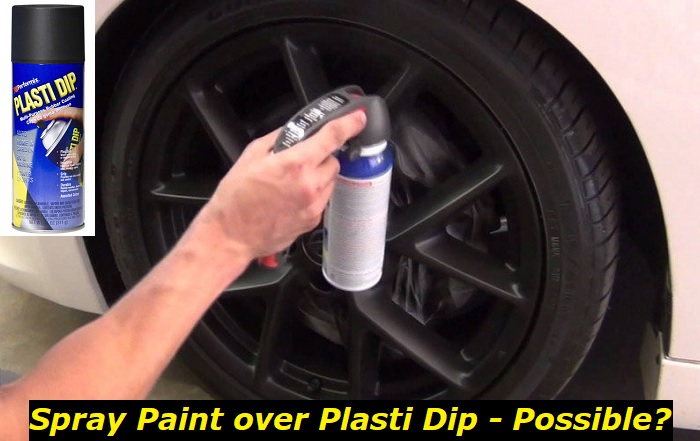 Here's what we'll be discussing today:
Plasti Dip – why will you want to use it on your project?
Can you paint over Plasti Dip?
Spray paint over Plasti Dip – is it at all possible?
How to use spray paint on Plasti Dip to get a good result?
When shouldn't you use spray paint on Plasti Dip?
Let's get started!
Why is Plasti Dip a good decision for many projects?
First of all, we should work with some myths. Many people think that Plasti Dip should only be used on cars and this is what it was initially engineered for. But it's not true. The product has a really wide range of applications and can be used on basically any surface. You can cover glass, brick, metal, wood, stainless steel, and dozens of other surface types with Plasti Dip.
Secondly, this is a product that is sometimes called "liquid rubber". It means after curing this product becomes just like rubber and covers the surface protecting it from any kind of damage. For example, on bare metal, a coat of Plasti Dip (properly applied) will help you avoid rust damage. On a wooden piece of furniture, Plasti Dip will work as a sealant and will prevent the wood from rotting and spoiling.
Here's what you should know about the product:
it's really easy to apply and this is why it became so popular among DIYers all over the US;
the coating is long-lasting unless it was applied with some problems and without following the guidelines;
also, this is one of the cheapest ways to cover a project with wonderful rubber-like protection;
one more thing is that it looks good – Plasti Dip usually looks matte, you can choose a color to complement your project;
the coating is flexible and actually, it's really easy to peel if you don't like it or want to refresh it;
another advantage is that it comes in a spray can and you won't need any other expensive instruments for application;
also, we perfectly know that Plasti Dip is a good material for painting over it if you need this.
So, the last bullet in our list of advantages shows you that you can actually paint over Plasti Dip and it should answer the question we've asked up there in the title. But it's not that simple. We should provide you with some guidelines on how to apply paint over Plasti Dip, especially if it's all about spray paint.
You should know that every action is important, so before you open that spray can with paint, let's discuss what you should avoid and what you should do to get a wonderful result in the end.
How to paint over Plasti Dip with spray paint?
Spray paint is extremely practical and convenient because it doesn't require a paint gun, a compressor, and a load of other instruments. You will not even need to thin it and prepare it for application. Just take that plastic lid from the can and push the plastic button to start spraying the paint.
But before you do that over Plasti Dip, you should know some important limitations. We've prepared a list of things you should know before painting your project.
Here's what you will want to remember:
First of all, you can paint over Plasti Dip with spray paint, but you should do it carefully to make a thin layer of paint.
Also, you shouldn't apply any extremely different paint color over Plasti Dip. For example, if you have a black Plasti Dip on your car wheel and you want to paint them white, you will need a lot of coats of paint to cover the black color. So, it's better to peel off Plasti Dip and use another color of it first.
Don't touch Plasti Dip after you applied the paint. Paint isn't going to stretch and Plasti Dip can stretch. So, when you touch it or move it, the surface will move all around the project and the paint will just flake off.
You shouldn't use any other paint but a water-based one. If your paint contains any solvents or spirits, it will likely dissolve the Plasti Dip coating and destroy the project.
Never use any spirits or other aggressive substances on your Plasti Dip before painting, otherwise, you will just destroy the integrity of the Plasti Dip coating.
Spray your paint evenly in thin layers. You will most likely need a minimum of four coats of paint to cover the Plasti Dip color.
Also, don't expect this paint to live as long as Plasti Dip can live. Unfortunately, over time paint will flake off because of the flexibility of Plasti Dip. If you want a long-lasting effect, you should peel off your Plasti Dip, clean the surface, degrease it, use primers, and then only you can use paint.
Be careful with spray paint. You will have to know how to apply it correctly before you actually do it. Try on a small project before you apply this on the whole surface you need to paint. Plasti Dip will not require any priming – this can only make things worse.
How long will the paint survive on Plasti Dip?
This is really hard to predict because it depends on which parts the paint will be applied. For example, painting a wooden chair covered with Plasti Dip is not a bad idea unless this chair is highly used every day. But painting a car wheel over Plasti Dip coating is not a very good option. The wheel is moving all the time and the flexible Plasti Dip will move, too. This will make the paint flake off after just some months.
Also, the type and quality of paint are important. A cheap paint that is contracting a little after it fully cures will not survive even a week. While some more flexible paint types will happily live on Plasti Dip for months and even years. But still, if you apply paint on a properly prepared primer, it will live much longer than on Plasti Dip.
When should you avoid using spray paint on Plasti Dip?
Well, we don't recommend using spray paint on Plasti Dip just because it's not professional. When you need to change the color of your project, you should choose one of these two possible ways:
Peeling off Plasti Dip and choosing another can of this wonderful material that will add the needed color. This is a good option if you still need all those great properties of Plasti Dip and still want this liquid rubber on your project. But remember that the color will not be glossy, it will be matte.
Peeling off Plast Dip, priming the surface, and then using your paint to add the needed color. This is the best solution in cases when you don't need Plasti Dip and just want to paint the surface of your project.
Any other ideas are sourced from laziness and will not create the long-lasting and good-looking finish that you probably want to have.
But in some cases, using spray paint on Plasti Dip may help you quickly restore the project and make it look just like you want.
What's the maximum lifespan of paint on Plasti Dip?
You may know that decent paint will last over 5 years and sometimes even more depending on the conditions that the project is used under. But on Plasti Dip your paint will not be able to last that long. First of all, Plasti Dip usually lasts about 3 years. And secondly, after a two-year period, Plasti Dip may start being too flexible and even moving which is a destroying factor for paint. So, the average lifespan of spray paint on Plasti Dip is one and a half years.
Final words
We don't recommend using spray paint on Plasti Dip. But anyway, we should say that it's possible. You will not get the ideal finish and you will have to redo the job approximately every year. But still, the paint will stick to Plasti Dip and will hold for some time.
So, it's now up to you to decide whether it's OK for you to apply spray paint that way. In most cases, it's better to choose one of two alternative options we've told you about a little earlier in this article.

Latest posts by paintsgeek
(see all)