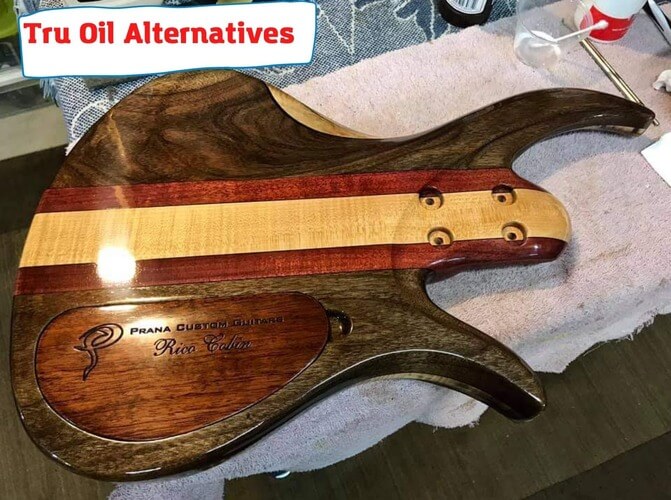 Tru Oil is something many woodworking experts would recommend as one of the best oil finishes for a wooden surface. Though, you may notice that the product is not that cheap. It also has its minuses (although it's still thought to be better than many other kinds of oil). Tru Oil is a registered trademark, it belongs to Birchwood Casey, so this is the only company that can produce a product under such a name.
You might be wondering what alternatives are the best for Tru Oil because the product isn't affordable and people sometimes have a hard time trying to find it near their homes or workshops. So today we'll be talking about Tru Oil, its special features, and its alternatives. Think there aren't many? We'll show you what to do if you can't or just don't want to buy Tru Oil.
Here are the topics we'll discuss in today's article:
Tru Oil and its main functions when applied on wood;

main pros and cons of Tru Oil;

some alternatives of Tru Oil and the way to apply them.
Let's start!
Tru Oil and its main features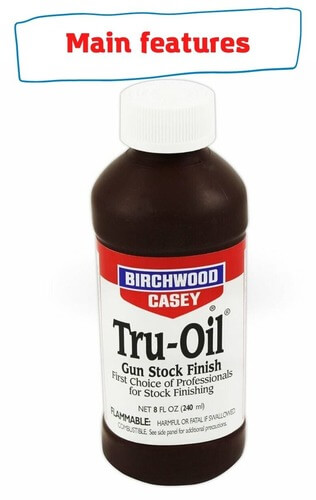 This kind of oil is very popular in North America because it has been marketed hard. We don't know any wood craftsman who doesn't know about this product for wood finish. Although many positive reviews can be found online, quite a lot of craftsmen still think that this product is overestimated and isn't worth the money it's sold for.
Tru Oil is actually a combination of different natural oils with linseed oil as the main base. The combination allows the finish to dry quite fast and to look good on nearly any kind of wood.
The producer claims that the Tru Oil product has such effects:
really fast drying in comparison with other oil types for wood;

resisting water damage;

creating a protective layer to make the wooden surface last longer;

no change in color over time (very arguable, though);

no cracks when the wood is aging;

really long life.
Well, these are all marketing statements that should be checked before buying a lot of Tru Oil for your workshop. If you read the reviews, you will find out that the majority of these statements are aimed to sell the product. And basically, Tru Oil is not a unique product with magical effects on wood.
Now, we'll try to find out all the pluses and minuses of the finish.
What are the real pros and cons of Tru Oil?
The product really has some advantages. It creates a strong protective layer on the surface that can protect your wood for years from cracks and water damage. Fast drying is another advantage that you should take into account. You will want to make 3 to 5 coats to ensure that all these advantages take place in your case. So with other oil types, this will take you a couple of days, but Tru Oil will require less waiting between coats. Also, the oil is based on natural components, so it's relatively safe to use. You will still need to follow the instructions and precaution measures that are written on the bottle with this product.
We've investigated the forums and have found some minuses that wood craftsmen outline when talking about this product. Among the most popular minuses we could find the following ones:
the price – this product isn't that cheap if compared to other oil options;

availability – people from some states and also from Canada, New Zealand claim they just can't buy Tru Oil;

color changes – over time, the oil yellows and changes the initial bright color, but still looks good;

the amount you need for the wood finish is not that little – this brings to additional expenses.
Some people have claimed they had a hard time trying to figure out how to wipe on or brush on the oil. But we believe they just didn't read the instructions on the bottle and had no previous experience with wood finishing at all. Actually, Tru Oil is really good to work with, it's easy to apply and it doesn't require that much time for drying out.
But we still have analyzed the market for the alternatives of Tru Oil, and we have found quite a few of them.
What are the decent alternatives for Tru Oil?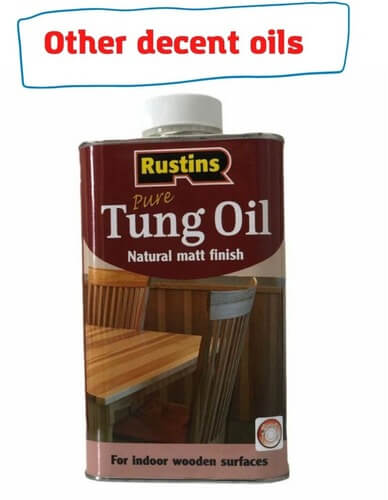 So, in the final part of our today's article, we'll tell you about all the alternatives we could find on the market. And we now know that Tru Oil is not the only product you may go with when working with wood.
1. Tung oil
The only disadvantage of tung oil is that it doesn't create solid protection for your wood. But in all other cases, this oil works fine and will be really good in terms of color, finish, protection from cracks, etc.
Tung oil is not the trademark, you may find dozens of producers that offer tung oil, and the prices are often quite affordable. It may seem harder to apply because you will need to wait for a while before applying an additional coat.
2. Linseed oil
Well, you may have noticed that Tru Oil consists mainly of linseed oil which you can also buy at a low price at many shops. But is it also that efficient with wood? Yes, it can be quite a good solution for any hard wood if you don't need a solid protection layer. It doesn't create any film or any other protection, just stains the wood and protects it from cracks and scratches. If you are OK with such features, then paying for Tru Oil doesn't make much sense for you.
3. Danish oil
One more great option is Danish oil. Well, this product is an all-purpose finish solution for wood that can be used literally in all cases. Danish oil is a blend of different natural oils with protective elements for wood. The oil can create a decent protective coat that will be as good as after applying Tru Oil.
Also, Danish oil looks good on any type of wood. This product is easy to apply, although it has one disadvantage – it needs more time to dry. Using Danish oil is not that hard – you will only need to read the instructions or just watch some videos. Wipe off any excess oil you have after applying and wait long enough for each coat to dry.
4. Minwax Wipe-On Poly
Here's another product that may be a really good substitution for Tru Oil if you can't find the latter anywhere. Many people prefer Minwax Wipe-On Poly because of its simple use, polyurethane protection, and classic design. The product is applied with a cloth, so you shouldn't worry about special techniques or any brush marks.
It dries really fast – you will need to wait for 2 to 3 hours before recoating. The drying time after applying all coats is around 24 hours. You can apply Wipe-on Poly on any wood surface. It's not dangerous when used indoors.
5. Waterlox
Nearly any product made by Waterlox company can be used instead of Tru Oil. The finish products by Waterlox lock out water, so we can say that the protective layer is quite good. Also, these products are meant to protect the wood surface from scratches and cracks because they are used for coating floor panels and tables.
We would recommend having a look at Urethane finishes by Waterlox. They are quite expensive, but they create the best protection coats for your wood. Also, they make tung oil (both raw and mixed with different chemicals to ensure better protection).
7. Prepare your own Tru Oil
On the internet, you can find dozens of "recipes" of how to prepare the mixture of oils that will have the same effect as Tru Oil. We don't recommend doing this, but some wood craftsmen have succeeded in this. You will need boiled linseed oil and some additives to make it work better for protection. Although, we are pretty sure that Birchwood Casey uses quite complicated technologies to produce the oil, so getting an identical copy of Tru Oil will be a hard task for a person without professional equipment. Though, many people have reported that they succeeded in creating some kind of oil that was really good with their wood.
Final words
We are pretty sure that you can find many alternatives to basically any oil on the market. Today, hundreds of companies work hard to create cool products for woodcrafts. But Tru Oil seems to be really good even when you compare it with any other product of the same type. And still, we've found many alternatives for you that can work efficiently in your case.
If you aren't sure what to choose, you may investigate more on each product. Wood craftsmen are ready to help on professional forums. They post their opinions with pictures after experimenting with different kinds of oil. So, finding the best solution for wood finishing isn't that hard today. But still, be careful with choosing a product because each kind of oil is made for a certain type of finish. You need to consider your personal requirements before making a final choice.

Latest posts by paintsgeek
(see all)