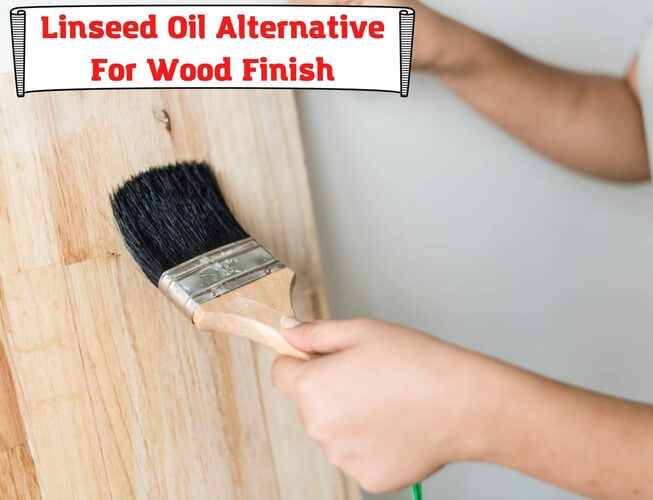 Linseed oil is one of the most popular wood finishing oils. It's a penetrating oil rather than a surface wood treatment as it soaks deep into the grains of the wood. The oil is non-toxic, making it a popular choice for finishing wood for kitchen products. It creates a perfect finish on most types of wood, preventing future water damage and scrapes. 
However, linseed oil doesn't cure quickly. That means it's not possible to apply multiple coats in a day. Additionally, the oil may not do well on select wood types. These may be some of the reasons you're looking for linseed oil alternatives. So, what else can you get?
Six Linseed Oil Alternatives: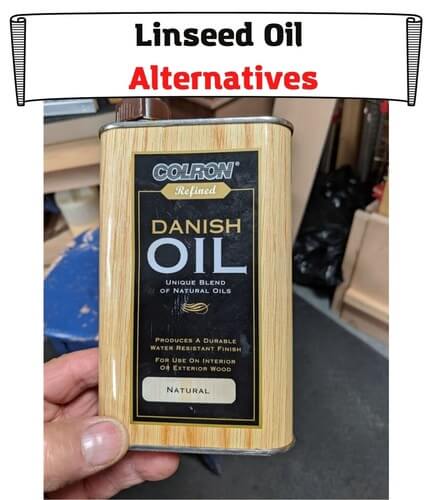 1. Danish oil
Danish oil is an incredible linseed oil alternative. The oil is suitable for finishing food contact wood products. It's a superior penetrating oil that's polymerized to allow for fast and convenient application on all interior furniture and woodwork. Danish oil is suitable for cabinets, wood paneling, salad bowls, butcher blocks, and other food-contact surfaces. 
Moreover, many woodworkers love Danish oil for its outstanding versatility. In addition to being food-safe, this wood finishing oil is also water-resistant. That makes it an ideal choice for finishing kitchen countertops. Danish oil is easy to apply. Upon application, the oil dries to a satin finish.
Another great thing about this linseed oil alternative is that it's very straightforward to maintain. When it comes to protecting wood, Danish oil strengthens it very well. You also don't need to seal this oil. But you can use an oil-based varnish to provide it with extra hardness for durability. In that case, poly can be a good choice for sealing Danish oil. Danish oil can last for a long time, especially on wood that's not used heavily. The oil will perform even better on wood two weeks following the application. 
2. Teak Oil
Teak oil is another incredible wood-finishing oil that you can use in place of linseed oil in your woodworking projects. Many professional woodworkers utilize this oil for the beautiful glow that it produces on wood. The great thing about teak oil is that it's natural, which means it's toxic-free and food-safe. You can use it on kitchen countertops and other surfaces that come in contact with food. 
Teak oil is used to accentuate and waterproof any wood furniture. It's not only beautiful but also water repellent. The oil performs best on teak wood. On durability, this linseed oil alternative is a top choice. It offers a long-lasting finish and allows furniture to withstand all kinds of problems. 
Another reason teak oil makes a suitable alternative for linseed oil is the ease of application. When you apply it properly on wood, this oil enhances the natural appearance of the wood with a deep rich color. The only issue with this natural wood finishing oil is that it's quite expensive. Even so, it can be an excellent option for you if you want a finish that can last for years. Thanks to its durability and resilience, teak oil is ideal for use on outdoor furniture. 
Unlike linseed oil, teak oil dries quickly. That means you can apply multiple coats in a day to rejuvenate your wood. You only need to give it enough time to dry before applying another coat. You can re-apply teak oil after every few months to maintain the beautiful look of your wood. 
3. Tung oil
Tung oil is extracted from Tung tree seeds. The tree is found natively in China and some other countries in Asia. Tung oil provides a water-resistant finish on boats and many other wood items. What's unique about this oil is that it's also used to finish stone. Tang oil is well-known as a drying oil and a perfect alternative for linseed oil. 
The popularity of this oil among professional woodworkers is attributed to its flexibility, durability, and waterproofing ability. Since the oil is natural, it's food-safe. Thus, you can use it on any surface that may come in contact with food. Its protective water repellent finish won't darken, go rancid, or mold. 
Tung oil also produces an aesthetically pleasing matte finish on almost all wood types. It adds depth to the grains of the wood. This versatile linseed oil alternative is also user-friendly and safe for the environment. Upon application, tung oil dries very quickly meaning you can apply multiple coats in a day. The best thing about this wood finishing oil is that it doesn't evaporate. That means it won't wear down any time soon following the application. 
4. Walnut Oil
You can also get Walnut oil to substitute linseed oil. The oil is popular for flooring and other wood furniture that requires powerful protection. Walnut oil also enhances the beauty and natural appearance of wood. 
Walnut oil is natural. That means it's toxic-free, and you can use it on any wood surface, including those that may come in contact with food. Walnut is penetrating oil. That means it doesn't form a layer like other wood finishing products. For that reason, you can re-apply the oil without necessarily removing the previous coat. 
Unlike linseed oil, walnut oil is rich in linoleic acid. It's also heat-treated making it cure faster. By penetrating deep into the grains of the wood, it offers a much longer-lasting finish on your wood. Walnut oil will harden into a satin, food-safe finish. For this, it's used popularly on butcher blocks, bowls, utensils, and all other wood items. The oil cures faster in warm environments. 
5. Tru Oil
Tru-oil is formulated by blending linseed oil and other natural oils. Like linseed oil, the Tru-oil is also popular wood finishing oil. It provides an attractive finish that dries quickly and doesn't yellow or cloud. It will also not crack with age. Moreover, the Tru-oil finish is excellent at resisting possible water damage. This finish penetrates deep into the wood grains, forming a tough finish that improves the beauty of the wood.
Another incredible thing about this linseed oil alternative is that it's inexpensive. It's also easy to use and a perfect choice for a newbie. You can use it on any wood surface successfully. Many people choose this wood finish for important wood items as it offers a perfect combination of protection and beauty.
As mentioned, Tru-oil is user-friendly. You just need a clean cloth to apply it. After application, the finish will dry quickly to allow you to apply multiple coats in a day. Ideally, a coat of Tru-oil will dry in a few hours. You can add as many coats as you like until satisfied. You don't require sanding between coats, which makes the work easier for anyone. From an aesthetic point of view, the resulting finish looks professional and will last for a long time.  
6. Beeswax
Last but not least, beeswax is an excellent linseed oil alternative. The substance is natural, inexpensive, and widely available. For this reason, it can be a perfect option for any beginner woodworker. Being natural, Beeswax is popular for finishing kitchen products and other surfaces that may come in contact with food. That includes wood salad bowls, chopping boards, and many other items. It offers a shiny finish that serves as suitable preservation for the wood. Beeswax brings out the true beauty of wood. 
It can transform dull woods into naturally smooth surfaces when applied correctly. Beeswax gives all wood types a warm and natural glow that you can't find in many other finishing products. The finish is very aesthetically attractive. 
Beeswax is also popular for its guaranteed durability. It includes high-carbon paraffin that penetrates wood, seals, and protects the surface from the sun and moisture. This protection provides considerable durability, particularly for furniture subjected to heavy use. Beeswax is suitable for outdoor furniture thanks to its robust protection against the elements. 
Depending on how well you've prepared your wood, beeswax can dry in one hour. That means you can quickly apply multiple coats on the same day for a more brilliant finish. Since it's a clear wax without any synthetic components, beeswax won't change the natural color of the wood. It will just add a rich finish bringing life to your wood furniture. 
Final Thought
As you've discovered, you're spoiled for choice when it comes to linseed oil alternatives. So, if you're looking for a pocket-friendly option, you can choose between Tru-oil and beeswax. Teak oil has got you covered if you want a finish that will last for decades on outdoor furniture. Danish oil is an ideal linseed oil alternative to use on indoor furniture.
All the wood finishing products we've described above are food-safe and easy to use. Unlike linseed oil, the above finishing substances also cure quickly. Thus, whichever finish you choose, you'll be free to apply multiple coats in a day. With that in mind, the ball is on you. Choose the linseed oil alternative that you think will work best for your woodworking project. 

Latest posts by Daniel Kamiri
(see all)