Driving a new car feels good. You are confident to pull up to any event or destination because your car matches your elegance. The challenge is in keeping your car looking new. Good driving habits are a great start but occasional car detailing is inevitable.
Professional car detailing is advisable for fixing extensive exterior and interior damages. However, you can treat small scratches with the right products. One such product is Paint Pros Diamond Clear, which restores your car surface to a glossy finish.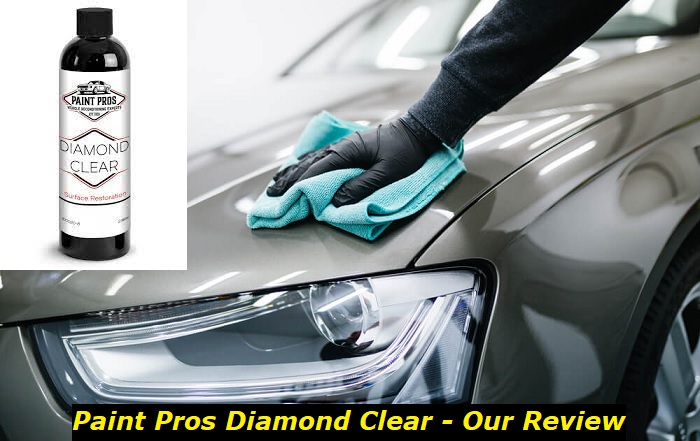 Do detailing results match the manufacturer's description and promise? Read on for a detailed review of Diamond Clear, including its pros and cons. We will also tell you what we think about the product.
Product Description
Many retailers describe Diamond Clear as the perfect solution for restoring your car surface. It repairs clear coat damages and scratches on the car's surface. You can also apply it to headlights for a clear shine and plastics.
Expert car detailers are expensive to hire. The cost varies based on the damage and car model. You can cut detailing costs by treating light scratches and restoring the faded color at home. Paint Pros Diamond Clear is easy to apply and level out.
A soft cloth is enough to clear scratches and restore a shiny gloss to your vehicle. Car owners recommend Diamond Clear for surface damages that normal detailing cannot fix. It gives superior and fast results on all car models.
You can level out the coat with a soft cloth or order Paint Pros Easy Level with Diamond Clear. You need the combination for intense DIY car improvement projects, such as buffing all surfaces. However, one coat is thin enough to buff with a soft cloth.
The 8oz bottle retails at $100, and the 16oz bottle at $175. If you need the Diamond Clear and the Easy Level, the combination costs $130.
Paint Pros offers a 2oz bottle at $40. We recommend that you purchase this trial bottle to test the results on your car before purchasing a bigger bottle. The trial bottle may be enough to clear small scratches. You can also tell if the product is worth the price.
Paint Pros Diamond Clear Review
You cannot rely on the supplier or manufacturer's description alone to make a good decision on a product. You need to hear from other buyers or users. Customer reviews can save you hundreds of dollars on a substandard product.
Diamond Clear from Paint Pros is popular among car owners and dealerships. Many car detailing services take pride in using the product to give their customers excellent results. Happy customers lead to higher sales and profits.
If you are reading this as a car detailer or repairer, consider Diamond Clear for your exterior jobs. The product leaves a beautiful and glossy finish. You will not see any ugly streaks after the application and buffing.
The results of the paint on faded colors are undeniable. One coat is enough to reveal a deep color. The car surface looks nearly as new. You will love this product if you are planning to sell your car. The new look makes the car appealing and easy to sell.
A faded car is hard to overlook. The surface tells that you have driven the car for some years. Repainting is the first idea that comes to mind. However, it takes hours to sand and buff a car before repainting it. You will also need to engage a professional for a perfect repainting job.
Paint Pros Diamond Clear is a quick fix for a faded car surface. The sunroof fades faster than the rest of the body. You can apply Diamond Clear and prolong the underlying coat. It takes less than an hour to apply and buff the new coat.
Most customers are happy with the Diamond Clear results. However, some are dissatisfied with the product for various reasons. Let us summarize the pros and cons of the coat based on objective buyer reviews to make your decision easier.
Pros
The advantages of using Diamond Clear include the following:
Easy application: The coat is easy to apply with a piece of cloth. One layer is enough to give the surface a new elegant look. You will apply and buff the new coat within minutes.
Smooth and glossy: The results are a shiny, elegant look on your car exterior.
Restores color: Diamond Clear reveals the deep original color you saw when buying your vehicle.
Multiple uses: Car details use one bottle on several cars depending on the extent of the damage. You can use it severally to clear marks as soon as they appear. You can also use it on plastic surfaces and headlights.
DIY-friendly: If you are the kind that prefers to fix their cars at home or have basic detailing skills, Diamond Clear will give you professional-looking results without bumps and streaks.
Cons
Here is the downside of the coat that you should know before ordering.
Price: Many buyers complain about the price of each bottle. The 8oz bottle retails at $100 without the lever and $140 with the lever. The cost is high if you need to apply it on a large truck or several vehicles.
Unfit for white cars: Diamond Clear is suitable for all colors. However, it highlights the imperfections of white cars. Some car owners have also complained about its results on black cars.
Sub-standard on old cars: The shiny results you will come across mostly apply to newer car models. If your car is rusty with old paint, you will achieve a remarkable improvement with Paint Pros Diamond Clear. However, it will not look as new.
It is advisable to seek help from expert car detailers when improving an old car or truck. Professional detailers can fix large scratches, dents, and extreme color fading. You can then use Diamond Clear polish to maintain the surface after the professional service.
How to Apply Paint Pros Diamond Clear
Revitalizing your car paint is easy. All you need is the Diamond Clear products and a soft cloth. Paint Pros has a special pouch for the job, but you can order a soft cloth from any car dealership near you.
Ensure that the car surface is clean and dry before polishing. Car dealers recommend that you apply alcohol on the scratches for the best results. However, you can skip this step for small marks or when bringing back the shine on a smooth surface.
Another professional tip is to apply a reducer to minimize the scratches. Remember that you are looking for a durable coat. Go the extra mile to treat scratches and dents before applying the finish.
You can use the reducer or water to check if the scratch is deep. Pour a little water or reducer on a separate cloth and then wipe the scratch. The Diamond Clear will work perfectly if the scratch.
Pour a little of the Diamond Clear and apply it to the surface, including the part without scratches. You will have an even coat on the surface as opposed to one shiny section on the surface.
You may apply a single coat and smooth it out to hide minor scratches. However, the manufacturers recommend at least two coats for a long-lasting coat. The coat should last for 1-2 years on a metallic car surface, 3-5 years on plastics, and 2-3 years on headlights.
After applying one coat, give it at most 20 minutes, and then smooth it out. Deep scratches will require two or more coats to disappear. Give each coat the same timeframe before leveling it out. Check the car from different angles to confirm that the scratches are covered.
The finish takes 4-6 hours to dry. You may notice some mistakes after the coat is dry. It happens even with professional detailers. Use a mistake corrector or medium reducer from Paint Pros to correct the mistakes.
Your patience in correcting mistakes is the difference between your results and other buyers' results. Take your time, especially if you are coating the whole car surface. You will love the results when you follow the procedure.
Our Opinion of Paint Pros Diamond Clear
The Diamond Clear is worth your money. We like the idea of a trial bottle for you to test the results before spending a hundred dollars or more. You can also test the scratches with water or a reducer to determine if the polish will work for you.
We recommend it for treating small scratches, polishing plastics, and sealing headlights on new cars. An old car or paint will need more than a finish to give it a new look. Consult an expert detailer to treat deep dents and scratches.
We also suggest that you try a different solution of a white or black car. Some of the dissatisfied car owners online disliked the outcome on black and white surfaces. However, the polish is satisfactory for other colors.
Conclusion
Paint Pros Diamond Clear is a go-to polish for many car owners and detailers. It restores the shine and depth of the faded color on a car surface. You can make your car look new and classy with the polish. The application process is easy with a soft cloth or pouch.
Car detailers recommend at least two coats for a lasting coat. It is also advisable to use a reducer with the polish to test the depth of scratches and correct mistakes. We recommend Diamond Clear for newer car models in all colors except white and black.

Latest posts by paintsgeek
(see all)