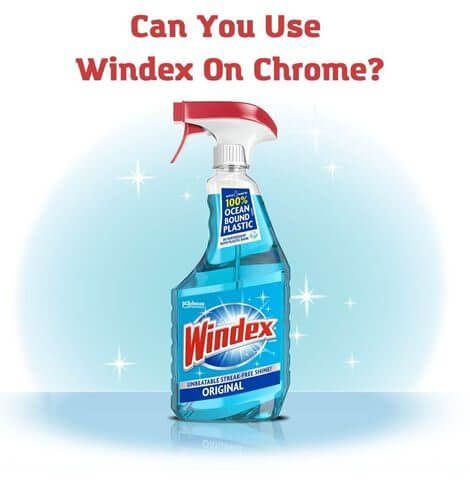 Cleaning chrome surfaces can be really hard. Sometimes those stains and water drops seem to spoil the chrome part forever. But today we'll tell you about some ways to get rid of all those problems. Mainly, we'll talk about Windex and whether it is OK to use it on chrome.
The problem with cleaning a chrome surface is that the part should be shiny and super clean. Otherwise even a small drop will spoil the impression. Especially when it comes to cars and motorcycles where chrome units form the style and are actually the signs of luxury styling. Every car owner will want their chrome details to look new even if a vehicle is quite old.
So, in our today's article we'll discuss such things:
Can you apply Windex on the chrome surface?

What other methods of cleaning chrome can you use?

What can damage chrome while cleaning?

How to make your chrome parts look new all the time?

What to do if Windex and other products don't help at all?
Let's start!
So, is it OK to apply Windex on chrome?
At first, let's look at what Windex actually is. Windex is a brand that offers numerous types of products for cleaning glass and hard surfaces. When we talk about hard surfaces like metal chrome parts, we consider the original Windex glass cleaner that should be sprayed onto the surface and applied for cleaning the metal part from any kind of contaminants. The main advantage of this product is that you may use it around your house and clean multiple things with it. If you go and buy some special product from the auto store, you are going to spend much more and then you will just throw the product away after it expires.
So, many car and motorcycle owners have tried using Windex for chrome parts cleaning. And now we'll explain why you can do it safely:
You won't be the first person to do it. Many car owners have tried to apply Windex on their chrome parts and they were glad about the results.

The company has an "Ammonia-Free Glass Cleaner" which is exactly the product you should get for your purpose. It won't damage the chrome surface in any way.

The product is strong enough to even clean the chrome wheels of your car or motorcycle. The chemicals are really efficient but not too strong to avoid damaging the surface.

It does a great job cleaning that dirt off with no effort. And it's even effective for cleaning those annoying water spots.

Also, Windex "Multi-Task" should be OK with all the hard surfaces you may have in your car but paint.
Even though Windex assures that their products don't contain any harmful elements that can cause paint damage, we don't recommend checking that. Car paint is something you should keep an eye on when having a vehicle. If the paint happens to be not that strong, you may just spoil it with Windex or with any other chemical product. Just use the car shampoo to wash the car and to avoid any kind of damages.
But as for high-quality chrome parts, Windex is really good. We've searched for reviews and we've found out that Harley Davidson owners often use this product to clean the chrome elements on their motorcycles. And these guys will never apply anything bad to their bikes. So we can say for sure that Windex is really safe for chrome surfaces. But some concerns should still be discussed.
Are all chrome parts OK with Windex cleaners?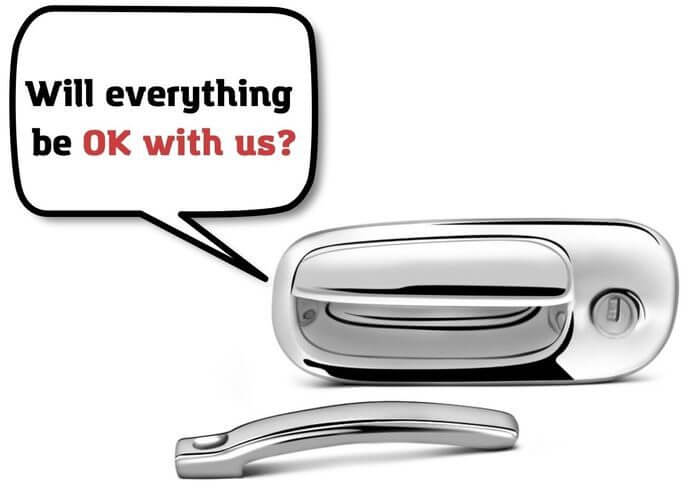 Well, you need to look at the contents first before applying any kind of product on your chrome parts. The chrome surfaces won't last long if you clean them regularly with anything containing ammonia. So you should only choose ammonia-free products and Windex has a lot of them. Otherwise, ammonia will attack your chrome over time and make it look dull and old rather than shiny and beautiful.
Also, bad chrome surfaces shouldn't be cleaned by Windex or by any other multi-purpose cleaning solution. In this article, we are only talking about decent chrome parts. If you own a cheap motorbike that has all those pretty "chrome-like" decorations that are made of plastic, better stay away with your Windex bottle. Once you rub it with a cloth applying a little of Windex, you may just peel off that "chrome" paint.
Also, very old chrome parts should only be cleaned by professional solutions with no harmful ingredients in them. If you are cleaning the rarity car from the 1950s, Windex won't be a great decision.
Things that kill your chrome shine
Well, we can imagine a guy who grabs a bottle of Windex and a dusty cloth after reading our article and heads right to his bike to clean off those fingerprints from the chrome surface. But keep in mind, it's not only chemical solutions that can harm the chrome on your vehicle.
Here are some things that can be even more harmful:
Keeping the solution on a chrome part for more than 1 minute. Chemical products will harm the decoration step by step and make it look less shiny and beautiful.

Rubbing the chrome surface with a dusty cloth that may have some little stones or metal parts in it. You will just scratch the chrome and destroy it.

Using any solutions with unknown contents or with ammonia. The ingredients of any solution should be investigated before.

Using no protection for your chrome. Windex, as well as any other cleaning solution, will wash off the wax or any other protection from your chrome parts. After that, you should apply some protection again.
Protecting your chrome surfaces will make them live longer. So even if you use the harmless Windex solution to clean your chrome parts on a motorcycle or on a car, you can still harm the parts by using bad techniques or just by neglecting simple rules like cleaning the cloth before applying it.
What other ways to clean the chrome parts you can use?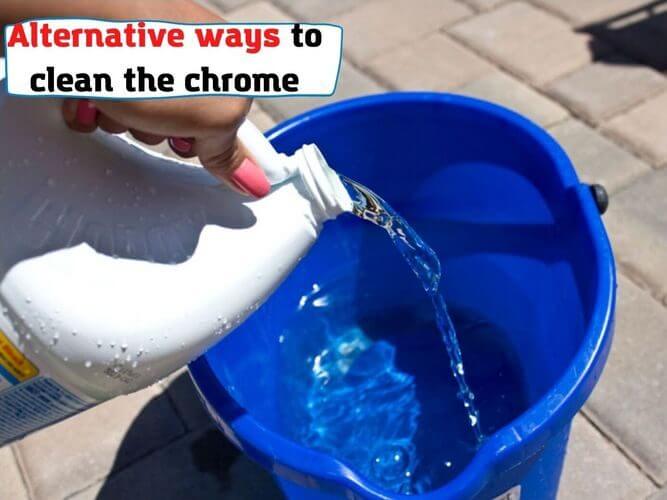 While investigating the tips that people give on forums and blogs on the internet about cleaning the chrome, we were shocked by the amount of bad information that can lead to a really bad experience. Please always check the facts twice before believing them, otherwise, you'll end up in a car part store buying a new chrome part to replace the destroyed one.
Never use any solution before you check up its contents. Even if it's a dish soap that is potentially the least harmful chemical product, just read those stickers on the bottle and find out whether it has any chemical components that can hurt chrome. If you don't want to go to the shop to buy some Windex, just take your dish soap and read the contents of the solution. See no harmful elements? Then add it to a liter of water and wash your chrome parts with it. Don't forget to wash it off immediately. Use a soft toothbrush to clean off all the stains and dirt.
Using tap water is a bad idea. It contains a lot of iron and other components that can damage chrome and leave water drops on the chrome surface. Before using the tap water just clean it with a filter or with other methods.
How to protect chrome parts after cleaning?
You should protect the chrome parts on your bike or car from being rusty and chipping off some chrome. For this, you should clean it regularly using the rules we've outlined earlier in our article. But you will also need to cover the chrome parts with some protection.
Some people recommend using things like vaseline, but we would recommend some special wax products that you can easily buy online or in your local auto parts store. You will need to apply a little special wax onto a clean and dry chrome surface to protect it from rusting and damaging. The wax protection will work for one or two weeks and then you will need to clean it off with things like Windex and apply the wax once again.
Wax protection is not only good for the long-term protection of the metal parts. It works well for making your car or motorcycle look good for a longer time. We mean that the water drops won't leave stains on the chrome parts if they are covered with wax.
Verdict – how do I keep my chrome parts clean and beautiful?
It's not that hard to keep chrome clean and shiny all the time. But you will need to choose a couple of chemical products to help you. Mainly, you will need a cleaning solution. We've come up with the idea that Windex is a cheap and decent product to use but you can choose anything else that won't damage the chrome surface. Also, you will need a special chrome wax to cover your parts with a protection layer.
Unfortunately, if you see rust on the chrome elements of your vehicle, they should be repaired professionally. It's virtually impossible to do anything to remove the rust and to make the parts look new again. Sometimes it's even better to just replace those parts than to invest in their decoration.

Latest posts by paintsgeek
(see all)