Are you looking for cool ways to aggrandize your furniture? Wooden furniture appeal can be accentuated using any of the many options available. Johnson's Pate Wax is one of the best options you can go for when you opt to give your wooden furniture a waxing finish. Waxing is a renowned old way of giving wood items a cool look, touch, and lease of life.
Today, we take a closer look at Johnson's Paste Wax. We explain how it works, and more than that, we explore the various ingredients that make it so effective and popular. This wax is very popular amongst woodworkers. By exploring it more, we will understand why it is so popular and also why it is recommended for wood.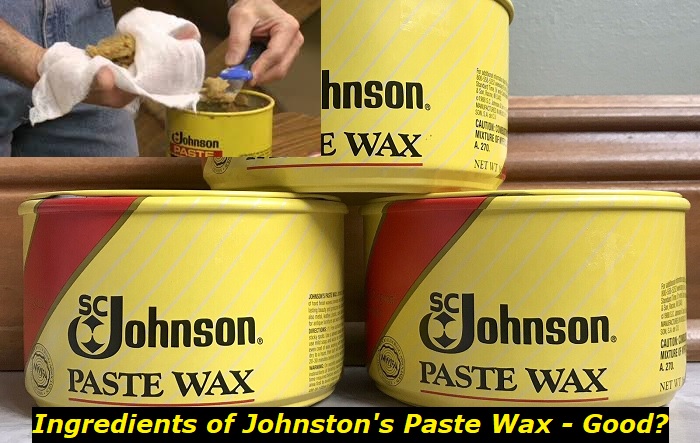 Understanding Johnson's Paste Wax
Johnson's Paste Wax is a polishing product made by S.C Johnson. This product is used for furniture polish and cleaning. As a product from Johnson, this paste wax is highly regarded because the company has built a solid reputation spanning over 130 years. Johnson's Paste wax is used to clean all manner of surfaces starting with metal, wood, leather, plastic, and vinyl. The paste's rich original blend gives a surface a rich and satiny luster. You can never go wrong when you opt for Johnson's Paste wax.
Johnson paste wax is a popular product used by wood enthusiasts and experts to give a finishing touch to furniture. The barrier created by the Johnson wax is protective, and one can buff and shine it. Your piece of furniture will stand out, and its natural beauty will show through the wax. The wax is also preferred because it is long-lasting. Let us now take a closer look at the Johnson paste wax and see what ingredients are in it;
Johnson's Paste Wax ingredients
The Johnson paste wax gives a natural waterproof shine to the wooden surface you use it on. For this to be achieved, Johnson has mixed a cocktail of ingredients. Each of the ingredients serves a specific purpose and is very critical in the overall performance of the wax. The ingredients are categorized into waxes, carriers, dyes, and emulsifiers.
1) Carnauba wax
Carnauba wax is a crucial component in making the Johnson paste wax. This wax is extracted from the 'tree of life' palm, which is common in Brazil. This is why you will hear the wax also being referred to as Brazil wax or palm wax.
During the dry season, this palm tree extracts carnauba wax to protect itself from loss of moisture. The wax coats the leaves, which is why sun-drying and beating the leaves of the tree are the steps taken to procure it. The carnauba wax exhibits an exceptionally high melting point, enhancing its thermostability and making its physical composition sturdy.
Carnauba wax boasts water, acids, and alkali-resistant features. It is preferred by woodwork enthusiasts because it doesn't color the finish of the wood. Unlike some waxes, carnauba wax is quite forgiving when applied, and it is easy to apply. Moreover, it is food safe. The only warning to note about this Johnson ingredient is that alcohol destroys it.
2) Polyethylene wax
Polyethylene wax is another ingredient that Johnson's Paste wax includes. This wax presents good hydrophobicity hence making it perfect for wood surfaces. It fills the wood absorption gaps, making the wood surface stable.
Polyethylene wax, also known as PE wax, has a high heat and cold resistance. It also protects the wood surface from chemicals and other sorts of coatings. The wax is used in food additives, and this makes it food safe.
3) Microcrystalline wax
Microcrystalline wax is a product of a petroleum refining process called de-oiling of petrolatum. This wax has a higher percentage of isoparaffinic and naphthenic hydrocarbons than paraffin wax. This wax acts as a film former and is included in making eye drops, cosmetics, chewing gums, and Johnson's wax.
The microcrystalline wax adds a coat of protection and shine to the wood surface. This coat protects the wood from elements and enhances the wood's surface appearance. In Johnson's paste wax, this wax is used to bind the ingredients. After the ingredients in the Johnson wax are compressed, it is the microcrystalline wax that holds them together and in shape.
4) Paraffin
When we say paraffin, we don't mean ordinary paraffin. Paraffin wax is a type of wax that can either be colorless or white. It is made from saturated hydrocarbons and is normally used in the cosmetics industry for hands and feet treatments. Paraffin is also used in candle making and acts as fuel for the candle. Paraffin is the most popular and common wax and will be found in a wide range of beauty and household products.
5) Deodorized kerosene
This kerosene is used as a carrier in this wax. It is a common component in lubricants, adhesive removers, and furniture polishes. The deodorized kerosene helps carry the wax over the surface. It does so by thinning or thickening the wax.
6) Hydrogenated castor oil
Hydrogenated castor oil is a fine powder whose color ranges from almost white to pale yellow. It is insoluble in water and melts between 83 and 88oC. It is an emulsifier or solubilizing agent and contains 12-hydroxystearic acid. It is commonly found in personal care, cleaning products, and air fresheners. It is added to Johnson's paste wax to help the wax retain its performance capabilities even after use. In short, it makes it possible for the oil ingredients to mix into water.
7) Solvent Red 25
This is a colorant that is added to the wax for a range of reasons, among them helping you know where you have reached applying the dye. It is also applied for aesthetic reasons.
8) Solvent Yellow 56
This is a colorant or a dye added to this Johnson's wax used for similar reasons as solvent red 25.
Why is Johnson's Paste Wax great for wood?
Johnson's paste wax is a popular product among wood crafters not only because it carries a trusted badge but also for the high quality it boasts. Here are some of the reasons why you should consider using this wax on your wood project;
Gives wood an elegant appearance – Johnson's paste wax brings out the wood's natural beauty and highlights its pigmentation. When applied on the floor and if regularly maintained, you can rest easy knowing the natural appeal of the wood will be enhanced for years to come.
It is safe – As highlighted in the ingredients description, you may have noted that all the ingredients are food safe. This makes the product environmentally safe and viable for use on all manner of wooden surfaces, even in the kitchen. Even though there will be an odor upon application, you will be happy to note that this odor goes away soon after.
Super easy to apply – Johnson's paste wax is the easiest to apply. All you need is a lint-free cloth or a soft cotton piece. Apply on the surface and wait for the wax to dry out. Buff the surface to get an exceptional sheen. Some users complain that the wax leaves a residue on the surfaces. It should, however, be noted that such residues come about because of wrongly applying the wax.
Long-lasting – Johnson's paste wax doesn't get chipped, unlike polyurethane and some waxes. However, it best works on surfaces that don't receive a lot of traffic. With regular maintenance, however, you stand to enjoy waxed surfaces for years to come.
Protection of the wood – This wax, if properly applied, is guaranteed to protect the wood for years to come. The wax penetrates the wood and can withstand adverse weather changes because of the superior ingredients. For wooden floors where traffic is high, Johnson's paste wax is the answer you got. This wax protects such surfaces whether there is heavy or light foot traffic.
It's a trusted brand – S.C Johnson has been around since the 1800s, and over the decades, the company has invested heavily in R&D, further making its products popular. Unlike some untested waxes, the Johnson wax has been tested and proven to give the desired results by its users. Moreover, the company gives you instructions on how to use the product correctly to achieve the best results.
Conclusion
There are many factors to consider when it comes to choosing wax on a wooden surface. However, once you have decided on going for waxing, it is time to pick the Johnson Paste wax. As highlighted above, this wax is made using some of the best ingredients, which are safe and ensure the wax works well and for long. On the Johnson Paste wax container and from the dealership, you will find easy instructions on how to apply this wax which then goes a long way to giving you the desired results.

Latest posts by paintsgeek
(see all)