Plastics are not always durable. Many factors can challenge its durability and cause damage and cracks to its surface. Containers, furniture, automotive parts, and pipes are just a few plastic objects that can damage due to external factors or aging.
But when these plastics have a huge hole and are still worth salvaging, do you know how to patch and bring them back to their useful stage? Believe it or not, there are ways you can repair an entirely large hole in plastics. Some methods can still fill containers without worrying about breaking them again.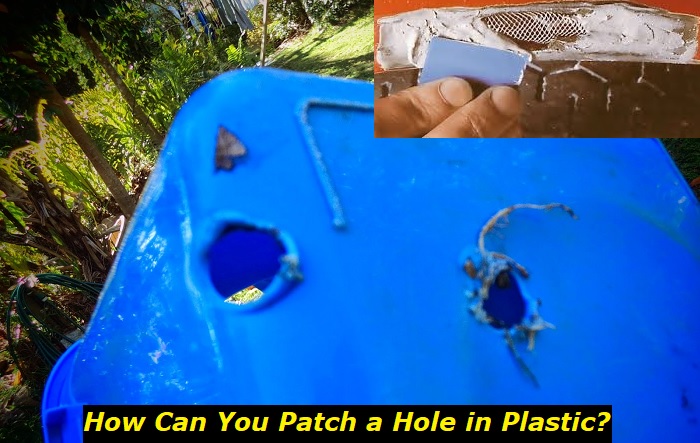 Do you want to know your options? We've got them for you.
What is considered a large hole?
Small holes are easier to patch up. But large holes are more challenging to patch. Aside from the damage being larger to fill, it doesn't guarantee that the structural integrity is still the same.
Factors to determine if the hole is worth patching
Aside from the size of the hole, many factors help determine if it is worth patching.
Some plastic types are easier to patch and more amenable to patching methods. For example, thermoplastics like ABS, PVC, and polyethylene are easier to repair and patch up than thermosetting plastics. Thermosetting plastics cannot be repaired, remolded, or reheated after curing or hardening. Examples of thermosetting plastics are epoxy resin and polyurethane.
If the hole location always has to undergo tensions, impacts, or stress, patching may not be advisable.,
It is not an issue if you are repairing holes in decorative plastic objects. But if you must patch holes that require structural integrity to become functional again, you will need a durable material to fill them. Or else, it may become a temporary fix.
Age and condition of the plastic
If the plastic is already brittle due to aging, it's no guarantee that the patch might not last that long.
What size is considered a large hole?
A hole bigger than an inch will require complex patching techniques. The size where you can apply a patching technique depends on the factors above.
For example, if you use super glue as a hole filler combined with baking soda, you can only use it for decorative plastic objects. You can patch plastic holes of up to ½ of an inch. While you can apply this to liquid tanks or containers, it will not last that long.
If you use epoxy putty, you can patch up to 5 inches of a hole or more, provided that you will include a mesh as additional support.
If you have considerably larger holes, it depends on the compatibility of patching plastic and the skill of the person repairing the hole. With the appropriate technique, matching plastic material, and proper curing, heat welding large holes can be dependable.
How to Choose the Right Hole Repair Technique?
To choose the right type of repair technique, here's what you should do:
Identify the material type of the object.
Assess the extent of damage, considering its structural integrity.
See the conditions and location of the hole.
Check your available tools.
Identify the applicable patching method, considering its longevity, structural integrity, and compatibility with the type of damage and material.
Method 1 Super Glue + Baking Soda
Super glue with baking soda is a great combination to repair holes and cracks in plastics, wood, or tiles. Made from cyanoacrylates, super glue cures quickly but is not designed for thick filling applications. If your plastic object doesn't go under stress and serves as decoration, you can fill holes for up to ½ of an inch.
When baking soda touches the super glue, it will polymerize and create a cement-like durable substance. However, remember that not all types of plastic will bond into superglue.
Tools and materials to prepare
Baking soda
Super glue
Sandpaper/ sander
A clean rag
Cleaners (soap and water)
A cardboard or scrap piece of plastic
Tape or clamp
Spoon or flat edge
How to patch a large hole in plastic with super glue ad baking soda?
Clean the surface. Without dirt and dust, you can prepare the surface for better adhesion.
Sand the area around the hole. This procedure will roughen the surface and improve their bond.
Place the cardboard on the bottom of the hole at the backside. Use a clamp or tape to secure the cardboard in place. This piece will prevent the glue from being runny and escaping its mold on the hole.
Squeeze a few drops of superglue until it fills a thin layer in the hole. By this time, you have to be fast. Remember that superglue cures quickly. Wear gloves if you can. If the hole is thick, you may need more layers.
Be fast enough to sprinkle baking soda over the super glue. Press it with a flat edge or a spoon so the two substances bond together.
Keep making layers until the layers of baking soda and super glue fill the hole. You do not have to wait for curing time because super glue sets in immediately.
After fifteen minutes, the patch should have dried. The patch will be chalky and white. By this time, the patch shows visible evidence of repair. Let it cure for more hours to blend it with the surrounding area.
After the patch is cured, sand the patch with 220-grit to 400-grit sandpaper until you can make the necessary adjustments to color.
Method 2 Heat Welding
Plastic welding is the application of heat on thermoplastic materials to melt, join them and form a unified bond. You need a matching thermoplastic material to repair a damaged or cracked plastic object.
The most applicable types of plastics for this type of repair are polyethylene (PE), polypropylene (PE), PVC, ABS, polycarbonate (PC), and more. When performed by a skilled welder, the repair becomes homogenous, maintaining the strength of the plastic. It creates a reliable, strong bond because of the restore structural integrity.
So before performing this technique, here are the factors that will affect its effectivity: skills and experience, material compatibility, surface preparation, size, and extent of damage.
Tools and materials to prepare:
Plastic welder/ heat gun/ welding torch
Plastic welding rod or a scrap piece of the same plastic material
Soap and water
Sandpaper/ sander
Heat-resistant gloves and safety masks
Tape (optional)
How to weld plastic to patch a large hole?
Prepare the surface before patching by cleaning the surface with water and soap and by sanding the surface.
Preheat the tool and set it to the appropriate temperature. For propylene and PU, set it to 572°F. For PVC, keep it at 527°F. And for polyethylene, you need a temperature of 509°F. If you do not know the type of plastic you are melting, keep it between 392 to 572°F.
Trim the tip of the rod at an angle and insert the welding rod or scrap piece on the welding gun or nozzle. If you are using a scrap piece of the same plastic material, place a tape to hold them together. If necessary, trim the scrap and place it behind the hole.
Hold your welding tool between 1 to 3 inches from the surface.
Start melting the hole edges by running a back-and-forth movement. With consistent strokes, the two pieces of plastic will join together. If necessary, apply filler or welding rod.
Let it dry until it reaches room temperature.
Smoothen the edges by sanding them with up to 320-grit sandpaper.
Method 3 Epoxy Resin Patch
Epoxy resin patch is one of the most popular fixes for large holes in plastics. The patch is a versatile filler known for its durability, strength, and bonding ability to different surfaces. It is so effective. You can use it for patching small and large holes.
What do you need to prepare?
Epoxy resin
Mixing container
Stirrer
Reinforcement (mesh or fiberglass cloth)
Tape or Cardboard
Sandpaper
Soap and water
How to use epoxy to patch larger holes?
Clean the damaged area with soap and water.
Using a clean container and stirrer, mix the epoxy and hardener according to the specified ratio recommended by the manufacturer.
Cut a piece of fiberglass cloth or mesh with a 6-inch allowance from the edge of the holes.
Place your cardboard or tape underneath the hole to prevent the putty from overflowing.
Apply and fill the hole with epoxy putty. Press the reinforcement until it covers the entire hole. If the hole is thick or deep, you may need more layers to fill the hole up.
Let the putty dry. For multiple layers, you need to dry each layer for at least 24 hours before patching a new layer.
Once the patch has fully cured, shape and finish it with sandpaper.
Method 4 Using plastic patch kits
Plastic patch kits contain all the necessary materials to patch and repair large holes. It could be any of the patching material we've discussed above. It may contain epoxy resin, glue with an activator, or welding rods. If the materials you need are not available at home, you can use plastic patch kits.
Here's what you may find in the kit:
Patching material
Activator
Hardener
Reinforcement
Applicator
Sandpaper and cleaner
Whatever you have in the kit, it will come with a manual. Follow the instructions in the manual. The usual stage starts with cleaning and preparing the surface. The next stage is the preparation of patching material. The next step is placing the reinforcement on the backside, application of the patching material. After application, you must dry the filler. If needed, add more layers. Let it cure and finish the surface.
The Key to Successful Patching of Large Holes
For effective patching, you must carefully assess the damage and know the most appropriate technique. Prepare the surface for a stronger bond. Reinforcement strengthens the patch. And high-quality materials ensure the longevity of the patch. And of course, ensure to follow the instructions from the manual to carry out each step carefully.

Latest posts by paintsgeek
(see all)