DIY projects can be very fulfilling. While you can hire someone else to handle most of them, nothing can replace the sense of satisfaction when you complete them alone. The feeling of transforming your idea into reality is simply indescribable.
However, these projects aren't always eco-friendly, especially if you use chemical products. While artificial paints can get the job done, they can be harmful both to you and your environment. Not to mention they don't last very long. Thus, many people opt for organic alternatives. And one of the most popular organic supply stores is Earth and Flax.
They make products free of any chemicals, using linseed oil as the key ingredient. The concept is to make cleaner alternatives to commercial products such as paints. But are they?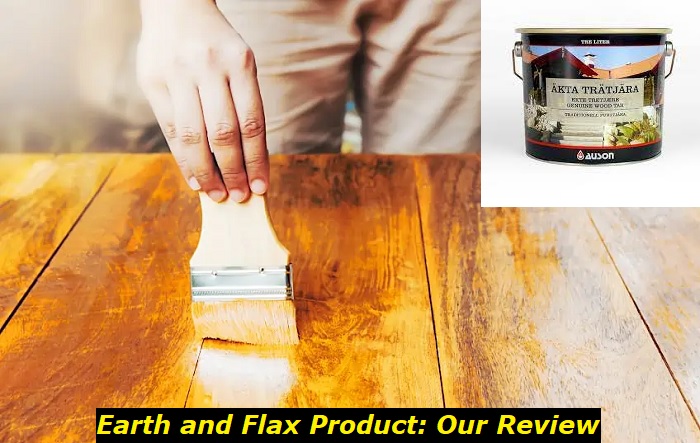 In this article, we'll review the following Earth and Flax products:
Linseed oil paints
Purified linseed oil
Linseed oil wax
Linseed soap
Linseed putty
Tools and accessories
What makes Earth and Flax products worth considering?
Earth and Flax is a company that specializes in home improvement equipment such as paints, more specifically, linseed oil paints. Apart from being organic, linseed paint comes with several other benefits. Since it doesn't contain any solvents or chemicals, it's great for people with allergies. And unlike regular paint, it doesn't smother the surface, allowing it to breathe.
Linseed paints are fairly long-lasting compared to traditional alternatives – they can last for well over 10 years. This applies to both applied and stored paint. You can paint over linseed paints easily if you decide to add another layer as well. You'll rarely need more than three layers to completely cover the surface under it.
However, Earth and Flax sells other items as well. These include linseed oil, wax, and even soap. All are natural equivalents to generic products, making them less toxic both to you and the environment.
And finally, the company sells tools for your DIY projects. Apart from paintbrushes, you can also find cloths, scrapers, and paint removers. They also have kits that allow you to buy all the tools you need in a single purchase.
But the best part about Earth and Flax is that you can order them from the comfort of your home. They all come in different sizes, meaning you can rely on the store for most of your projects. But while the selection is great, so is the demand. Sometimes, you may not be able to buy what you want simply because it's out of stock.
Linseed Oil Paint
Now that we have covered the general benefits of linseed oil paints, let's focus on those sold by Earth and Flax products. After all, you can buy organic goods from any source. What matters is finding a vendor whose prices match the quality of their products.
When it comes to Earth and Flax linseed oil paints, we can confirm that they do deliver on their promises. We particularly like the variety of their paints which allows you to rely on this company for most if not all of your DIY projects. You can apply their paint easily and it sticks surprisingly well despite being an organic product.
Being linseed oil paints, you also won't have to worry about the typical pungent smell of chemical paints. While the linseed paint does have a smell, it's much weaker.
Earth and Flax doesn't disappoint in color variety either. No matter what shade you're looking for, you're bound to find it.
You can also find a special paint designed to protect metallic surfaces. And just like all their products, it's completely organic. We've tested this primer coat ourselves with great results. Unlike other alternatives, it didn't peel off.
But perhaps the best part about these paints is how affordable they are. The prices don't differ much from those of regular paints, making these linseed products a very budget-friendly alternative. We also found these paints to be pretty stable – they don't peel or even flake. Thus, they can be even more cost-effective in the long run.
Linseed Oil and Wax
Earth and Flax doesn't sell just paints – they also sell other products such as purified linseed oil. With it, you can restore faded wooden surfaces. We can confirm that it works on anything from flooring to porch decks. Since it is made of organic materials, it isn't toxic to you or your environment.
It allows the wood to breathe, making it last much longer. We also liked the unique stain it ends up creating on a wooden surface. But if you don't want any stains, it may not be the best product for you.
As with most Earth and Flax products, the price doesn't disappoint either. The cost per ounce is surprisingly low, for an organic product.
Alternatively, you can go for wax if you're looking for a more permanent stain and protection. While the oil is used for regular maintenance, the wax adds a permanent finish to your wooden surface. Although we liked the product, the desired stain color can be hard to predict. We recommend using it on a small sample first to see what color you'll get in the end. Still, you may end up purchasing many samples before you find the one you're looking for.
But on the bright side, the wax seems to be very sturdy and long-lasting. With proper care, it should last several years before you need to replace it.
Linseed Soap
Earth and Flax offers a special linseed soap to go with their other products. It contains no chemicals, meaning it won't dissolve or damage your paint. Thus, it's the perfect tool for cleaning your painted surface.
The company also recommends cleaning each surface with this soap before you cover it with linseed oil paint. However, we found that you can do without this extra step. But if you're looking for an organic cleaner, we can confirm that it does work.
As for the price, it's relatively cheap considering the volume of each canister.
Linseed Putty
The company sells a wide range of products, meaning you can rely on them for most of your DIY projects. The linseed putty is another example. You can use it to seal a glazing pane into your window frame. Since it's made of the same material, it's compatible with linseed oil paints and other organic products.
When it comes to reliability, we can only praise these products. The putty seals the window well and we haven't noticed any draft coming through. We can't say the same for many of the alternatives out there in the market.
But while the quality matches the price, it's not the most budget-friendly option on the market.
Paint brushes and other tools
What use is paint without a brush? Luckily, Earth and Flax sells paint brushes, rollers, and even paint removes. We liked the quality of these items and it really feels like you're getting value for your money. They don't disappoint in terms of variety either – you can find brushes of many different sizes to suit all your DIY projects.
You'll find paint scrapers as well. What we liked the most about them is that they're compatible with vacuum cleaners. This allows you to collect dust and scraped paint right as you remove it. However, it doesn't fit every model. Make sure you read the recommended parameters before you buy it.
When it comes to more serious removal projects, we recommend going with the silent paint remover. It was designed as an alternative to heat guns and we can confirm that it does work. We particularly liked how it leaves your wooden surfaces unscorched. However, it's still a very costly product. You can probably get by with traditional paint scrapers for most of your DIY projects. Not to mention some surfaces can be sensitive to heat.
Verdict
To sum up, Earth and Flax products live up to their reputations. They work just as well (if not better) than chemical alternatives. This makes them the better option in most cases. The products are natural, meaning they don't contain artificial solvents or additional chemicals. This is great for people with allergies.
However, linseed oil products are much gentler for the environment as well. Since they contain no chemicals, they're better for your health as well. Chemical paints can often react with UV rays from the sun, releasing harmful chemicals. This isn't the case with linseed oil paints.
We haven't found any fault with their other linseed oil products either. They are easy to use and work exactly as described. We like how informative the product descriptions are as well.
The same goes for tools such as paintbrushes and scrapers. You can tell that a lot of work went into the design.
If you're looking to make your DIY projects cleaner and more eco-friendly, you can certainly rely on Earth and Flax as your supply store.

Latest posts by paintsgeek
(see all)