Tung oil is a drying oil that oxidizes and cross-connects with alkyd or acrylic paints and creates a clear (nearly invisible) film that is tough, elastic, and resilient. Tung oil is made from the nut of the tung tree, also known as the Chinese Tallow Tree or White Wood. Tung oil has been used for centuries in China to protect the wood from insects and water damage.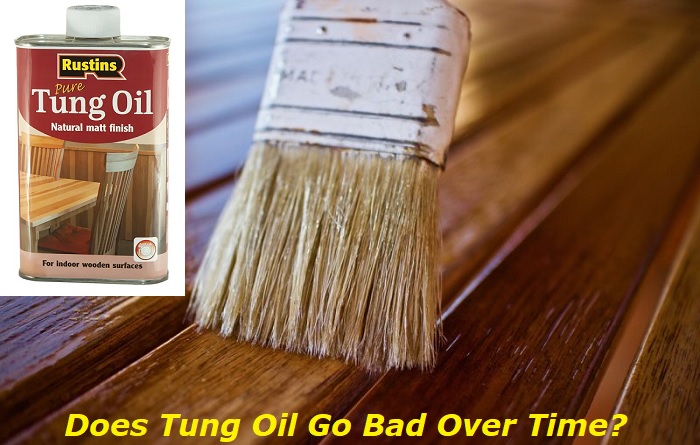 Top Benefits of Using Tung Oil as a Finish
Tung oil has exceptional penetrating qualities and provides a hard, clear finish that is notable for its non-yellowing nature. It is self-sealing after an initial (quick) drying period and can be applied over existing finishes or bare wood.
Tung oil is flexible and durable and can be used outdoors and indoors. It is also odorless and non-toxic, making it suitable for use in homes and other areas where people spend time. The finish can be applied over a number of textured surfaces including fibers, leather, metal, concrete, etc.
Tung oil does not require any additional sealants because its surface tension allows it to adhere to the wood surface naturally. When the finish dries, the surface becomes flexible, waterproof, and resistant to mold growth or mildew.
Difference Between Pure and Dark Tung Oil
Pure Tung oil is free of any additives and is 100% natural. Pure tung oil has a light color that is yellowish to golden in tint. Due to its pure nature and light color, this type of tung oil does not show the wood grain as darkly as other finishes when applied.
Pure Tung oil can be used for a wide range of applications including in artwork, wood finishing, and even furniture making. Dark Tung oil has non-carcinogenic and PCB-free resinous hydrocarbon added.
The Many Uses of Tung Oil
While pure tung oil is ideal for wood finishing, its dark counterpart can be used in combination with wood stains to create a deep color in the wood. The dark version of tung oil is also good for creating varnishing effects on surfaces such as metal, concrete, and tiles.
Tung oil does not require any special treatment or application equipment, which makes it very easy to use at home. Tung oil can be added to varnish to give it a harder surface or used as a stand-alone finish or sealer.
How to Apply Tung Oil
Clean the surface
Tung oil can be mixed directly with other finishes so you do not need to apply a sealer or primer before applying it to the wood. For example, tung oil can be mixed with paint or varnish to create an opaque finish on the wood.
Sanding or stripping the surface of the wood to remove any previous coatings and then cleaning the surface is recommended before applying tung oil. Make sure that there is no dirt on the surface before you apply it.
Thin the oil
Use a 2- to 4-gallon paint tray or a small plastic container to mix the tung oil. One gallon of pure tung oil will cover approximately 4 sq ft of wood. The proper ratio for mixing tung oil is one part water to one part oil. All you have to do is mix the ingredients together then place this into the container, and lid and shake it well.
Apply a generous first layer
Before you apply the first coat, it is important to have a good amount of oil on the surface so you will be able to apply another layer.
To do this, simply dip a cheap paintbrush into the tung oil and then dab the brush into a different container of tung oil. For example, if you want to use a clean brush for applying tung oil, dip it directly into tung oil and then put it back into one of your empty containers.
Apply subsequent coats
When you have applied the first coat, let this dry thoroughly before applying the second layer. You can choose to apply a light or heavy coat depending on the application.
However, make sure that the surface is completely dry before you do another coat because the oil will actually absorb into the wood if it is still wet.
Remove unabsorbed oil from the surface.
A mild acetone-based cleaner can be used to remove the oil from the surface of the wood. This will refine the oil that remains on your wood and the surface will become even more glossy and smooth. If you are applying a heavy coat of tung oil, then it may take some time for this to become completely dry.
Let the oil cure for up to 30 days
Tung oil creates a self-healing surface on the wood, but you should let it cure for up to 30 days before using it.
Cleaning the surface
After you have allowed the tung oil to cure, use a mild soap and water solution and a soft cloth to clean the surface when you want to remove any dust particles. For best results, make sure that your cleaning cloth or sponge is very soft so it does not scratch the wood or mar the finish.
Reapply for more protection
Tung oil creates a highly durable finish that can last for years. However, the newer coats of tung oil may not be as effective as the original coat, so you will have to reapply it occasionally.
Advantages Of Tung oil
Waterproof – Tung oil is perfect for surfaces that are exposed to moisture, such as a bathtub. This oil repels water, making it safe on materials like wood and leather.
Non-Toxic – Tung oil is completely non-toxic, which makes it perfect for surfaces like eating utensils and children's toys. It is also safe for food preparation.
Food Safe – Tung oil is perfectly safe for use on tableware and other food-related items, especially if you are concerned about the use of chemicals and harsh cleaners.
Convenient – Tung oil does not need to be mixed with water or any other substance. You can apply it directly on the wood or just place a drop in your paint tray. This oil is perfect for beginners or those who are short on time.
Easy to Apply – You do not need to use any special tools or equipment when applying tung oil. This oil can be applied with the same brushes used for applying paints and stains.
Attractive in Color – Tung oil comes in a variety of colors that are perfect for any wood application. You can choose from black, medium brown, blonde, yellow, and red-brown.
Doesn't Yellow Over Time – Tung oil can maintain the same look and feel for years without yellowing or fading. This oil is made in a way that protects the wood from UV radiation and artificial light.
Resistant to Acids and Alcohols – Tung oil does not dissolve in the most common solvents such as lacquer thinner, airplane paint remover, and alcohol. This oil can remain on wood even when exposed to harsh chemical substances.
Disadvantages Of Tung oil
Slow Penetration – All-purpose tung oil gets easily soaked up into the wood, so it takes a long time for it to dry due to its high absorption rate.
Unpleasant Odor – Because of its chemical composition, tung oil has a strong odor that can be noticed in and out of the wood. This is especially true when using this oil on porous materials like varnish or shellac.
Long Processing Time – Tung oil takes a long time to dry and cure.
Costly – Tung oil is not cheap, so you will have to use it often in order for it to be effective and of good quality as the manufacturer would like you to believe.
Difficult to Store – Although tung oil is not as flammable as other oils, it can still catch fire when exposed to heat sources. Also, the off-gassing of fumes that contain butane and propane can be harmful to humans and animals.
Doesn't Smoothen Wood Grain – Tung oil will not make a harsh burl look smoother.
White Tinge – If this oil is left on wood for a long time, it can leave a white tinge behind when it is removed. This can be easily seen in darker woods such as walnut, mahogany, and cherry.
Can I Paint Over Tung oil? Yes, tung oil can be painted over. You have to clean the surface with soap and water first. Then do a light sanding and apply a prime coat.
Conclusion
Tung oil is durable, easy to use, and ideal for finishing projects at home. When you are looking for a more lasting finish for your wood, tung oil is the ideal choice to protect the wood from moisture damage, fungus, and other conditions that can compromise its integrity.
It has been found to be very useful on furniture and is able to last for years under the right upkeep.

Latest posts by paintsgeek
(see all)