Do you think it's time to clad your shed walls from the inside? But you don't have much budget for them?
A lot of people do not pay much attention to improving their sheds. As a small space that gets neglected over time, some people think the place does not need an upgrade.
Most sheds just lay bare with their exterior walls without protection. You can view only the framing from the inside. Most of the time, the timbers are still untreated. For this reason, homeowners have to repair and replace timber boards that have rotted over time. And most of the time, homeowners do not spend a higher budget for sheds, which should explain why the interior looks unfinished from the inside.
So if you want to improve your shed interior's aesthetics, you do not have to shell out money more than you can afford. There are cheap ways to improve aesthetics, insulation, and protection for shed internal walls.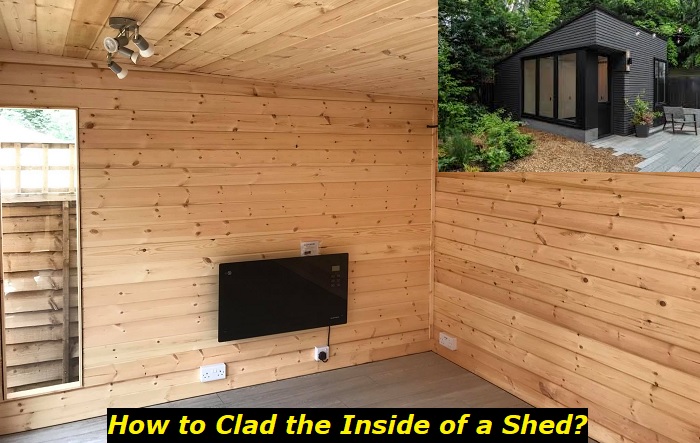 About Internal Wall Cladding
Today, sheds do not only serve as storage for tools. Many homeowners use this place as a mancave or workshop. People would spend long hours in this hideout to hone their crafts and hobbies. For this reason, it needs interior claddings that keep the space warm and comfortable for long hours.
Internal wall cladding is the process of covering the walls inside the shed to serve as a new protective layer or skin. Internal claddings improve interior aesthetics, protect insulation, and soundproof the noise of power tools inside the shed. To do this, you can use panels or boards of wood, metal, composite, or PVC.
What are the Risks of Using Cheap Claddings Inside a Shed?
Using budget-friendly cladding materials does not necessarily mean that it has low quality. Some materials become expensive because of the processes the material has gone through during manufacturing. Here are the possible risks of low-priced cladding material:
Reduced durability
Poor insulation
Health risks
Limited aesthetic options.
Things to Consider Before Using Cheap Claddings for Inside a Shed
When choosing cheaper cladding materials, there are other things to consider than your budget.
Consider how long the material will last. Some other cheap materials warp, chip, or crack. While some other materials may need a few treatments to ensure durability.
While insulation is not the primary purpose of cladding, this process could add a protective layer to your insulation. Some cheap cladding materials can be energy-efficient. Take time to choose a cladding material that has insulating properties too.
Some budget-friendly cladding materials may require sealing or painting to retain their durability and integrity. A few examples are OSB boards and upcycled pallets require less maintenance than other wood types.
Check materials that may contain hazardous materials like formaldehyde or lead. Some pressed materials have these substances, which are considered health risks.
Also, remember to choose eco-friendly materials to reduce the environmental impact.
Aesthetics is one of the primary purposes for cladding interior walls in a shed. Find ones that have more customizing options for designing, painting, texture, and finishing.
Cheapest Ways to Clad the Inside of a Shed
Since you already know the risks and factors when choosing cheap materials for cladding, it's time to know which materials are best for the interior of your shed.
1) Upcycled Pallets
Upcycled pallets are not only inexpensive but may also be free of charge. These pallets are reclaimed or dismantled cut timbers from used pallets. They make efficient cladding materials because of their natural rustic look.
The amount you can spend for upcycled pallets depends on where you will source them. You may buy it for little cost or receive it for free. The standard upcycled pallets of 48 x 40 inches cost start at $ 4.25 each. Most pallets are mostly low-grade wood like pine and spruce.
The only problem with these materials is they often come from manufacturing plants and may have been exposed to chemicals. For this reason, you need to clean the pallets thoroughly and treat them for safety.
Advantages of Upcycled Pallets
Cost-effective
Energy efficient
Eco-friendly
Natural rustic appearance
Convenient to use
Easy to source out
Disadvantages of Upcycled Pallets
Inconsistent quality
Potential hazard
Time-consuming preparation
2) Oriented Strand Board
Oriented Strand Board, or OSB, is a panel made from wood strands or chips arranged and bonded in cross-oriented layers by heat-cured adhesives. OSB consists of wood shavings, sawdust, or chips, which may be a mixture of softwood such as pine, fir, and spruce.
The cost of OSB depends on the size, thickness, and quality of the board. Also, the supplier and your location can affect its market price. Most of the time, the OSB used for cladding is around 9 mm to 11 mm thick. OSB board starts at $1 per square foot. It costs $3 to $5 less than plywood.
However, using OSB poses risks of moisture exposure. Also, you may need to add support to the board because it is not as strong as other materials, especially when using it for heavy loads.
Here's a more detailed look at the benefits and drawbacks of using OSB:
Advantages of OSB
Cost-effective
Easy-to-use
Warp & shrink resistant
Available in large sizes
Practical choice
Sustainable
Durable when sealed & protected
Improve insulation
Disadvantages of OSB
Appearance may not be pleasing to others
May delaminate
Some OSV may contain formaldehyde
3) Beadboard
Beadboard is one cost-effective way to make your interior cladding stylish and fancy with affordable options. A beadboard is a single narrow panel or board with edges routered as a bead and a bevel cut. It utilizes a tongue and groove to join them and make a strong cladding.
One reason many homeowners love beadboard is that it dons a classic or country vibe and is still modern, in a way.
A beadboard consists of Medium-Density Fiber (MDF), an engineered type of wood manufactured from compressed wood fiber and resin. Sometimes, beadboards come from natural wood.
Beadboards are generally cheap, costing around $ 2 to $ 4.20 per square foot. It depends on quality, thickness, and the supplier. Untreated beadboards are generally cheaper. Nevertheless, beadboard is still an affordable way to style the insides of your shed.
Advantages of beadboard
Practical for DIYers
Affordable
Stylish
Customizable coat options
Disadvantages of Beadboard
MDF composition may not be durable
Needs regular painting and sealing
4) MDF
Medium-Density Fiberboard is a manufactured wood made from wood fibers and resin by pressing them together and applying high temperatures to create a strong and reliable wooden board.
Its remarkably smooth surface makes it great for cabinetry, furniture-making, and carpentry, such as wood panels and cladding. You can buy MDF boards for as low as $1.72 per piece, depending on the thickness, location, supplier, and quality.
Advantages of MDF
Smooth surface ideal for painting
Smooth edges perfect for routing
Ideal for custom design cuts
Affordable
Disadvantages of MDF
Not waterproof
May contain Volatile Organic Compounds (VOCs)
Heavy
Not applicable for staining
5) PVC/uPVC
Polyvinyl chloride (PVCs) and unplasticized Polyvinyl chloride (uPVCs) are great options for internal and external wall cladding for the shed and even homes.
Many households choose this plastic cladding because of its durability, water resistance, ease of application, and maintenance.
PVC is a more flexible plastic wall cladding and is produced softer by using plasticizers. For uPVC, it doesn't use plasticizers, making it more durable than PVC.
Although this is not the cheapest on this list, they are still considered more affordable than other types of internal wall cladding.
Advantages of PVC & uPVC
Easy to clean & maintain
Moisture resistant
Lightweight
More color and style options
Durable
Disadvantages of PVC & uPVC
Poor insulation
Can damage in the heat
Not eco-friendly
6) Timber
Although more expensive than other choices in this list, timber will always be considered cheaper internal cladding than stones and brick. Nothing beats the warmth and the cozy feel of timber, even if you put it inside a tool shed. However, it would still require treatment and sealing for added protection.
Softwoods are cheaper than dried wood and much more suitable for internal cladding. While you can choose among Douglas fir, pine, spruce, or hemlock, it depends on which wood is available and abundant in your location.
Advantages of Natural Timber
Visually warm and natural
Durable and will last for many years
Painting and coating options
Strong
Improves insulation
Disadvantages of Natural Timber
High maintenance requirement
Prone to infestations
Prone to rotting and moisture exposure
7) Sheet steel
Sheet steel is another cost-effective cladding option for inside your shed. It is relatively cheap, easy to source, and will cover larger areas than timber board. The usual material used for metal sheet cladding is stainless steel and aluminum.
The cost of sheet metal cladding depends on the quality, thickness, and size of your shed. Although this cladding material may have higher upfront costs, it is relatively inexpensive in the long run.
Advantages of sheet metal 
Fire-resistant
Durable
Low-maintenance
Easy to install
Disadvantages of sheet metal
Prone to condensation
Transfers heat easily
Can be uncomfortable in hot weather
Is Using Cheap Materials for Cladding Worth It?
Using cheap materials for a shed is still worth it, especially if you are on a tight budget. With added efforts to increase the durability of your cladding material, you can still make the most of it. You do not need to break the bank to upgrade your shed. With some creativity and a few tricks, you can make simple cladding materials efficient and last for a long time.

Latest posts by paintsgeek
(see all)