Nothing beats the warmth and aesthetic appeal of a solid wooden worktop. Its rustic vibrance radiates into your entire kitchen and simply sets the mood. Imagine the grains, the texture, the smell, the warmth. They all scream "perfect" compared to other worktop materials.
Even so, a wooden kitchen worktop is the most vulnerable of all. Without treatment, wood can warp, expand, rot, and dry out. This worktop can easily get abused by our daily kitchen routines. The many kinds of liquids and spoils spilling on top of it will affect its performance and cause the wood to rot and eventually deteriorate.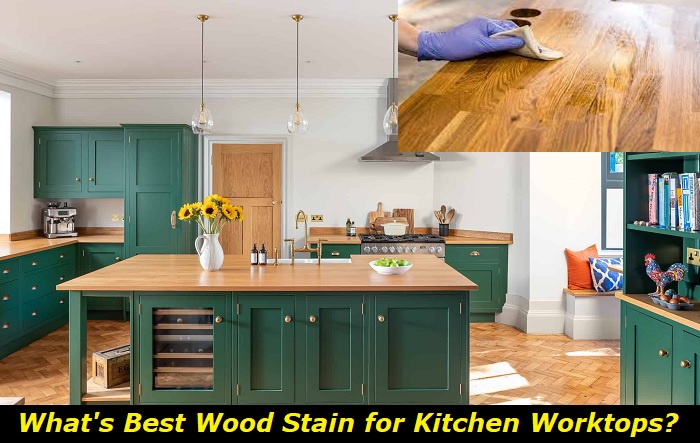 The solution? Wood stain! However, there are many types of wood stains out there. To help you find the right wood stain for your kitchen worktop, we created a comprehensive guide to help you maintain and protect it.
Why Stain Kitchen Wooden Worktops?
Even for being used frequently, kitchen worktops deserve a glow-up too. For this reason, we stain them to enhance their grains and add vibrance to their texture so they can boost their natural beauty.
Furthermore, wood stains also add a layer of protection, like how we add sunscreen to our skin. Wood stains, especially oil-based ones, block moisture from spilled teas or juices. It does not only protect the wood from moisture. But it also protects it from stains and even UV rays, depending on the type of stain.
A wood stain prolongs the useful life of your kitchen worktop. It helps you achieve and add a personal touch to its overall aesthetics.
Things to Consider for Choosing Wood Stain for Kitchen Worktops
You need to choose the wood stain you'll use carefully. Ensure it is compatible with your worktop and receiving the correct treatment.
1) Wood type and wood grain
Different types of wood would mean various grain patterns. It may require various treatments when used on worktops. For example, maple wood has dense grain, making it hard for water-based stains to penetrate. Using it on maple makes the product appear blotchy. In this case, you can use an oil-based or a clear-wood stain.
Also, not all types of wood stain would match a wood's grain and color. You can mistake enhancing the imperfections instead of the wood grains.
2) Durability and protection
Kitchen worktops are busy surfaces. And you want to find a wood stain that is not only durable but can protect the wood from possible organisms that may thrive on the wood and cause it to rot.
3) Aesthetics
We know the purpose of staining is to enhance the wood's aesthetic appeal. But you do not want to make the mistake of choosing the wrong shade for your wooden worktop.
4) Wood stain type
Let's say that choosing the types of stain is similar to picking the right tool for a job. Agree? Different types of wood stains react to wood differently. For example, oil-based stains tend to penetrate deeper into the wood. Also, not all wood stains are compatible with some finishes.
5) Toxicity level
Not all types are safe for use in kitchen tops. You need a wood stain that has low VOC and is safe to have contact with food. When choosing a wood stain for your worktop, imagine you are picking ingredients for your home-cooked meals. You will place raw ingredients on your worktop. Naturally, you need a safe surface for food.
Types of Wood Stain for Kitchen Worktop
One of the most essential features to look for in a wood stain type is the food safety indication. You can often find certifications on the label if it is food safe. Some wood stains are formulated for wood pieces in contact with food directly.
Aside from that, you need wood stains that are both easy to apply and maintain. For these reasons, we recommend oil-based ones for kitchen worktops.
1) Oil-based Wood Stain
Oil-based stains use natural oil to carry and distribute the pigments and colorants on the wood fibers. Once the oil penetrates the wood, the stain enhances the color and pattern of the wood grains, creating a rich, vibrant appearance.
With enough curing time, it will form a protective layer on the wooden worktop surface.
Aside from its deep penetration and wood grain enhancement capabilities, oil-based wood stains are more durable than water-based stains.
If there's any downside to using oil-based stains, that would be its slow-drying time and strong odor. But no matter the long wait, oil-based stains still deliver a worthy output.
2) Water-based Wood Stain
Water-based wood stains boast low-VOC content. Because of this, they are also considered food-safe for kitchen worktops. As the name implies, they carry pigments through water and distribute them into wood pores. As the water evaporates, it leaves a stain on the wood effectively, enhancing its wood fibers and grain pattern.
Usually, you can sand the wood in between coats and apply a clear top coat after sanding.
If there are downsides of water-based stains, it is their limited penetration, resulting in less grain enhancement.
3) Gel Wood Stain
Gel wood stains carry pigments and colorants through a jelly-form substance that sits on the wood surface first before being absorbed. Wood absorbs this type of stain slower because you have to spread it before the wood can have an even distribution.
Gel wood stains are not generally formulated for food safety. However, you can protect it with food safe top coat if you want to use it for Kitchen worktops.
Best Stain for Solid Kitchen Worktops
Now that you know your wood stain type options, here's our recommended wood stain for kitchen worktops.
1) Danish Oil
Danish oil is a popular wood stain for kitchen worktops. It has a powerful rejuvenation capability that restores the wooden surface to its natural glory, giving the worktop a rich and warm appearance. With proper application, it creates a reliable barrier against daily moisture, spills, wear and tear.
This improved variety of Linseed oil is a mixture of polymerized Linseed oil, drying agents and varnishes durable and water-resistant finish.
Pros:
Efficient wood grain enhancement
Extra durable finish
Exceptional restoration capabilities
Non-toxic and food safe
Provides a natural finish
Deep penetration
Cons:
Requires multiple coats
Takes a longer time to cure
Regular maintenance every three months
Some products may emit an odor
2) Pure Linseed oil
Linseed oil comes from the extracts of flax seeds which are FDA listed as food additives. For centuries, this oil preserved and protected the wood tops of our ancestors. This oil-based stain can penetrate deeply into wood fibers better than any known oils for kitchen worktops.
Linseed oil takes time to penetrate the wood. But the results are worth it. It reacts with the oxygen allowing the oil to seal the wood naturally and establish an even, smooth, and naturally looking durable surface.
Pros:
Natural wood enhancement
Food-safe
Efficient and deep wood penetration
Multiple layer protection
Cons
May emit an odor
Needs multiple layers to create an efficient barrier
Longer drying time
Longer curing period
3) Hard Wax Oil
Hardwax oil is a mixture of natural oils and wax. Depending on the product, it may be a combination of oils and waxes like linseed oil, tung oil, beeswax, carnauba wax, and such. When combined, these oils and wax share moisture resistance and protective properties to seal and enhance the beauty of wood grains.
As the oils penetrate, nourish, and cure the wood, the wax hardens and forms a protective barrier that resists moisture, wear, and tear.
Pros:
Durable protection
Easy maintenance
Environmental friendly
Food safe
Cons
The application can be challenging
May take weeks to cure completely
4) Teak Oil
Teak oil is not an extract of the Teak tree but a combination of different natural oils such as tung or linseed oil. It may also contain mineral spirits or varnish. The name only came from where the stain is more suitable. So yup, this oil works best for a teak-made kitchen worktop.
Its mixture depends on the manufacturer. If you use it on other wood, it may produce a natural glossy finish.
Pros:
Protects surface from UV rays
Prevents cracking and peeling
Prevents water stains
Non-toxic
Great for outdoor use
Elastic
Cons
May darken the wood
Needs periodic application
Not waterproofing
5) Tung Oil
Tung oil is a natural extract from the Tung tree that is common in China. For a long time, the tung oil can enhance the beauty of wood grain while keeping it protected. Tung oil got its drying and polymerization properties from having triglyceride fatty acids in its formulation. It reacts to the moisture in the air and forms a hard and dependable protective layer while it cures.
Pros:
Food-safe when cured properly
Enhanced wood appearance
Durable protection
Creates a natural finish
Suitable for different wood types
Cons:
Need a longer time to cure completely
Strong odor
Multiple coats can be challenging
Wood Stains that are Not Recommended for Kitchen Worktops
While most in our list are natural oils, it doesn't mean you can stain wood with all kinds of natural oils. For example, most people would apply olive oil to wooden kitchen utensils and chopping boards. But why should you not use it on Kitchen worktops?
1) Olive Oil
Olive oil tends to leave a sticky residue on a wooden worktop. It doesn't dry and stays greasy. It can also attract pests and induce the growth of bacteria. Although it can enhance the color of wood, olive oil can cause uneven discoloration because it doesn't seep into the wood fibers evenly.
2) Vegetable oil
Vegetable oil is prone to spoil. It can go rancid over time and cause foul odor and bacteria build-up, causing the wooden surface to rot. Also, vegetable oil cannot withstand the abuse of daily usage. It attracts insects as well and causes uneven staining.
3) Varnish
Varnish is not suitable for staining wooden kitchen worktops. It is too harsh for food contact and may contain chemicals harmful to food. It is thick and glossy and will only polish but not enhance the beauty of the wood.
To Wrap it Up
It is possible to keep and protect the beauty of a wooden kitchen worktop. But remember that wooden worktops are vulnerable to spills, bacteria, rotting, and various exposures. For this reason, you should choose a stain that not only colors the surface but protect it over time.
When you have a wooden kitchen worktop, prepare yourself for regular maintenance. With the right wood stain and proper application technique, you can keep a wooden worktop's natural beauty while keeping it safe from food contact.

Latest posts by paintsgeek
(see all)