Many prefer cedar, a coniferous wood with a spicy natural aroma as it exudes charm and deep color. It also has a captivating grain that enlivens it further. The grain in one wood can easily accommodate shades of brown and red. It is a naturally water-resistant wood. Also, it is a perfect option for outdoors, indoors, and high-traffic surfaces since it does not chip, warp, or crack. It is also insect and rot resistant making it ideal for any space.
Despite its amazing qualities, it needs a finishing oil to help it last longer. Danish oil is one of the most preferred staining oils on wood surfaces. However, would it work well on cedar?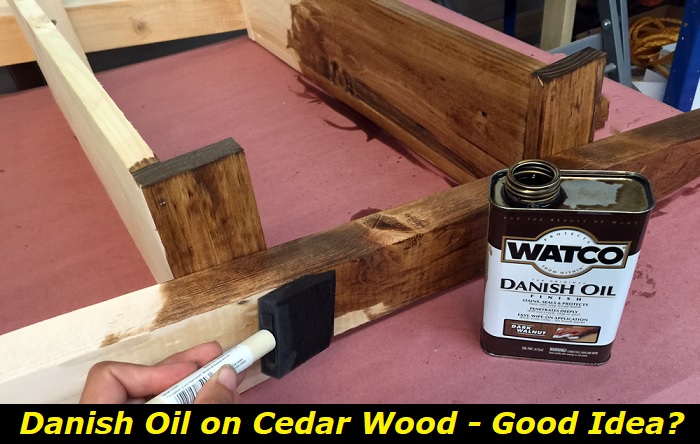 Our investigations will touch on the following:
What is Danish Oil?
The benefits your cedar surface can expect
Problems you are likely to encounter
How to go about painting the surface
Any further assistance to help your surface last longer
Are there better alternatives, and can you make your own
Exactly What is Danish Oil?
Danish oil is a staple wood finish formulated by blending oils, additives, and thinner. The common oils used are linseed and Tung oil due to their high content in mineral oil. However, you will likely find different formulations and components used in making Danish oil in today's market.
The mineral oils soak and penetrate wood surfaces giving the surface a vibrant satin coat. The oils penetrate better than wax and other oils. The additives, which can be naturally extracted or artificially formulated, enhance and intensify the natural look. They are safe to use since they do not contain harmful solvents or chemicals.
This makes Danish oil both environmentally friendly and safe for humans and animals. A thinner dilutes the components and makes the oil easy to spread. Some thinning options used include turpentine or mineral spirits.
Benefits Your Cedar Surface Can Gain from a Danish Oil Paint Coat
Water Resistance
Cedar is waterproof. However, when exposed to humidity and water, it can soak, rot, or crack. This leaves room for bacteria, mold, and fungi to grow. This happens at a slower rate than other wooden surfaces, though.
The wood also turns grey when exposed to elements and accelerates during winter. This can ruin the aesthetic beauty of the wood while making it heavier than usual. A coat of Danish oil ensures your surface gets the extra protection needed.
When applied, mineral oils, fibers, and additives polymerize to form a rigid sheet. This sheet is impermeable and blocks water from seeping to the surface. It also makes cedar hot waterproof.
Improved Sheen
Wood dazzles when Danish oil is perfectly applied. The oil has both a high sheen and gloss effect due to the products used. You will likely find different brands and types of Danish oil with varying sheen and gloss in the market. To ensure you only buy the correct one for your surface, start by analyzing the functionality of the surface.
Outdoor surfaces work well with low sheen as this helps reduce reflection when exposed to the sun. Opt for a product with low resin and high pigmentation. The non-reflective abilities in this type of sheen allow it to soak the sun and, in return, expose its deep hues.
A high resin concentration and low pigmentation Danish oil would be ideal for indoor surfaces. The reflective abilities transform the indoor space making it appear bigger and pop. It is also ideal for imperfect surfaces.
It helps restore consistency, creates uniformity, and improves its visual appeal. It is easy to clean and does not yellow over time. Bathrooms and other spaces exposed to water would also benefit from having a coat of this oil.
Scratch and Stain Resistance
Your surface will always be under duress when exposed to people, animals, weather elements, and other surfaces. This will leave behind bumpy smudges, scratch marks, and stains. It also suffers subtle flaws from normal tear and wears.
To mitigate damages and prolong life, you can apply a layer or a few layers of Danish oil. The oil takes on all the impact, dirt, and scratches. You can easily add a fresh coat as a touch-up once it wears off. This keeps your surface looking alive for longer. It can also help you retain memories and heritage, as your wooden surface can now last for generations.
Chemical Resistance
With the atmosphere harboring reactive and unstable elements, your surface is always under threat. Once it reacts with these unstable elements, you cannot predict the results. Some will not only damage the color, but they will also easily damage the grain and texture of your wood. The damage is usually irreversible. Cleaning agents also have very harsh abrasive chemicals, especially where stain and smudge removal processes are involved.
Protecting it beforehand should always be a priority since a replacement might cost an arm and a leg. Using Danish oil gives you extra cover and protection from the chemicals. The oil is always in contact with the chemicals, ensuring your surface does not suffer chemical wrath. Once damaged, you can easily apply it and bestow the wood's safety cover again.
Heat Resistance
With global warming impacts being felt worldwide, temperatures are currently hitting a record high each time. This has increased the amount of heat your cedar surface is subjected to. Cars are literally melting, and since wood cannot, it cracks and warps.
This not only ruins the texture and appearance but also becomes a threat. The wood becomes brittle and can easily break, bruise users and store bacteria and fungi after rain. A Danish oil coat seals any loopholes the sun might get to ruin the surface. It also fills pre-existing cracks to prevent anything from settling in them
Problems You Are Likely to Encounter
Routine Maintenance
Danish oil wears off fast, and you must be on top of those all the time. This is time-consuming and demanding to anyone with a busy schedule. Missing a painting session can expose your cedar surface to harmful elements. Despite using professionals regularly, maintain the surface that takes you back financially since you have to meet these costs
Short Lifespan
Despite many claiming that paint can last a lifetime, it cannot. Danish oil has a lesser compared to other oils. The paint also starts drying as soon as you open the can. It is impossible to buy a lot and stock up for future use, especially if it is all in one can. The best way to achieve this is to buy it in smaller batches. Also, avoid opening a container unless you can utilize it all.
Toxic Flames and Fumes
Danish oil does not smell like roses. It has a strong, pungent smell when burning and releases toxic fumes. Cedar also releases its fumes and toxic flames when burning. When exposed to these, you can easily develop a respiratory problem. Exothermic activities can also make it burn due to the high level of flammable ingredients used.
How to Apply Danish Oil to Cedar
Clean the surface by sanding it and leaving it flawless. Use medium grit sandpaper and remove the dust with a wet cloth or vacuum. Leave the surface for a minimum of one hour to dry.
In the meantime, gather all the materials needed before starting. Doing this ensures you do not leave your painting task as Danish oil will dry up. Get the protective gear, as Danish oil can be irritating and cause allergic reactions. It can also stain your clothes and be hard to remove if it dries.
Before applying the first layer, ensure the contents are properly mixed. You can also use a primer at this stage. Apply the first layer and give it enough time to cure. A day or two would be best. Wipe off any streaks to ensure your paint dries smoothly.
You can add as many layers as possible, giving each layer ample time to dry. As a pro tip, the more layers you get, the more the surface will even. However, do not apply on sealed wood. Additionally, only use FDA approved for food safe surfaces.
Can Homemade Danish Oil Work on Cedar
Yes, you can use homemade Danish oil on your cedar surface and get the same results. You may also end up exceeding those results you get from store-bought Danish oil. The best thing about this is that you can vary the components to your desired expectations. The most basic procedure when formulating one is using an equal amount of the three main components. These components include linseed oil, poly, and mineral salts.
When looking to create a tougher surface, the best variation of components requires you to mix an equal amount of thinner and oil and twice the amount of poly. The results come very close to real polyurethane. When looking to increase the shine and gloss as well as reduce moisture damage, use Tung oil and varnish.
Linseed should be boiled since basic linseed is hard to mix and does not dry well. Additionally, when using Tung oil, remember it takes longer to dry. If you use turpentine as a thinner, consider one from Pine to keep the stinky smell at bay.
Conclusion
In summary, we can all agree that your cedar surfaces need a touch of Danish oil despite its drawbacks. However, finding the most compatible one for your needs will help you avoid many mistakes. Also, do not be afraid to reach out to experts.
They are well informed on how that works. Finally, whether you hire a professional or get to do the job yourself, be ready for a transformation. This is because that is all Danish oil brings – transformations.

Latest posts by paintsgeek
(see all)