Protecting a new wood floor or refinishing old floors starts with choosing an appropriate top coat. You should know the difference between the finishes and those that will work best on your project. A red oak requires a protective finish to keep it looking its best.
Selecting the right top coat for a newly installed red oak can be pretty tricky. Red oak flooring varies in type, durability and hardness, cost, and usage. It is a common choice of hardwood for homeowners in the U.S.
Red oak is easy to stain, practical, and readily available as it is domestically grown. It is an excellent choice for flooring as it is highly durable, and its staining ability makes it easier to attain any finish you desire.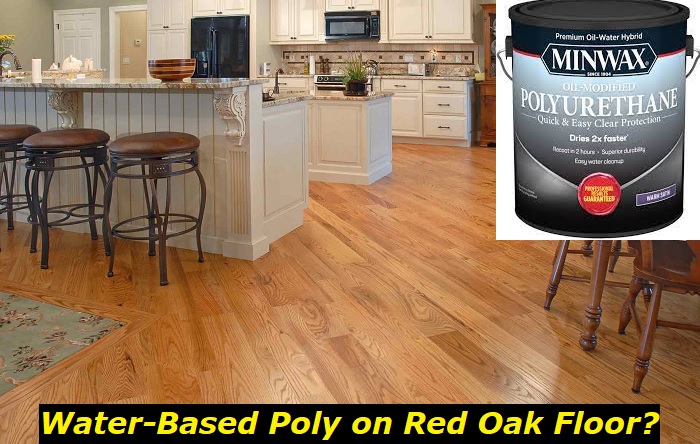 Choosing the right finish for your red oak flooring is the final step after installing the red oak. An excellent finish will form a hard coating to protect the floor from scuffs, spills, scratches, and water damage.
A good finish will help add a sheen to the floor surface, enhancing its beauty and prolonging the floor's life. Today, we'll explore the possibility of applying water-based polyurethane to red oak.
What is Red Oak hardwood flooring?
Red oak hardwood flooring is a rigid material made from 100% oak wood timber that comes in either wide or narrow planks. It is made from a single wood strip cut directly from the tree and then milled into planks. It is a standard method for many solid hardwood floors with a ¾-inch thickness.
The single stock of red oak wood, when viewed from the sectional profile of each plank, shows a bulging wood along the edge's center. The opposite end of each plank is called a groove. When hardwood floors are joined together and aligned side by side, they create a seamless look.
There are other methods of joining red oak hardwood floors: nail down and click system. A red oak flooring has adequate dimensional stability of an 8.6 score; it makes any connection method work.
Natural Red Oak Floors
A natural red oak without any treatment or staining has a red or pink undertone color with a lighter shade. Its wood graining tends to have a minor closely-knotted marking that gives a more profound and fuller look. It also hides scratches and scuffs but dents more easily.
Natural red oak flooring is very common as artisans and homeowners popularly use it. Red oak timber is readily available throughout the eastern and central parts of Canada and the United States.
Due to its availability, finding accessories and stair treads to conform to your hardwood floor is more accessible than that white oak flooring and other solid wood types. Many artisans appreciate red oak's workability, making it easier to create custom materials for the natural red oak floors.
What is a water-based polyurethane finish?
Water-based polyurethane offers a lustrous look in different levels of shine. Polyurethane is a polymer or a plastic material used in many applications, from protective coatings to insulation and foam.
When you use it as a flooring finish, it is applied as a liquid material that dries and hardens to form a moisture-resistant and protective top coating on hardwood flooring.
Oil-based polyurethane was initially the standard wood finish for hardwood floors before water-based polyurethane replaced it as the most favorable and popular type of finish for numerous reasons.
If you want a good wood finish that will lean along the hardwood floor and prolong the protective life of the wood surface by eliminating grit and dirt. It would help if you opted for a water-based polyurethane.
Advantages of water-based polyurethane
It is eco-friendly
A particularly important benefit of water-based finishes is that it is more environmentally friendly than oil-based polyurethane. Water-based polyurethane has a low percentage of VOCs (volatile organic compounds) emitted by the chemical used to manufacture the finish. VOCs are pretty harmful to the environment and toxic to people's health.
It has a fast-drying time
Water-based polyurethane dries quickly and gets water-resistant once its resins get hardened. Unlike water-based polyurethanes, oil-based polyurethane finish requires several days to dry and fully cure. The water-based option dries in a few hours, allowing you to walk on the floor the same day.
It creates a clear finish
Water-based polyurethane finish dries to a clear finish and will not alter the natural or stain color of your hardwood floor.
In contrast, oil-based polyurethane gives an amber tint that can get more saturated over a long period since the floor is exposed to ultraviolet light. This amber tint can be attractive in some scenarios; however, it changes the hue of the floor of the stain color applied to it.
It is highly durable
Manufacturing techniques have made water-based polyurethane durable, solid, and more protective than oil-based finishes.
Disadvantages of water-based polyurethane
It requires more coats
Water-based polyurethane usually requires several coats to get the lustrous, smooth, and even finish needed for a wood floor. You are most likely to apply additional coats every two years or less.
It is costly
Water-based polyurethane products are more expensive than oil-based options.
Difficulty in hiding flaws
More minor scratches are more noticeable if a surface is coated with water-based polyurethane. Any disruption to the smooth surface of water-based polyurethane can make marks and scratches more visible, especially with floors with high levels of sheen.
How to apply water-based polyurethane to Red Oak
Applying water-based polyurethane to red oak floors requires attention to detail, and it is pretty straightforward. It does not require an outer coat abrasion. This wood finish dries in about 2 or 4 hours. If you stay in a low-humidity environment, you must coat quickly. You can apply two coats of water-based polyurethane daily, and it gets fully cured in 4 to 7 days.
Before commencing the application of water-based polyurethane, you need to get your tools ready. A rotary buffer or sander is necessary for screening and sanding. A shop vacuum is also required to keep your work area clean.
There are several ways to apply water-based polyurethane, although it is advisable to follow the application recommended by the manufacturer to ensure adequate coverage. An indirect flow is needed for water-based polyurethane.
Direct air circulation blowing at the wet finish can cause it to dry too quickly. If this occurs, the finish will not lay out evenly and leave application marks behind. Some of the steps in applying water-based polyurethane on a red oak surface include:
Sand the floor with fine-grit sandpaper. It will create a smooth surface for the polyurethane to adhere to.
Use a moisture meter to ensure the wood flooring is at its EMC (equilibrium moisture content)
Use a vacuum or brush attachment to clean the area from dust and dirt. You can also wipe down the floor with a clean, lint-free cloth.
Next, make use of a roller or perhaps a brush to apply one coat of water-based sealer and let it dry. It is recommended to follow the application recommended by the manufacturer. Before you continue coating, set the moisture meter to ¼-inch mode and test to ensure the floor is thoroughly dried.
When the moisture meter signifies the floor is dry. Apply an even coat of water-based polyurethane and let it dry.
After it dries, you can use your moisture meter to confirm that it is thoroughly dried, then apply the second coat of water-based finish. When the second coat dries, use the meter measure to verify that the floor is dried to support light foot traffic.
We recommend you leave the final coat of water-based polyurethane for about 24 hours to dry before placing the furniture and other items.
If they are placed immediately, they will resist the ability of the water-based finish to emit the chemicals in them, which reduces the water-based polyurethane performance and cause the floor to discolor.
How to determine if polyurethane is an excellent choice for red oak
If you have a newly installed floor and have it sanded, you should choose an excellent finish that will offer maximum protection against grits and dirt.
If you aren't sure about the type of polyurethane you should use, consider searching for the benefits of each polyurethane type.
We recommend using water-based polyurethane, but you are free to choose an option that best fits you. Consider these when choosing a wood finish for red oak.
The look that you desire
Water-based polyurethane gives an even natural surface that forms a protective layer, and it is also highly durable. If you want a glossy appearance, you might consider other wood finish options.
The level of protection you desire
Water-based and oil-based polyurethanes are durable finishes that withstand a lot of wear and tear. If your floors are subjected to high-traffic usage, it is the best option for you.
Is it okay to use water-based polyurethane on red oak?
Water-based polyurethane is suitable for red oak as it protects it from grits and scratches and overall wear. It works efficiently on a clean dust free surface. Before applying a water-based polyurethane finish, you must use a polyurethane primer or a suitable base coat to ensure a smooth surface.
Water-based polyurethane has less odor and dries faster than oil-based polyurethane. You should apply thin coats of the finish and let it dry completely before applying the next coat.

Latest posts by paintsgeek
(see all)