Poplar is an excellent hardwood with unique woodworking properties. It possesses an ivory tone with green or brown streaks that adds a beautiful appearance to woodworking projects. It is widely used in making furniture, cabinets, wooden toys, and plywood.
Poplar is commonly used because it is effortless to work with for several applications, and it is affordable and easily accessible. It is a fine-grain wood, unlike walnut, a medium-grain hardwood. The grain pattern of wood helps to determine the type of stain that will be suitable for it.
Poplar has an attractive feature and rarely needs to be stained. It comes in various colors; tan, yellow, green, and purple tones. Poplar has a closed pore structure like Maple and Cherry, while walnut has an open pore structure.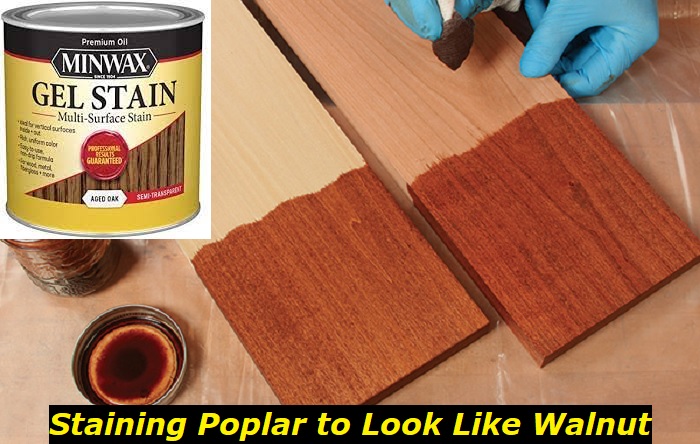 It takes a lot to stain wood, though. There are several ways of staining wood, depending on the lumber you are working with. Poplar has a reputation for being challenging to stain.
Before staining Poplar, it is crucial to research its nature and how you can achieve the staining process. So today, we'll learn more about staining Poplar to look like walnut.
How Difficult It Is to Stain Poplar?
Poplar doesn't stain well, but it is possible to stain. Poplar does not retain stain well because of its nature, as the stain will absorb non-uniformly into it. The result of this will form a blotchy, ashy surface with less sheen appeal.
However, sanding and applying wood conditioner can help the surface accept stains well. Poplar is paint or color-graded wood; color doesn't soak into it, though stains do. It doesn't stain well because it belongs to the soft unit of the hardwood family.
It has a significantly lower hardness level than most hardwood. Light or tan Poplar is more challenging to stain than the dark type of Poplar. Tan poplar is softer and cleaner than dark Poplar, but it quickly turns into a dull surface with a wood stain.
If you desire to stain Poplar, it is easier to work with darker ones since they are easier to stain and have a higher hardness level. The hardness value of hardwood is dependent on the Janka hardness rating. This rating is the conventional way of understanding the hardness of different types of wood by determining their resistance to dent and wear.
If a specific wood has a high dent and wears resistance, it means the hardness score of that wood piece is at the top level. Poplar's Janka rating is 402 N (540 lbf), which is lesser than most woods. This means that Poplar has a low hardness rating and possesses more inferior properties than other hardwoods, which is why it is hard to stain.
What is the best stain for Poplar?
Poplar is a wood type that has closed grain which means it has a narrow pore pattern that is not noticeable to us. Wood stains cannot seep through the poplar pores fiber; applying a stain could lead to a dull blotchy finish. Staining poplar wood is complicated, but you can carry out the process by following an appropriate method.
However, you have to put in extra effort to ensure that poplar stains easily without getting a dull or blotchy surface. Poplar is a beautiful wood due to its alluring appearance, but staining it can create more intensity to the loveliness of Poplar woodwork projects or furniture.
Poplar comes in several colors, like tan, yellow, purple, e.t.c. It is crucial to examine each wood tint to the particular poplar wood project before applying it to the primary woodwork project. Some of the best stains for Poplar include;
Minwax gel stain – you should choose a walnut color for this work.
Another is interior wood stain also made by Minwax that can also come in walnut color.
Then there's Varathane premium wood stain. Here, we have Antique white/ Briarsmoke and Early American color shades).
Minwax wood finish which is oil-based and pretty straightforward to use.
Walrus product which is the oil for wood finish.
Varathane product that is called Weathered Wood Accelerator – a good choice for this work.
Sun-bleached by Varathane
Minwax True black
Minwax simply white
Puritan Pine by Minwax
The following are the specification of some wood stains and how they work on the poplar surfaces to deliver the desired tone.
Minwax Gel stain – how to use it on Poplar
Gel-type stains do not go deep into wooden pores, which makes them a good stain for Poplar. The Minwax gel stain is not a seeping stain which makes it a great choice for your task.
Applying a gel stain on a poplar surface will help the stain to stick evenly. Why? Well, it won't bore through the grain pores. It's necessary to use a special wood conditioner that is applied before stain to ensure a reasonable penetration prior to rubbing the gel stain. This is because Poplar absorbs stains unevenly.
Interior wood stain by Minwax – a good choice
The Minwax wood finish interior stain is an outstanding option for poplar wood surfaces. It is a decent stain that can be applied on poplar. It possesses a decent waterproof property that prevents environmental elements from attacking poplar furniture. It has a drying time of 48 hours (two days). You can use one coat for a fine finish and three layers for a vibrant finish.
Varathane premium – different colors are possible
Varathane premium is a wood stain that dries pretty quickly. Plus, it's a high-performance product that has multiple colors. And regarding the amount of surface, it can spread over 275 square feet of wooden projects while highlighting the natural grain. Varathane premium quick-drying wood stain is enhanced with nano tint particles that stick well to the surface of the poplar wood.
It helps to seal the wood and it cures relatively quickly. You can apply a single layer of stain color as it will get darker during the wood penetration. Ensure to stir adequately before use and clean off excess stain with a lint-free cloth toward the Poplar's grain
Minwax wood finish (oil-based options)
The wood finish is a versatile wood stain that can be applied to all woods, including Poplar wood. It offers an alluring deep gray look used for several woodworking ventures. It has a unique formula that dries faster than most wood stains.
It has a deep penetrating property that seals poplar pores by seeping through the fibers within 7 minutes after coating. The application of the Minwax oil-based finish is very smooth and easy.
Ensure to clean off surplus stains with a rag along the path of the Poplar's wood grain to prevent random blotches. Use a single coat of this stain for a clean finish or two coats for an even richer finish.
Using Walrus to stain your Poplar project
This stain type is a sealing oil used for poplar cutting boards. It is eco-friendly and food-safe. It contains pure natural oil, coconut oil, vitamin E, and beeswax. It gives poplar a smooth and silky texture and a beautiful appearance.
Applying walrus oil is pretty straightforward and takes a few minutes to apply. You can use three coats for wooden projects or kitchen utensils like bowls, cups, knives, e.t.c.
Walrus oil brings out the beauty of the poplar surface without adding additives or color. If you desire a light natural look with your poplar wood, walrus oil is an ideal choice.
Varathane wood accelerator – a special look
This wood finish is widely used for interior and exterior woodwork projects to get a high texture look. It acts effectively on Poplar wood as a stain with water-based properties. You can easily clean off surfaces coated with Varathane weathered wood accelerator with water and soap since it's water-based.
It gives a natural look to the surface of Poplar within 20 minutes. This product reacts with Poplar wood tannins and imitates the wood's natural behavior. It's all but odorless and can be applied to all woodwork projects and interior furniture.
How to stain Poplar to look like walnut
Before staining Poplar, it is essential to apply a wood conditioner to avoid streaks and blotches, which will cause the stain to be absorbed evenly throughout the wood. A gel stain will give you a more even and smoother look than other stains. Some of the tools required in staining poplar wood include:
Wood conditioner
Wood stain (gel stain)
220-grit sandpaper sheet
Gloves
Lint-free rag
Paintbrushes
The steps to follow when staining poplar wood include:
Sand the poplar surface with 80 or 150-grit sandpaper. Always sand within the grain to avoid scratches.
Clean off the sanding dust with a dry rag.
Apply the wood conditioner on the dry poplar surface. Test the poplar surface by wetting it to check if there are uneven areas.
Dry the wood entirely for at least 3 hours before staining to prevent wood staining mistakes.
Apply the gel stain. Apply thin coats of the stain to avoid wood staining errors and make the coating dry faster.
Use an effective paint brush to apply the gel stain within the direction of the poplar wood grain for better binding with standard pressure.

Latest posts by paintsgeek
(see all)