Are you considering satin polyurethane to coat your wood project?
Wood is a timeless material preferred for its warm and natural appeal. With each piece boasting its unique grain, we love it for its calming and relaxing effect that sets a positive mood in indoor and outdoor environments.
But all this beauty could fade away when used bare without any protection. As we all know, many elements can affect this beauty: moisture, mildew, temperature, and pests. For this reason, we use protective coatings to keep this beauty and maintain its quality. And one of your options is satin polyurethane.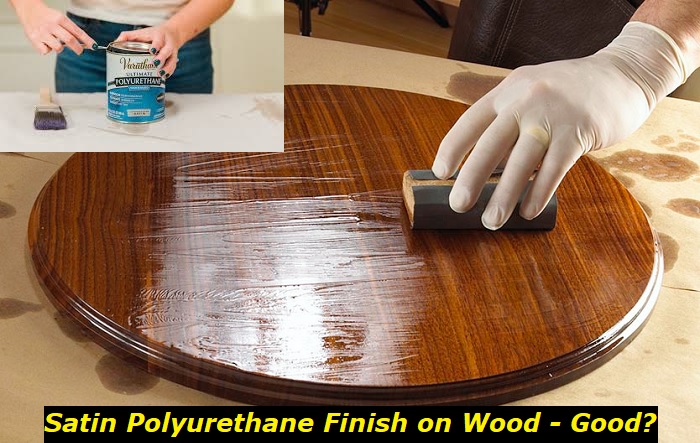 If you have no idea, satin polyurethane is the most commonly used wood finish among other types. To know more about satin polyurethane, we made a comprehensive guide about this wood finish.
What is Satin Polyurethane?
To understand satin polyurethane better, you must realize that this wood finish stands between the low and middle sheen. The glossiest wood finish with the highest sheen is high-gloss polyurethane. And the lowest is a matte finish. Satin Polyurethane is second closest to the lowest sheen spectrum.
Satin Polyurethane has been more popular among other finishes because it keeps the beauty of wood even applied to frequently-used flooring. It contains the properties of a matte finish while pulling off that polished look closer to a semi-gloss wood finish. We love it for hiding imperfections like scratches and dirt while staying clear and maintaining the unique patterns of wood grains. It is not as cloudy as matte and not as shiny
What is satin polyurethane made of?
Satin polyurethane is a solution of polyurethane and solvent, which can be water-based or oil-based. Its main ingredient, polyurethane, is known for its durability, water resistance, and ability to bond well with wood surfaces. Polyurethane is a chemical reaction produced by polyols and isocyanates.
Its appearance changes when combined with solvents that are either water-based or oil-based. Oil-based satin polyurethane contains a yellow tint or shade that enhances the appearance of wood's grain over time. Meanwhile, water-based satin polyurethane remains clear. Additionally, water-based satin polyurethane will require more coats to make it even more durable.
What are the Properties of Satin Polyurethane?
1) Durability
Satin polyurethane contains the durability of polyurethane. However, the durability of satin polyurethane lies if the finish is oil or water-based.
The level of durability has a little-to-no difference from other sheen levels because they have the same formula as polyurethane.
However, semi-gloss and high-gloss would require more maintenance than satin polyurethane.
This only means you can get the same level of durability for satin polyurethane in terms of resistance to abrasion and impact damage.
2) Water resistance
Satin polyurethane adheres well on wood surfaces because it is a thermosetting polymer. Thermosetting polymers react to heat induction and harden when exposed to air.
Additionally, satin polyurethane contains additives that strengthen the bond between the wood finish and the surface. This curing process on wood, along with surfactant wetting and distribution properties, helps the wood finish penetrate the wood fibers, creating a strong, even, and long-lasting bond.
3) UV protection
Satin Polyurethane contains UV-resistant inorganic or organic compounds that absorb or reflect UV rays from the sun. These UV-resistant additives are Ultraviolet Absorbers (UVAs) and hindered amine light stabilizers (HALS).
The UVAs absorb UV rays and transform them into heat and energy that easily dissipates.
Meanwhile, HALS prevents degradation caused by UV in polymer materials rays like polyurethane.
4) Scratch resistance
Satin polyurethane gives off a scratch-resistant finish when applied properly. During the curing process, satin polyurethane forms a protective layer that is tough, strong, and durable.
With abrasion-resistant fillers, satin polyurethane forms a uniform surface that resists marks and scratches.
Manufacturers formulate them to ensure that they can still maintain a polished surface and still hide imperfections. This formulation is why satin polyurethane does not look as cloudy as a matte finish.
5) Stain resistance
Satin polyurethane protective coat prevents stains from penetrating the wood surfaces and fibers. This film layer works as a barrier to staining agents attempting to infiltrate the wood.
What are the Drawbacks of Satin Polyurethane?
1) Difficulty in application
Satin polyurethane is challenging to apply. You need to use precise techniques to make it work while needing to coat it as quickly as possible because it dries easily. Otherwise, the coat may acquire bubbles, drips, or coating marks.
2) It takes longer to dry
While satin polyurethane dries fast, you must wait about 4 to 6 hours before applying another coat.
3) Expensive compared to other finishes
Apart from the materials needed for its formulation, satin polyurethane takes expert hands to make it work. This application requirement makes satin polyurethane more expensive.
Where to Use Satin Polyurethane?
Because of its durability, you can use this wood finish on surfaces always used and abused.
You can use satin polyurethane in various applications, including furniture like tables and chairs. Its extra durable coat makes great protection against spills and food stains. Be it a coffee table, end table, or barstool, satin polyurethane can unleash the rustic beauty of wood.
Satin Polyurethane can also be your wood finish for kitchen cabinets and other storage furniture. You can also use it for finishing bed frames and headboards. Overall, you can use it for many woodcrafts and furniture, including floorings.
Satin Polyurethane Preparation
Preparing the wood surface for satin polyurethane is crucial to ensure a smooth and even surface finish. For this reason, do it with extreme caution and focus.
1) Remove old dust, paint, or coat
Never apply a wood finish on a dirty surface. Remove old coat, varnish, or paint on wood. Carefully remove stains with wood cleaner.
Use a sanding block and sandpaper to wipe off the remaining varnish or paint. Start with medium-coarse grit sandpaper (100-grit). Follow it with fine 150-grit sandpaper. Then finish it with extra-fine 220-grit sandpaper.
2) Clean the wood surface
Sanding will produce dust on the wood surface. Use a shop vac or vacuum with a soft brush attachment until the surface empties from dust. Or, wipe the surface with a clean cloth or sponge. When using an oil-based satin polyurethane, dampen the cloth with mineral spirits. When using a water-based satin polyurethane, dampen the cloth with water.
3) Condition the surface
Using a pre-stain wood conditioner is an add-on step, and you can stain your wood surface even without it.
We recommend it for its enhancing effect on soft or porous wooden surfaces like fir, pine, maple, and alder.
Apply it on a dry wood surface after cleaning. Coat the surface following the direction of the wood grain. Let it sit and penetrate the wood fibers within 15 minutes.
4) Apply Stain
After cleaning and conditioning the wood surface, you can start staining the wood. Make sure you are working in a well-ventilated area. Stir the stain with a popsicle stick, spoon, or wooden stick. Apply it with a fine bristle, lint-free cloth or rag cloth, or foam brush. The rag will help you wipe off the excess stain on the wood. If you want a darker stain, let it sit for one or two minutes.
The stain dries in two hours. But for best results, let it dry for 24 hours before applying satin polyurethane.
How to Use Satin Polyurethane?
Wear chemical-resistant protection gloves when handling satin polyurethane. You can use a bristle or foam brush when applying thick coats of satin polyurethane. Apply satin polyurethane with light and long brush strokes going in the direction of the grain. If heavy drips accumulate in one area, spread it with long and thin strokes. Overlapping the strokes makes a uniform coat.
When the first coat has dried completely, usually about 12 to 24 hours, start resanding the surface. Remove bumps and drips with a razor carefully to not scrape off coats around. Use extra fine grit sandpaper to smoothen the surface for the next coat. Wipe the surface with a damp cloth then follow it with a dry cloth.
Wait for 24 hours before applying the second coat. Repeat the process of applying and cleaning the surface as much as needed. Note that you need to wait 24 hours before reapplying the next coat. If you are using a brush, apply one to two coats. If you are using a spray, it will need about two to three coats.
Satin Polyurethane Drying/Curing Time
Satin polyurethane dries and cures depending on the coat type, humidity, temperature, and thickness. Water-based satin polyurethane dries more quickly than oil-based coats.
However, it may dry within six to twelve hours. But you need to wait about 24 hours before applying the next coat.
Polyurethane takes thirty days to harden and cure completely. By this time, the satin polyurethane becomes extremely durable and damage-resistant.
Satin Polyurethane Maintenance & Longevity
Satin polyurethane can last up to ten years with proper maintenance. Additionally, you can add more years to frequently used surfaces, such as countertops or floors, if you touch them up after several years. However, a lot of factors contribute to its lifespan. These factors include product quality, the application process, and use and abuse.
To maintain a satin polyurethane wood finish, clean it regularly. Avoid using harsh cleaners. And remove those spills and stains promptly.
Final Word
Overall, satin polyurethane is not much different from other finishes when it comes to durability and longevity. The only difference lies in appearance and usage. Satin polyurethane is best for surfaces that are often used and abused. Satin polyurethane suits these applications since it can hide surface imperfections while pulling off a polished, glossy finish.

Latest posts by paintsgeek
(see all)