The organic care of wood is essential from an aesthetic standpoint and for protection. Wood needs maintenance and care to appear its best, just like any other natural material. Osmo oil is one of the best products on the market for ensuring your wood retains its original qualities.
Osmo oil is also very eco-friendly. It has no toxic smells and is safe for children's toys. If you have settled on Osmo oil as the best choice for your wood project, you can rest assured it will do an excellent job. This article will help extend your Osmo oil's durability.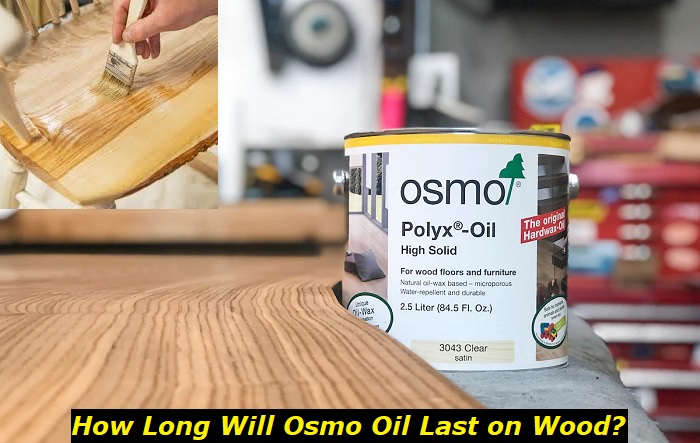 We will discuss the following:
How long your Osmo oil finish will last
Types of Osmo Oil Products
What Osmo Oil will do for your wooden project
How to apply Osmo oil properly
Mistakes to avoid when applying Osmo oil
How to repair and preserve Osmo oil
How Long Will Your Osmo Oil Finish Oil Last?
Without servicing, the finished result lasts around three years. In busy household entrance areas, it lasts for approximately five months or a year, based on wear or high traffic levels.
Most consumers prefer this hard wax oil over varnish because it is easier to apply, lasts longer, and is better for the wood. Natural vegetable oils in Osmo oil nourish the wood and maintain its elasticity. This means that Osmo oil insulates and feeds your wood.
Types of Osmo oil
1) Osmo Polyx-Oil
This is the most commonly used type of Osmo oil. It blends organic oils and waxes for virtually any interior project. Polyx-Oil is one of the many finishes referred to as hard wax oils. Hardwax oils combine drying oil, such as linseed, with hard wax, such as candelilla.
2) Top Oil
This solvent-based oil is explicitly designed for countertops and furniture. Wooden worktops' inherent character is preserved and enhanced. It is impervious to stains, heat, scratches, and scratches and liquid spills.
Top oil is straightforward to use, keep up, and fix. It is safe for your work surfaces because it is derived from natural oils and waxes.
3) Osmo Polyx-oil tints
They are all-in-one stain treatments that are solvent-based and highly lasting. They safeguard work surfaces, stairs, floors, and other wood products.
4) Osmo UV protection oil
This solvent-based Oil is the best option for outdoor use. It offers outstanding resistance to weathering. UV protection generally applies to exterior woods because of the micro-porous surface's ability to repel water.
It allows the wood to breathe, minimizing timber swelling and shrinkage. Additionally, it shields the wood from the UV rays that cause greying effects.
What Osmo Oil Will Do for Your Wooden Project
It increases the longevity of wood.
The products are made from naturally occurring, quickly renewable plant oils that deeply enter the wood to maintain supple and robustness while keeping it from drying out and flaking.
Prevents water damage to wood
Osmo oil keeps the wood safe by allowing it to breathe. While the coating is water resistant, moisture can evaporate; water densely gathers on the surface in bead form and can be wiped off, requiring little to no upkeep.
It enhances the appearance of wood products.
Osmo's natural wood coatings offer various interior and outdoor products. Creating an unlimited variety of brilliant, vibrant hues or naturally occurring tones is possible.
Osmo has the perfect effect for you whether you want to highlight the grain to reveal a magnificent, natural color tone, prefer to maintain the wood's original, raw appearance, or are just seeking a pleasant, resilient surface that can accommodate life's demands.
How to apply Osmo oil properly
How long your Osmo oil will last depends on how well you apply it. Enjoying the maximum benefits of your Osmo oil is pegged on proper application. Before applying the Osmo oil, ensure you have gathered all the tools you need for the job.
1) Brush application
Applying a coat of any Osmo oil using a flat brush is the best method because it will result in a good application. Apply lightly and uniformly along the grain of the wood to a smooth, clean, and dry surface to achieve the best results.
Apply a second layer with an Osmo easy pad after the first one has dried for a smooth, level finish. It works on most surfaces but is ideal for indoor furnishings and countertops.
2) Cloth application
Osmo easy pads are the best fabric for this kind of application. Apply thinly to a cleaned, dry, and polished surface using a clean, lint-free cloth.
Work it in slightly circular motions along the grain. Once you've wiped on a thin layer, use a dry cloth and wipe off in the direction of the grain to avoid streaks.
The first layer absorbs fast, so you may apply a second coat in four hours or less. Three to four coats are advised to achieve the highest level of finish and protection.
3) Application using a roller
An Osmo microfiber roller is the ideal solution for this application because it provides the best coverage and allows for a thin, uniform application.
The first application calls for two coats on a dry, clean surface. There is no need for more than one coat when reapplying.
4) Professional application
Before using, use a product designed for this kind of application. Wait approximately 30 to 60 minutes until the Oil permeates the wood surface after spreading uniformly with a wide scraper.
With a single disc machine and a green pad, massage the surface. Spread a second coat over the wet surface immediately using the same procedure. Spread the finish uniformly over the surface area using a white pad.
We advise flipping the pad over or changing it once the buffing machine begins to produce streaks due to excessive application.
Mistakes to Avoid When Applying Osmo oil
Avoiding these rookie mistakes will ensure your Osmo oil wood finishing lasts longer than most:
Applying on dirt or wet wood
Over-sanding wood before application
Painting in the Osmo oil instead of scrubbing it in.
Applying a thick layer of Osmo oil
How to repair Osmo Oil
One of the numerous advantages of Osmo oil over varnishes is how easy repair jobs are.
1) Repairing Blackened exterior wood
Wood undergoes aesthetic changes as a result of exposure to the elements. For instance, water reacts with the tannins in the wood to cause "blackening" when it seeps into woods like an oak with a naturally high tannic acid concentration. Using a fungicidal wash regularly will help to get rid of surface impurities.
2) Removing scratches
Apply a tiny amount of Oil—at least 5ml—to the region that has been scratched, then rub this with a cloth or scotch pad. After one minute, remove any excess using a dry cloth.
Depending on the depth of the scratch, cordon off the affected piece(s) of wood and use an 80g to sand away the majority of the scrape. Then reapply 120g of Polyx-Oil.
3) Removing watermarks
Water spills will securely bead on the surface due to the strong water resistance of Osmo oils, leaving no lasting stains. Just use a dry cloth to wipe down and clean.
Nevertheless, markings may develop if liquids are left on the slippery surface for a long time without being cleaned. Remove by lightly sanding it off and applying the finish again.
How to preserve Osmo oil
Though Osmo oil is a hardy and easy-to-repair finish, there are ways to ensure it lasts longer than anticipated.
1) Use floor protectors
They stop the floor from scraping when placed on furniture legs. Avoid wearing steep-tip footwear, stilettos, and spiked shoes on wooden floors, as they will scratch them.
Also, exercise caution when moving furniture and other oversized items, such as appliances. Be sure to lift at all times rather than push or drag. Place a carpet or blanket underneath the items if you cannot raise them to prevent scratching and gouging.
2) Use recommended cleaning techniques.
You are encouraged to utilize a spray-mop during wet cleaning because it makes the task easier. Employ it with the cleaning agent Spray-Fix to remove dirt efficiently without harming the surface.
Use a dust mop often for dry cleaning to avoid dust or lint accumulation on the wood surface. Avoid cleaning supplies that include abrasives like bleach or chlorine.
3) Wipe spillages immediately after they occur.
After an accidental spill:
Wipe up any liquids as soon as possible.
Don't let them remain seated on the wood for an extended period; otherwise, that will leave a mark.
Clean up using a mop, sponge, or barely damp towel.
4) Use coasters
Coasters help to prevent the appearance of watermarks on wood surfaces.
Conclusion
Osmo oil is the ideal finish for caring for wooden items. It is superior to varnishes and provides a natural, eco-friendly option to wood finishing. It enhances the natural beauty of your wood instead of covering it up. Your furniture and home will look better, and their quality and market value will also increase.

Latest posts by paintsgeek
(see all)