For a DIYer who would always take the more inexpensive route, it is not a surprise if you decide to make wood post preservatives yourself. From cleaning solutions to home decor to gardening projects, there's no other joy than being able to do things yourself, knowing what products or chemicals come in and out of your home, and being able to help protect the environment.
And for something always neglected around the garden, farm, or property, you want your wood posts to last for decades as they can. Homemade preserved wood posts can stand strong as chemically treated woods too. These homemade preservatives can also prevent rotting, extend the life of your wood posts, and reduce the maintenance required. Their only differences are: homemade preservatives are environmentally-friendly and inexpensive.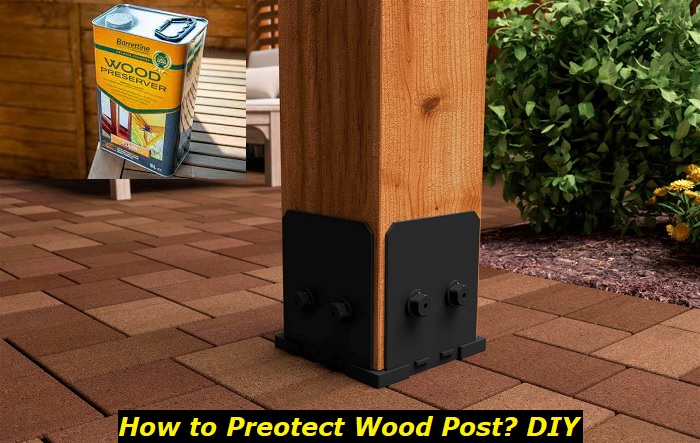 So if you wonder how you can make your homemade wood post preservatives, we have got them in detail in this article.
Boiled Linseed Oil
Before people used synthetics and modern preservatives, they used linseed oil to protect and seal wood, masonry, and natural hemp ropes. Aside from protection, the flax seed extract served as an additive to oil-based paint and a natural hair paint brush conditioner. The natural wood preservative penetrates deep into the wood's fibers, nourishes them, and makes a great sealant, stain, and finish.
But linseed oil dries too slowly and would take weeks to cure. For this reason, scientists have to process them a bit so they are ready to use. That's how the raw linseed oil came to be boiled. Boiled linseed oil is technically not as stated.
If you have some linseed oil or can drop quickly by the hardware store, you can make your wood post preservative at home.
Solution 1 Boiled Linseed Oil + Turpentine
What do you need?
A clean mixing container
Boiled linseed oil
Turpentine
Roller, paintbrush, or cloth/ rag
A stirring rod
Procedure:
Mix linseed oil and turpentine with a 50/50 mix ratio. It will depend on how much you need to cover all the wood posts. Pour one part of the linseed oil and one part of the turpentine into the container. Mix them thoroughly.
Secure the wood post on two stands at both ends. Apply this solution to untreated wood for better penetration. Or you can sand it first using 120-grit sandpaper. This solution has to penetrate the wood, so the surface must have some teeth to hold on to. You can apply this solution using a paintbrush, roller, or a clean rag. Let the mixture soak into the wood for fifteen to thirty minutes before wiping excess oil. And let it dry completely for at least 24 hours. If you need more coats, make sure the surface has dried completely.
Solution 2 Boiled Linseed Oil + Wax + Mineral spirits
If you need your preservative to have added sealing properties, put some wax to fill in those cracks and smoothen the surface.
What do you need?
A mixing container
A clean rag
Boiled linseed oil
Mineral spirits
Double-melted paraffin wax or beeswax
Procedure:
Mix 50/50 percent of linseed oil and mineral spirits first, just like in our first solution. For every gallon of this mix, you need four ounces of double-melted beeswax or paraffin wax.
How to double-melt wax? 
Place the paraffin wax in a smaller pot and over boiling water. You need this process to reduce the likeliness of the paraffin or beeswax to combust. If you did not know yet, both of these waxes are flammable.
Mix the wax with the first solution in a warm place to ensure the wax will not solidify again. Apply this solution with a clean rag or paintbrush. Let the wood post soak and seep into the wood fibers for ten minutes or more before wiping excess oil. Let it dry for at least 24 hours.
Diesel and Used Motor Oil
One of the oldest ways to preserve wood posts is by treating the wood with used motor oil. This OG wood post preservative has put up wood posts still standing for more than five decades without any signs of decay. It is, by far, one of the least expensive ways of preserving wood posts. And you might not need to maintain your wood post after this treatment.
Once the oil has penetrated the woods, it will prevent water from seeping in and protect the wood from insects and bugs. One thing we love about used motor oils on the wood posts is it gives off staining properties.
If there are any drawbacks of using used motor oils as a wood preservative, the oil doesn't dry. So the surface of your fence or wood post may catch dirt and grime. Another drawback is the smell. But you are going to work in the open air. So, the smell of fumes may disappear soon. And lastly, you might think twice if you'll use this on or near your lawn and plants. Oil will continuously flow into the ground.
But if you don't have any flower beds or crops to protect, you will surely appreciate the longevity and inexpensiveness of this preservative.
What do you need?
A mixing container
A stirrer
A paint sprayer or paintbrush
Diesel (optional)
Used motor oil
Procedure:
Filter the oil first. Mix 50/50 parts of diesel and used motor oil to make a thinner solution. It will help the oil penetrate the wood fibers more quickly than used motor oil only. The last thing you want is to wait for it to soak, but you did not thin the oil. So the rain may wash it all out if you wait for it to dry completely. So yes, thin the motor oil first.
The two ways to apply this solution are to spray it on the wood or use a paintbrush. In the old times, they use huge drums to soak the wood posts entirely into motor oil for a few days to treat the wood completely. The smell will be out at least on the second or third day. Monitor this preservative because it can combust in a flash.
Borax and Water
Borax and water are one of the simplest but most effective wood preservatives on this list. You only have to mix borax with hot water, and you are good to go. Borax infiltrates the wood and destabilizes the metabolism of fungi or other decay growing into the wood. Because of this process, fungi pests, termites, and other decay-causing organisms do not thrive in the wood. Without the presence of these wood pests, the wood extends its useful life.
What do you need?
A mixing container
Warm water (1 liter)
Borax (150 grams)
Paintbrush or sprayer
Procedure:
Dissolve the borax in warm water. Stir until fully dissolved.
Treat the wood post with Borax solution by spraying, brushing, or dipping. One liter of the solution can cover up to 10 sqm of wood, depending on the wood's absorbency. For better protection, apply a second coat after twenty-four hours. And since you'll be planting the wood post on the ground, you need to seal this part with varnish or paint to protect the salt from being leached out by the rain. They can harm those living organisms around them, including plants.
Pine Tar
Pine tar is another natural wood preservative used not only for decades but also for centuries. The tar comes from the extracts of heated pine trees. They contain anti-fungal and repel insects that bore into woods and trees. The good thing about tar is it provides sealing properties that prevent moisture from seeping in while providing good air and preventing the wood from completely drying out.
Solution 1 Pine Tar + Turpentine
What do you need?
Mixing container and stirrer
Gum turpentine
Pine tar
Wide paint brush
Procedure:
Before applying, dilute the pine tar with 20% gum turpentine. Warm this solution to 50 to 60° C. Make sure the wood post surface is clean and dry thoroughly. Apply the pine tar solution using a wide brush for better coverage. With warm temperatures, the pine tar dries within 24 to 72 hours. Apply a thin coat for quicker drying time. Apply your wood post at least two coats of pine tar solution. Pine tar lasts up to 15 years, or you can strengthen its protection by reapplying with this solution within five to ten years.
Solution 2 Pine Tar + Linseed Oil
What do you need?
Mixing container and stirrer
Raw linseed oil
Pine tar
Paintbrush or roller brush
Procedure:
Mix equal parts of pine tar and raw linseed oil. Keep it at this ratio, depending on the amount of coverage you need. Stir it thoroughly.
Warm the mixture before applying it to the surface by 50 to 60° C.
Warming the solution helps it to seep into the wood deeply and last longer.
More Tips for Wood Post Preservation
Pick a suitable preservative for your type of wood.
Practice applying wood post preservatives entirely and evenly.
Apply multiple coats as necessary but let the previous one dry first.
Let the wood preservative soak into the wood.
Work in ventilated places.
Make sure the surface is clean.
Sand the wood post to let the preservative adhere to the surface.
Monitor the preservatives because most of them are flammable.
Protect yourself by wearing gloves, respirators, or a safety working mask.
Watch out for your garden beds or crops before installing a treated wood post. Always use non-toxic homemade treatments for these parts of the soil.
Final Thoughts
Nothing is more satisfying than being able to produce your wood post-preservative. With a quick visit to your hardware store adjust going by in your garage or tool shed, you may find something useful to prolong the life of your wood post. What makes DIY wood post preservatives even better is most of them are natural extracts or recycled substances. Most of them are not only inexpensive but also environment-friendly.
For more wood preservatives inquiries, let us know.

Latest posts by paintsgeek
(see all)