Cedar is one of the most authentic and user-friendly wood out there. It has a beautiful natural finish and natural resistance to decay and insect attack. This is a feature of red cedar.
If you feel the need to create a coating system for cedar, you can go ahead and do that. Before coating the surface, it is recommended to use a stain-blocking primer for longer service life, and then you can cover it with 100% exterior acrylic paint. Choosing a good primer for your cedar siding will create a massive difference between a beautiful paint job and paint that bubbles, peels, and deteriorates after a short period.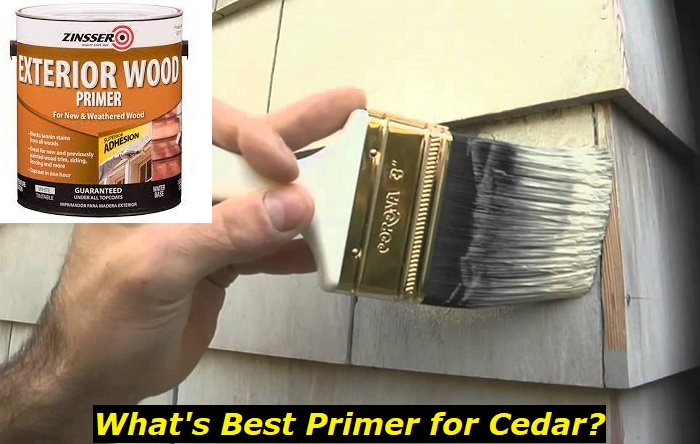 The climatic factor depends on the type of primer used on a surface. Balancing the wind, heat, and moisture factors in your environment will yield a good result.
A good finish will help eliminate imperfections on surfaces. It also protects the surface from moisture, dirt, grime, and other substances. In this article, we will explore the best primer for cedar and some secrets of a good finish.
What is Cedar?
Cedar is a durable domestic and versatile hardwood that thrives on the east and west coasts of the United States. There are several types of cedar trees. However, the ones that are commonly used for their lumber are the Red cedars, both eastern and western ones.
Cedar wood is valued for various reasons. It gives off a pleasant and recognizable scent, and it is insect and weather-resistant. It is also aesthetically pleasing to look at.
The color of the red cedar wood is a rich reddish-brown color that can vary greatly depending on the growing condition of the tree and its time being exposed to oxygen and sunlight. It changes color over time due to its chemical reaction with environmental factors and UV rays. As cedar ages, it loses its reddish tone and becomes a gray or silver color.
Cedar is used mainly for outdoor wood furniture since it is weather resistant. It can be used for indoor furniture like cloth chests, tables, and moldings. It can also be used for musical instruments, boats, and other minor wooden objects. When cedar is used as siding, it will give the project a lovely appearance that will perfectly match your style. It also creates excellent sound and heat insulation.
Benefits of using Cedar
It is naturally resistant to insects and other elements
Cedar has excellent qualities asides from durability and aesthetic appeal that will strengthen the maintenance of your home exterior. It can resist swelling, warping, and decay. This makes it easier to replace often than you would with other wood types. It also protects itself from bugs like termites and prevents pest attacks.
It is eco-friendly
Cedar is an exceptional choice for your exterior if you want to keep your home as safe as possible. Cedar is entirely biodegradable. So, if you choose to replace it at any period, it does not affect the environment.
Best priming for cedar
Cedar is best primed with an exterior oil-based wood primer. However, some country regions use a latex primer due to the VOC (volatile organic compounds) regulation. A primer is an essential substance that enhances wood surfaces.
It serves as a barrier coat to help prevent a tan or brownish discoloration that can appear on painted wooden surfaces. This is known as a tannin bleed. Ensure that the cedar is dry enough to absorb sprinkled water before coating.
A two-coat priming system works best for cedar. It is crucial to use a primer with stain-blocking properties to prevent stains from appearing on the wood surface. Priming cedar helps it to be in its best form. It would be best to avoid using waterborne primers over exposed cedar because they cannot block the tannin bleed, making brown stains come through on the surface.
What is the best primer for cedar?
All natural wood should be primed before being painted, enabling the paint to adhere correctly to the wood. Cedar is known for its sap that seeps out through the paint, and this sap is also known as tannin. This can lead to exposed awful stains seen through coats of paint.
A stain-blocking primer will help in preventing this tannin bleed. An alkyd oil primer is an excellent primer, but you can also choose a first-rate latex primer as long as it contains some stain-blocking elements. A 100% acrylic-latex paint can be used to coat after applying the primer.
If you decide to stain the cedar, use waterborne acrylic exterior paint for coating. This product has no drips or runs, and it is easier to apply than conventional latex or alkyd stains. An acrylic color stain will yield great results for knotted wood.
If the cedar has never been stained or painted but has been exposed to sunlight, heat, or oxygen for more than two months, examine the level of decay or rot before coating. Suppose there are gray-looking, loose, and fibery areas. It should be sanded with a fine-grit sheet before coating.
Can you paint a newly cut cedar?
A fresh-cut cedar takes about two weeks after installation to dry out completely, especially if it is left outside to dry. Letting cedar completely cure is the best option before applying sealers and paint. Sherwin-Williams paints offer the best protection on cedar surfaces, so you can visit a nearby paint store and choose a product that best fits your projects.
Priming a cedar siding before painting
It is essential to use high-quality materials for priming and painting cedar. Use a thick stain-blocking primer on raw cedar. Use at least two coats of 100% acrylic-latex exterior paint.
Do not use oil-based paints with cedar. The two-coat system will extensively protect cedar siding. Using a one-coat paint will be bad for weathered wood, raw wood, tannin-contained wood, and dirty surfaces.
A good primer with a painted top coat will have a longer service life than a solid stain and a single coat.
If you apply paint to raw or weathered wood without coating a primer, you will have an adhesion problem. If the cedar is stained with dirt or oil, it has to be thoroughly cleaned before priming. An oil-stained wood has to be lightly abraded before applying a primer.
However, it is best to replace the oil-stained cedar shingles instead of sanding them because oils soak deep into the wood's grain. Primers are not made to cover up contaminants or stains, so it is best to get rid of the stains before applying them.
Secrets of a good finish
A wood finish protects wooden furniture and other items from environmental damage. Using the wrong finish can cause the wood to swell, crack, deteriorate, and be exposed to moisture. The main objective of a wood finish is to add a protective layer and boost the aesthetic appeal of the wood.
The secret to achieving a good finish doesn't stop at sanding or starting; instead, it is a process known as pore or grain filling. It is time-consuming and messy, resulting in a spectacularly smooth mirror finish.
Good finishing products will bring out the sheen on the wooden surface, and it helps to eliminate surface imperfection by smoothing the wood surface. It protects and polishes the wooden surface making the appearance look richer and more profound.
Types of wood finishes
There are two types of wood finishes, and they include:
Penetrating finishing
This type of wood finishing is performed for protection when it seeps into the wood and performs its protecting role. It is durable and creates a fierce natural look of the wooden material. Some examples of penetrating finishing include tung oil, Danish oil, and linseed oil.
Surface finishing
The result of this finish is always a natural look on the wood surface. It is also highly durable and easy to apply.
Advantages of wood finishing
It gives the wooden project an appealing look.
A finished wood surface is easier to clean
It gives low-value wood a rich and deep appearance.
It sanitizes the wood and can influence the wooden properties.
Disadvantages of wood finishing
It requires skillful personnel to perform this operation.
It requires a high cost of production
It employs knowledge to know the suitable finish mixture and other finishes for a particular type of wood.
Water-based finishes are easily wiped off.
Features of a good finish
Appearance
A high-performance finish will give long-lasting color retention through a balanced formulation of stable mildew inhibitors and iron oxides. Applying a clear coat allows you to create a satin or gloss finish that will significantly extend the life of the finish.
Longevity
An excellent stain comes with longevity and superior performance. Finishes shield surfaces from moisture or other liquids, heat, and UV rays.
There are UV inhibitors in some high-quality stains and some finishes that allow water in wood to evaporate. Clear top coats boost water-repellency and protection against UV rays.
Eco-Friendly
A good finish should be formulated to meet the standard of the Environmental Protection Agency (EPA) with local restrictions as well.
Most finishes produced over the past few years are low in VOC (volatile organic compounds). This advancement has made top coats safely used on any surface or environment.

Latest posts by paintsgeek
(see all)